Blessed Are the Broken
My sacrifice, O God, is a broken spirit; a broken and contrite heart you, God, will not despise. – Psalm 51:17 (NIV)
Pre-Covid, I walked into a bar eager to go to a storytelling event, where people volunteer to tell their most personal stories to strangers.
This wasn't just any storytelling event. This was a storytelling church service.
Next to the doorway, there was an invitation to write mini-stories that emcees would read during the program. The white slivers of paper read, "I still have scars from when…," prompting people to complete the sentence.
I submitted my mini-story, "I still have scars from when my dad disappeared for ten years," and took a seat.
I watched two storytellers talk about the things that scared them and the things that scarred them. Then, the final storyteller took the stage. He happened to be a pastor and friend who was preaching about the power in his brokenness.
His sermon was an offering for those of us who felt as if the scars of life are still fresh enough to become reopened wounds.
He encouraged us not to devalue ourselves because of the brokenness that is still a part of our lives. He said our wounds and our scars don't make us too broken for anything – for love, for healing, or for closure.
I thought about the pain I still have from the father who was absent for most of my childhood, and I realized that still wrestling with it didn't make me weak – it made me human.
This storytelling church wasn't church done differently. It was just church. And finding the beauty within the broken was pure scripture.
Minutes later, I sang "I Will Survive" at the top of my lungs, as I danced with 50 other people who suddenly knew that scars mark us but don't make us.
Prayer
Thank you for the stories in our scars.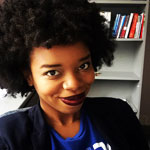 About the Author
Marchaé Grair is a spiritual director, facilitator, and the Director of Public Relations and Outreach at the Unitarian Universalist Association. Follow her work at
marchae.com
.