COVID spikes Texas church's cautious Christmas Eve plans, but not its Blue Christmas
In Dallas, Advent and Christmas at Cathedral of Hope United Church of Christ are normally "huge," said its senior minister, the Rev. Neil Thomas.
As just one example, "We have a wreath that gets let down from the ceiling and lighted," Thomas said. "People come to take video of it.
"None of that's happening this year."
And not for lack of trying.
The congregation dearly wanted to find safe ways for Christmas Eve to be the first time in months it would worship in person. Like many churches, the Cathedral has been worshiping entirely online since March as a coronavirus precaution.
All carefully planned – until a spike
They got far toward that goal. Thomas said five afternoon and evening lessons-and-carols services were being planned for Dec. 24 –three in English, two in Spanish.
All U.S. Centers for Disease Control protocols would be followed. Seating would be limited. Worshipers would preregister. Everyone's temperature would be taken. Masks and physical distancing would be required, with spaced chairs replacing the usual pews.
There would be no singing, though people would be allowed to hum along to the piano and string quartet that would provide the only music.
But with COVID cases and hospitalizations spiking in the Dallas-Fort Worth area, the church called the whole thing off.
"We had sincerely hoped to make this happen for the many of you of who yearn for a safe in-person worship experience," Thomas announced to the congregation on Dec. 7. "With this new reality, however, we feel that for the health, safety and long-term strength of our community – congregants, volunteers and staff – it is in our best interest to continue worshipping online for the time being."
Christmas Eve services, like regular Sunday services, will be offered over online platforms, he said.
'Grieving in different ways'
For people grieving the loss of an in-person Christmas Eve – and other losses in this pandemic year – the Cathedral still offered a walk-through version of its "Blue Christmas" service on Dec. 13.
It's one of many adaptations UCC congregations are making this Advent and Christmas. (See related story.)
As at many churches, the Cathedral's annual observance recognized that "the holiday season, with its warm homecomings and joyful celebrations of family traditions, can be particularly difficult for those who are grieving the death of a loved one, the loss of a job, diminished health or other sorrows," according to a post about the event on the church's Facebook page.
Blue Christmas worshipers that Sunday evening remained in their cars until invited to take their turn. They walked through the Cathedral's Interfaith Peace Chapel, masked and physically distanced, four or fewer at a time. On the way through, some paused to light a candle or hang a paper ornament on a tree to remember loved ones and COVID victims.
The church took a similar approach on World AIDS Day, Dec. 1.
This year, Thomas said, "we realize that people are grieving in different ways – not just the loss of loved ones, but so much loss in the community."
---
Related News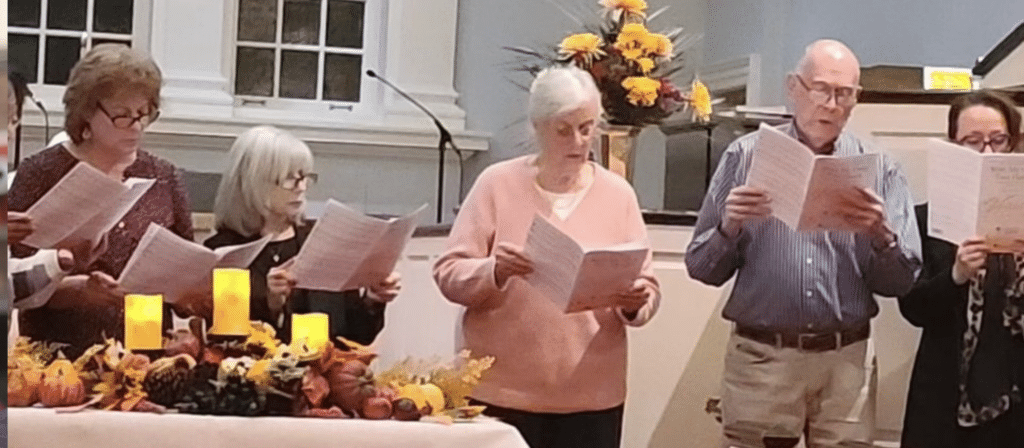 Many United Church of Christ congregations across the country participated in interfaith...
Read More