Nebraska UCC church joins tri-faith movement aligning Christian, Jewish and Muslim communities
The interfaith movement is alive and well in the town of Omaha, Neb., where Christian, Jewish and Muslim houses of worship are walking together to bring their congregations to a shared campus— the first of its kind. It's a landmark step in strengthening all three faiths, says the Rev. Eric Elnes, pastor of Countryside Community United Church of Christ, one of the three participating congregations in the interfaith initiative.
"It affirms that people of different faiths can live in harmony, finding common ground they didn't realize they had, and learning [about each other] through their differences," Elnes said. "Each faith gets stronger when they are in conversation with one another."
After a year of consideration, members of Countryside Community Church voted on Sunday, April 12, to move to the new location—one site that will be home to congregations from the Christian, Jewish and Muslim faiths. More than 70 percent of the 543 votes cast by members of Countryside Community Church favored moving to the planned 35-acre, $60-million campus in Omaha.
This is believed to be the first site in the United States where one congregation from each of the three Abrahamic faiths is intentionally planning to co-locate its house of worship. Countryside Community Church will join Temple Israel and the American Institute of Islamic Studies and Culture (now renamed the American Muslim Institute) in the interfaith community. The fourth partner is the Tri-Faith Initiative of Omaha, a local organization that fosters mutual understanding, respect and friendship of Abrahamic faith members, which helped to co-locate a church, synagogue and mosque.
The heart of Tracey Halvorson's decision to support the initiative rested in future generations. She was one of hundreds of Countryside members to vote in favor of the move. "For me, it was a decision about actively being involved where I can help make a difference in my life," she said. "This puts us in a position to look at opening dialogue [with other faiths], and less likely to be in conflict if we know them well and work together with them."
Founded in 1949, Countryside Community Church has embraced a UCC interfaith view of "dialogue with other faith traditions." Elnes said the congregation has a long history of interfaith dialogue and engagement, and that Sunday's vote embodies that. "Our decision reflects the belief that becoming the Christian partner on the Tri-Faith campus reflects one of many steps we have already taken along a path to which God has called us," he said.
Countryside's vote was the major stepping-stone necessary to moving the tri-faith project forward. On Tuesday, the Tri-Faith Initiative announced that AMI has secured funding from non-Muslim donors to partially fund construction of a mosque. That funding was contingent on a Christian congregation's commitment to build a church.
Countryside Community Church was asked last spring by the Episcopal Diocese of Nebraska, the original Christian group associated with the project, to consider becoming the Christian presence of the Tri-Faith Initiative. In 2011, the Tri-Faith Initiative announced that four entities had purchased land at the site. In addition to locating a church, synagogue and mosque at the site, a fourth building is also planned as a central anchor for the Tri-Faith campus. This shared interfaith center will welcome people of all Abrahamic faiths regardless of denomination and will provide social, educational and conference facilities enabling global study and communication.
"In our eyes, the Tri-Faith Initiative represents one of the most ambitious attempts to wage peace between the Abrahamic faiths in the modern era by engaging not simply in interfaith dialog – which is important – but by learning to live with each other despite our differences as people who worship and adore the same God," Elnes said. "This is the tip of the iceberg—we can show the world this is possible."
Temple Israel raised about $20 million to build its synagogue a year ago and has already moved there. The estimated cost for Countryside Community Church's new building at the site is $25 million, while the AMI has estimated its costs for a new mosque are about $5.5 million. Elnes said his congregation's costs would be covered through fundraising and the sale of its current building. Countryside already has about $16.1 million in pledges from members toward constructions costs.
AMI will begin construction of its mosque in the fall. The new Countryside Community building would cover about 71,000 square feet, but it will be a few years before it's complete.
"While we do not anticipate being ready to relocate to the campus for at least three years, Sunday's vote signals that Countryside is ready to become an active Christian partner in the Tri-Faith Initiative starting immediately," Elnes said.
---
Related News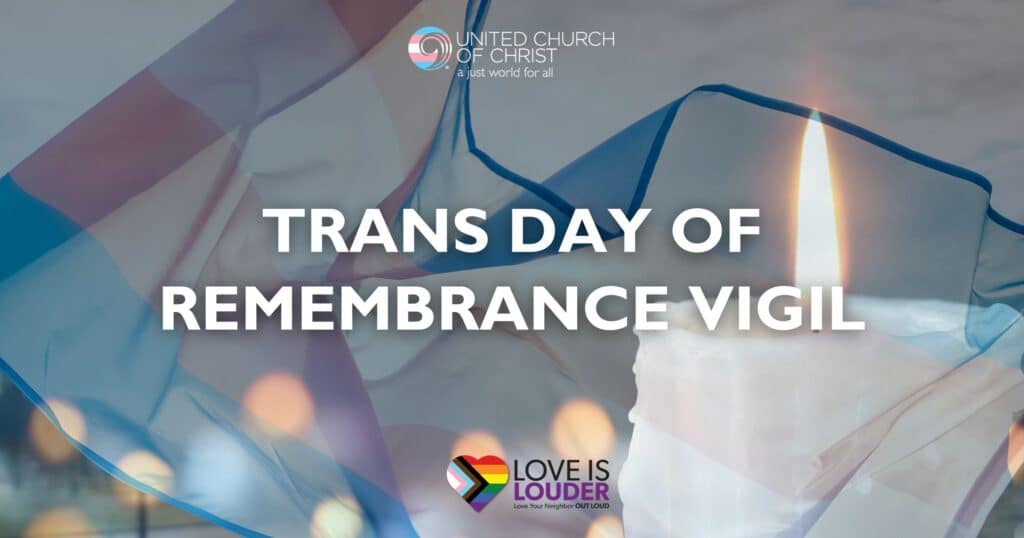 To mark Transgender Day of Remembrance (TDOR), the United Church of Christ hosted a vigil...
Read More