Conferences face complex decisions about annual meetings, a UCC institution
State laws. School schedules. Budgets. Board terms. With COVID-19 precautions preventing in-person gatherings, Conferences of the United Church of Christ have a lot to consider as they decide what to do about their annual meetings.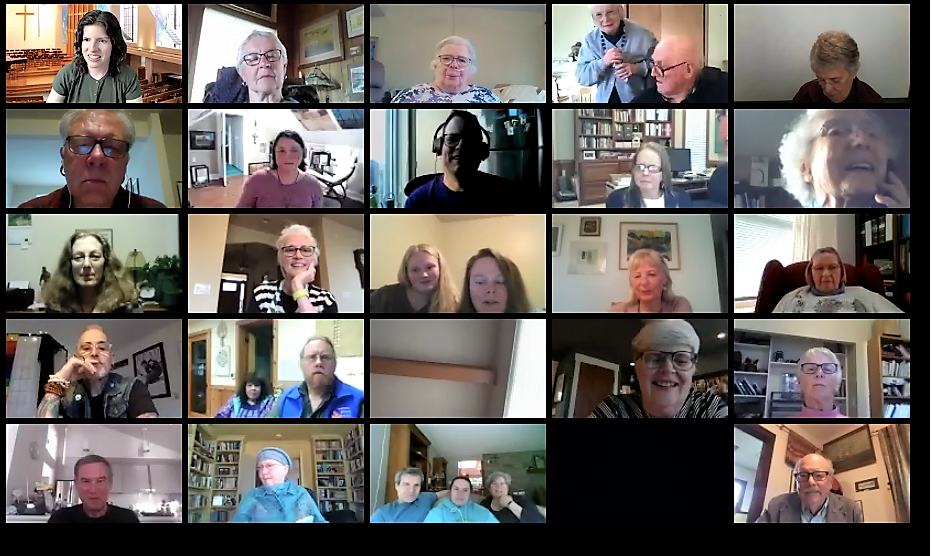 Some 22 of the UCC's 36 Conferences usually hold annual meetings in the late spring or early summer, mostly in June. Their coronavirus strategies so far include postponing until a later date; meeting as scheduled, but online; and doing a little of each. Some are still deciding.
The multipurpose nature of the meetings complicates the decisions. All have business aspects, with budgets to pass, officers to elect, policies to consider, and, sometimes, resolutions to propose to the next General Synod. Most also incorporate worship, inspirational components and other special activities, such as educational workshops, social gatherings, clergy training sessions and youth activities.
For some Conferences, gathering virtually may even create a legal dilemma.
'Law written in a pre-pandemic world'
One example is the situation in the Southern New England Conference, which encompasses Connecticut, Massachusetts and Rhode Island. It has replaced its June 20 Annual Meeting with an "all-Conference gathering" to be held online Sept. 26. The question Conference leaders are facing is whether the latter will count legally as an annual meeting.
The Conference is incorporated in Massachusetts, where a law requires annual meetings of non-profit corporations to be held in person. The Massachusetts legislature has passed emergency legislation allowing virtual annual meetings during the COVID-19 state of emergency and for 60 days thereafter. No one can tell yet whether that period will still be in effect on Sept. 26.
"The Massachusetts law was clearly written in a pre-pandemic world," said the Rev. Dawn Hammond, associate Conference minister for policy and finance. "It puts many nonprofits in a bind – the law and our bylaws require us to hold an in-person Annual Meeting, but public safety precludes this. Fortunately, we have received legal advice that it will not threaten our nonprofit status if we can't hold a legal meeting."
Whatever the legal situation, the Conference is trying to create the conditions for important things to happen in the fall. "Whether or not any voting matters can come before the meeting, the intention is for worship to be a centerpiece, and for Conference leaders to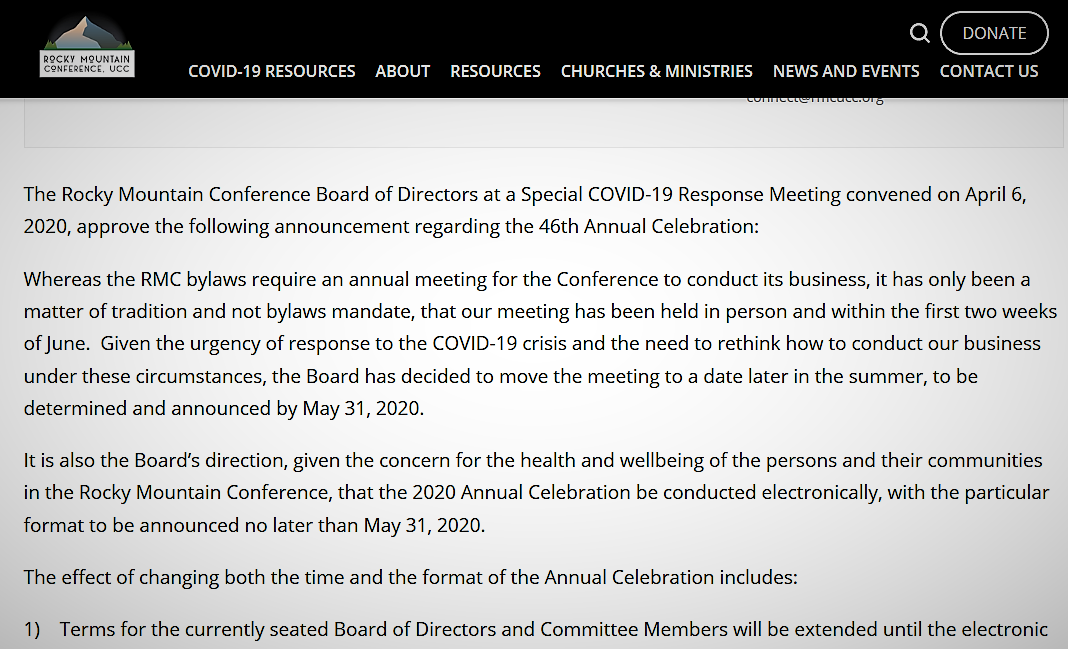 address the gathering," said a message at the Conference website. "The hope is that there will also be a candidate for Executive Conference Minister to introduce – that search is ongoing despite the current situation. Delegates may be asked to affirm the selection of the candidate."
Online breakout groups, workshops, Love Feast
Here are examples of how other Conferences are coping with various factors:
'What a Conference can be and do'
"I'd say that, overall, the meeting was a success but was, and continues to be, a very different meeting than usual," said the Rev. Mike Denton, Conference Minister in the Pacific Northwest. "We still have a few things to vote on, however, and haven't done that yet. Other conferences are starting to sort that through and we're waiting to see what works out best."
Denton said churches and congregations there are staying connected well through the pandemic – not only through the annual meeting and its follow-up, but through the Conference's other frequent Zoom opportunities and email list-serve conversations. "Folks in the conference are, for the most part, more connected than they were before," Denton said. "I've always felt that the work of the Conference was important but that, particularly in a congregational system, the work of the local church was most important. Although that's still true, this is also a moment when the potential of what a Conference can be and do is being highlighted.
"The most important work of congregations is best done in a relationship of covenant and solidarity with other congregations. Conferences, at their best, are institutional expressions of that sacred intent. As we move through this strange Easter season, I think we're rediscovering Easter as not just a theological event but also as a relational one. A couple months ago, I was worried this might be the end of us but, instead, we're feeling more alive than we have in a long, long time."
Hammond, in Southern New England, made a similar point in looking ahead to that Conference's online gathering this fall. "The most important thing about Annual Meeting has always been to come together – to worship, encourage and challenge one another, and celebrate the covenant we share," she said. "Our Annual Meeting Steering Team is eager to create an engaging, Spirit-filled opportunity to consider the new ways we are called to be the church in this new time."
---
Related News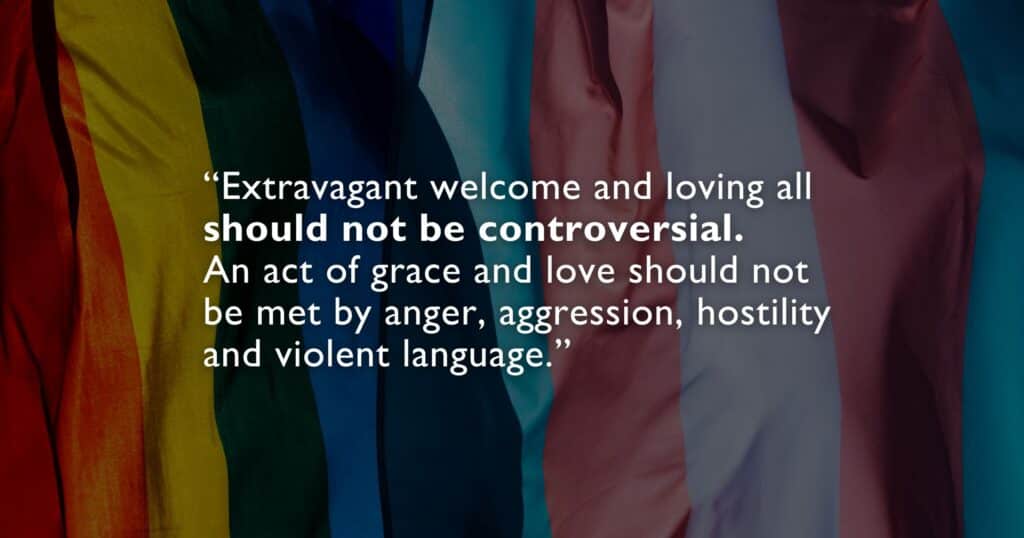 The United Church of Christ National Officers and the Conference Minister of the South Central...
Read More