Community refugee support sways vote of North Dakota county poised to refuse resettlement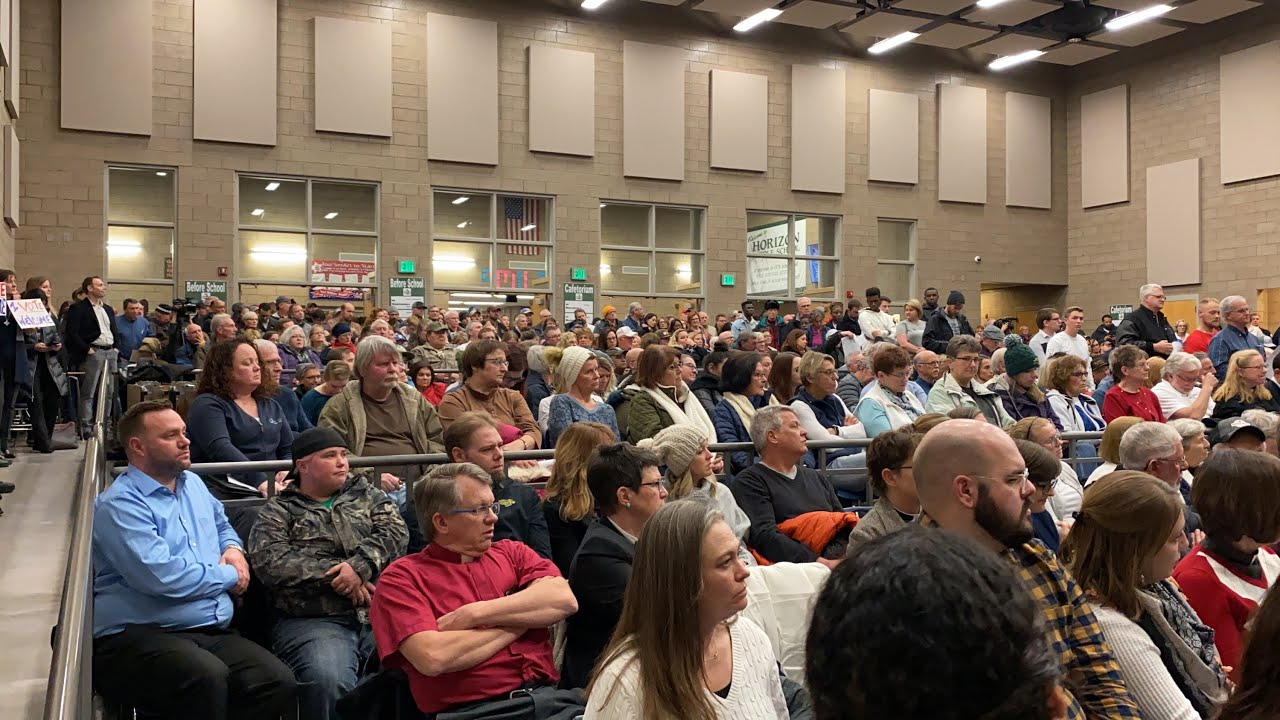 People of faith in Bismarck, N.D., convinced their local county commissioners this week that welcoming refugees to their community is right thing to do. The reason, religious leaders said, is that they have long been building relationships with their resettled neighbors and with each other.
At a special meeting Dec. 9 that drew hundreds of supporters, the Burleigh County Commission voted 3-2 to allow refugee resettlement. The Rev. Gretchen Deeg, pastor of Bismarck United Church of Christ, was one of several religious leaders present. Deeg said she, her church and her clergy colleagues wanted to make sure Burleigh County would not become the first county in the country to refuse refugee resettlement under a new executive order.
"There was an incredibly strong faith presence at Monday night's meeting. There were at least four rows of clergy and religious orders sitting in a block near the front," Deeg said. "In addition, there were faith leaders from various denominations scattered around the room. Catholics, Lutherans, UCC, UU, Evangelicals, Pentecostals, Baptists, Presbyterians, Episcopal, and others arrived in collar for the vote."
"It was important to have a wide ecumenical representation at the County Commission meeting on Monday because the decision to let refugees into our county (or not) is very much a biblical issue," said Sr. Hannah Vanorny, one of six Catholic Benedictine Sisters in attendance. "All Christians strive to follow Jesus and we must act based upon Jesus' example in the Gospels; Jesus welcomed all he met, no exceptions. In fact, he especially welcomed and interacted with those that many thought of as 'different' in a negative way, like Samaritans, tax collectors. It is our privilege as Christians to welcome all just as Jesus did."
President Trump signed the order in September that requires states and local governments to give their written consent before refugees can be resettled in those communities. Burleigh County had planned to vote on the issue last week.
Deeg said she and other refugee allies knew in advance of the meeting that two of the five county commissioners were going to vote no, two votes were yes, and one was on the fence. On Monday, Dec. 2, community advocates packed the commission chambers, so commissioners pulled the vote on resettlement off the agenda and scheduled a special meeting a week later at the local high school, where they were met by a standing-room-only crowd.
"The members of Bismarck UCC were an important organizing presence behind that vote," Deeg said. "Our members have been mentoring, collecting donations for, and volunteering alongside refugees for years and made many phone calls to organize turnout for Monday night's meeting and contact county commissioners."
The church cancelled Monday Bible study so people could be present. On Sunday, its Church Council wrote a letter to the county commissioners on behalf of the congregation of over 400 members, noting that Burleigh County is a better community, both socially and economically, because of the gifts and talents of their refugee neighbors.
"Our county's participation in refugee resettlement saves lives and enhances our community," the letter notes. "When Jesus was an infant, his family was forced to flee from the mass slaughter of children. Christ began his life as a refugee and repeatedly Christian teachings command us to welcome the stranger and treat them with great hospitality and love."
Bismarck UCC works closely with Lutheran Social Services of North Dakota, the agency that has been resettling refugees in the state for decades. LSS is intentionally ecumenical, and Deeg serves on the agency's board of directors.
"We help get people at the airport to welcome families there. We help collect household goods to set up apartments and some of our people do mentoring or teach English classes," Deeg said.
"Only three counties in North Dakota have the resources to accept refugees. We get 20 to 30 people a year on average. About two dozen came in last year. Most settle in Fargo or Grand Forks. Most of the people who come here [do so] because they have family ties."
Several years ago, the UCC church partnered with the Muslim Community Center and a Lutheran pastor to start Bismarck Interfaith. The organization plans potlucks, service projects and educational opportunities among people of different faiths, and Deeg said typically 100 to 200 people show up.
"We work to promote the idea that the commonalities between different religions are so much more important and enriching than any differences," Vanorny said. "When we get to know one another, we overcome ignorance, which leads us to grow in our appreciation and enjoyment of one another. When you meet someone, something happens in your heart and it becomes impossible to lump that person that you now know into a broad category, such as refugees."
"The city of Bismarck can feel like a small world at times and Bismarck UCC has been at the center of organizing for social justice issues for years," Deeg said. "We are continually building relationships with other faith organizations and wider community members for positive change."
Welcoming refugees is one of those issues that local religious groups work on together. Advocates representing many faiths made that clear Monday night in Burleigh County. The County Commission's decision to continue to allow refugee resettlement capped the number in 2020 at 25 people, a higher number than expected to be settled in Bismarck next year.
"The ecumenical and interfaith relationships we've built in Bismarck-Mandan over the last few years bore fruit amazing fruit this week," said the Rev. Sylvia Bull, associate pastor, Faith Lutheran Church. "Because we know and care about each other, we were able to easily reach out and organize for continued refugee resettlement in Burleigh County, showing publicly a commitment to caring for the most vulnerable that we all share. It was so heartening to see people of many faiths and traditions – my friends and neighbors – turn out to speak for what is right and support each other in advocacy."
"Ecumenical and interfaith work is part of the fabric of the UCC in Bismarck," Deeg said. "As the only UCC congregation in Bismarck, it is essential that we partner with others for social change in our wider community. These partnerships have been one of our greatest strengths and joys."
As Vanorny said, "I think our presence conveyed our belief that ALL PEOPLE are one under God…there are no 'undesirables' or differences according to human-made borders."
---
Related News
On a recent trip to Palestine and Israel, the Rev. Allie Perry was part of a delegation that...
Read More