A full communion celebration aligns American, Canadian churches
Love thy neighbor.
When the United Church of Christ and the United Church of Canada gather in Niagara Falls in mid-October for worship to celebrate a full communion agreement, the two North American denominations will live out that call to love they neighbor. The governing bodies of both denominations approved the full communion agreement this summer, setting the stage for the churches to formalize their new relationship on Oct. 17 in Niagara Falls, Ontario, at St. Andrews United Church (of Canada).
"I think it's important for us to share in our common witness of faith through a liturgical service," said the Rev. Karen Georgia A. Thompson, UCC ecumenical and interfaith officer. "We are both bringing our board of directors and our leadership together to share our common witness and we see that as a good way to start out — centered on our faith traditions — in this journey together. The agreement is so new in the life of the UCC that we thought it would be an opportunity, because of the shared border between our two countries, for us in the United Church of Christ to cross the border into Canada. It shows unity through international lines."
UCC national officers and members of the United Church of Christ Board, who meet Oct. 14-17 in Cleveland, leave for Canada via bus the morning of Oct. 17 to be part of the celebration. At the service, leaders of both churches will sign a formal document, followed by worship.
"It was an opportunity we recognized that couldn't be missed. We'll bring almost 100 people from across Canada representing our national committees, staff members and senior officers, to Niagara Falls for the service," said the Rev. Bruce Gregersen, United Church of Canada senior advisor of theology and faith. "We deeply appreciate the willingness of the UCC Board to join us in Canada.  Hopefully we will have many opportunities in the future to reciprocate."
The Rev. John C. Dorhauer, UCC general minister and president, is one of the denominational leaders who will attend the joint service. Though just elected in June, he recognizes the work done to make this communion possible. "I want to especially thank [former General Minister and President] Geoffrey Black and Karen Georgia Thompson for their commitment to our United Church mission," Dorhauer said. "They are both beloved figures now in the United Church of Canada and should be recognized for what they did to help bring this about. This will stand as a singular moment of honor for me. To be present in this Liturgy on behalf of the United Church of Christ and celebrate our Full Communion with the United Church of Canada is something I will long cherish. I am so proud. I am grateful to all who made this moment possible."
The two denominations have common ecumenical partners and hold similar views on social justice work, the inclusion of LGBT people and ordination of women.
The churches formal conversation toward full communion began in April 2012, when the UCC made a historical visit to the United Church of Canada offices in Toronto. After a year of study and engagement, six representatives from each church brought a common document to General Council 2015 and General Synod 2015. The 30th UCC General Synod unanimously approved that document on June 29, and the United Church of Canada unanimously adopted it during its 42nd General Council on Aug. 13.
"We've been deeply committed to global ecumenical movements and to partnerships around the world in many forms and expressions," Gregersen said. "But this journey signals a rekindling of our 'fire in the belly.'  It has touched something of deep significance in the church and we're excited about what it will mean into the future.  We are not alone, as our Creed says."
A full communion agreement allows two or more denominations to recognize the others' sacraments and the ordination of ministers, granting ministers the privilege to be called by congregations of either denomination. This is the UCC's fourth full communion agreement and the first for the United Church of Canada, the largest Protestant denomination in Canada with about 3 million members in more than 3,500 congregations.
"It's a new experience for us, but one that is widely embraced," Gregersen said. "It's a beginning of a journey that we hope can transform us both."
Dorhauer came to the UCC by choice, and was inspired by its mission and work toward the unity of the spirit to fulfill the prayer by Jesus Christ, "That they may all be one." This communion between two denominations is done in that bond for peace, he said.
"Any time members of the body of Christ lay aside whatever differences we have and share full communion with each other, we fulfill our calling," Dorhauer said. "We who talk about the power of love to redeem and to heal will never be taken seriously if we cannot demonstrate love for one another. I am excited about what will happen in Canada because it gives witness to our commitment to love our neighbor; it testifies to our willingness to take the gospel seriously and build bridges across boundaries and borders that have too long divided us."
Everyone is invited to join the celebration on October 17 at 6:30 p.m. ET at St. Andrew's United Church, Niagara Falls, Ontario, in person or online.
Congregations of both churches are asked to share in a common prayer on Sunday, October 18, to celebrate the agreement.
---
Related News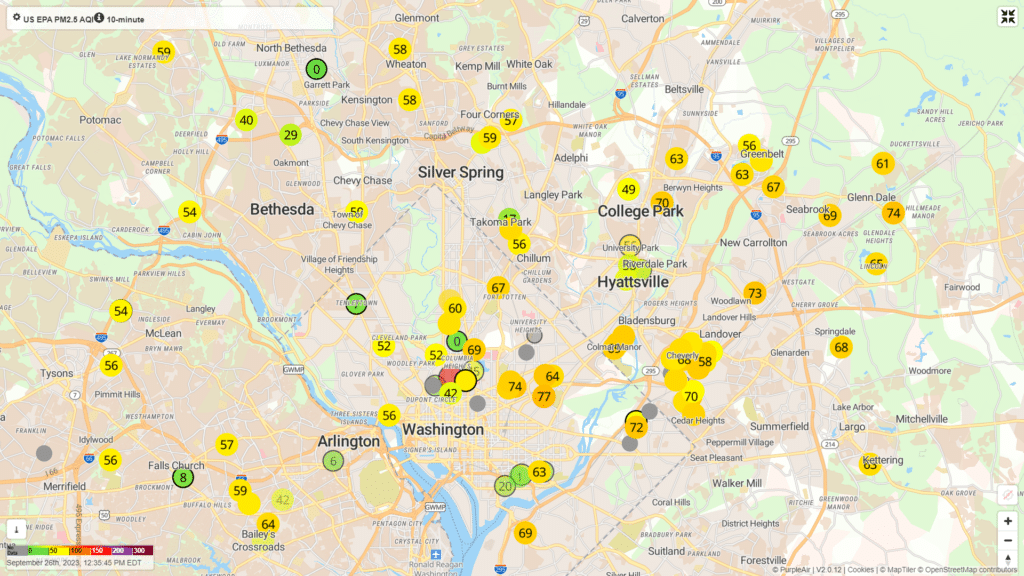 This summer, the United States experienced some of the worst days for wildfire pollution in...
Read More