Commitment and community mark Illinois church anniversary
On a village green in a suburb southwest of Chicago, a sacred ceremony brought a sizeable community of people together in love. Pilgrim Faith United Church of Christ, one of the oldest churches in Oak Lawn, Ill., marked its 125th anniversary on Saturday, June 25 by gathering 35 couples to renew their wedding vows.
"This is an event which allows us to provide an extravagant welcome to all," said the Rev. Peggy McClanahan, church pastor. "Pilgrim Faith United Church of Christ has always been very involved with our community so we knew we wanted to do at least one really public event during our 125th anniversary year that would include and attract others beyond the congregation."
McClanahan said the church's anniversary committee dreamed big, setting a huge goal for the inclusive event, after someone said, "'Wouldn't  it be fun to have a renewal of vows ceremony?" In one of those serendipitous happenings they just kept spinning ideas and someone said, "Maybe since it is our 125th anniversary we could get 125 couples to do it.'"
A more manageable number of three dozen couples responded to the church's widespread invitation via social media and the village newsletter, and folks from all walks of life registered.
Sheri Ibarra, a member of the congregation who wed her husband Gil in a group ceremony, organized this renewal of vows. "When we got married the first time, we won a contest and got married on the radio on Valentine's Day with 40 couples," Sheri said. "We were young and in love and saved a ton of money! But we never got married in a church and so I'm looking forward to this renewal of vows by Pilgrim Faith and Rev. Peggy."
McClanahan said several of the participants told her they were more moved by the group ceremony than they expected to be. On a beautiful evening, the vows were followed by a cake and punch reception and a concert, and each couple took home a certificate and a photo to mark the event.
Church custodian Curtis Sneed and his wife Sandy decided to celebrate their 12th anniversary by saying 'I do' all over again. "We always talked about renewing our vows," Curtis said. "We were going to go back to the place we got married but when we heard about this we thought this would be great since it's right on our anniversary. My five-year-old daughter got really excited about it and will be there with her brother and also my sister and my mother-in-law."
Awards were handed out to the couple who traveled the farthest, the couple with the most unusual wedding story, and the longest married couple. Grace Pluhar and her husband Russ won that one. "Having gone through 62 years of marriage with the same person, and raising four wonderful children, has been a lifetime of joy," Grace said. "Our love has never died — it has always been part of our lives and hopefully will continue to the end."
The Ibarras won for the most unusual wedding story, and the award for distance went to the Stevensons. Husband Keith joined the group on FaceTime from Paris where he is leading a group of high school students. His son Colby stood in for him, holding the Iphone so he could renew his vows with wife Cari.
Pilgrim Faith, which claims to be the 'first' congregation of the United Church of Christ denomination, was originally formed on Oct. 31, 1891 as the First Congregational Church of Oak Lawn. It has seen several name changes and mergers since, but as to being the first UCC church — pastor McClanahan explains it's all about timing. "In 1947, Brainerd Community Church (a Congregational church) and St. Luke's Evangelical and Reformed Church, both on the south side of Chicago, merged to form Faith United Church (later Faith United Church of Christ). Nationally, the two denominations were in conversation about merging, but the actual formation of the UCC did not formally happen until ten years later in 1957. But these two congregations decided not to wait for their parent denominations to work out everything and went ahead and merged, ten years ahead of the UCC."
McClanahan said the anniversary celebration, "part of that forward-looking spirit that led Brainerd Community Congregational Church and St. Luke's E & R to merge in 1947," is just one way her ONA congregation of 340 members works together to serve all in their community. 
"The Vow Renewal Ceremony is an opportunity for couples to reaffirm their commitment to each other," Ibarra said. "Often in today's fast-paced world couples sacrifice time with each other to deal with kids, work and chores. This gave couples a rare chance to say 'I do' without the stress that the original wedding entailed."  
 
 
---
Related News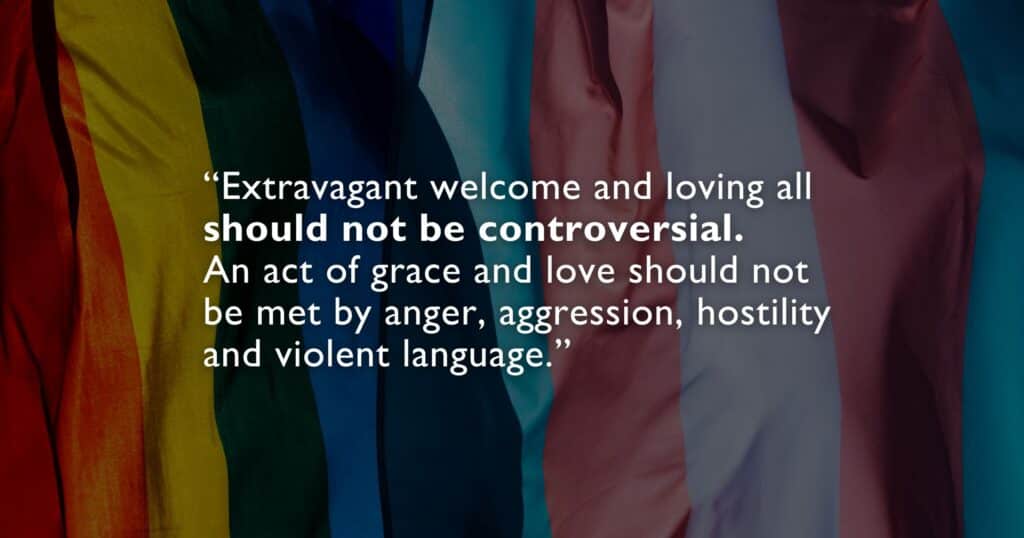 The United Church of Christ National Officers and the Conference Minister of the South Central...
Read More