When Demons Float: A Book Review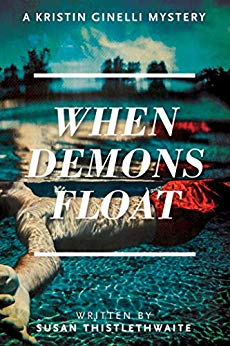 We don't usually do reviews here. It would lead inevitably to one of two things, neither of which are good: we start promoting every book that everyone with a progressive religious orientation writes, or we suffer the consequences of absorbing the anger and hurt feelings of the authors we chose not to review.
I get sent a lot of books and am asked to read, promote, or endorse the author or the content. Much of them I simply don't have time to read. Among the ones I do read, I share only my social media platforms to respond when appropriate.
But I am breaking that rule here, and I will tell you why before I tell you about the book.
Susan Thistlethwaite is a renowned theologian with a strong emphasis on feminist theology. She is professor emerita at Chicago Theological Seminary. In recent years, she has pursued another passion: writing mystery novels.
I love that genre, and so it wasn't hard to persuade me to read her latest novel When Demons Float. That it was well-written and entertained me as a mystery-thriller is not why I am sharing this article about it. That she is a well-known theologian within the UCC household adds a little interest for me – but not enough to get me to write about this book.
I choose to write about When Demons Float because it served not only as a good piece of fiction, but as a powerful tool for confronting white privilege. It is not didactic or preachy on the subject, but instead features a protagonist who, while being a courageous crime solver, also exhibits the internal struggles of a white ally trying to gain insight into the manifestations and impact of her privilege.
The underlying subtext of this book is race. The crimes committed are all racially motivated. The white detective who is the principal character models woke behavior that many white allies fail to attain. If all one did was read this book to gain insight into how whites show up in the lives of people of color and how they can/should respond when they are made aware of how they show up – it will have been worth it.
I did doctoral level studies and research into white privilege. I have read countless texts and studies on the subject. This is among the very few pieces I have read where a created character models what it means to be an ally. It sets an example that could inform in ways that essays, research papers, statistical models, or books on the subject can't.
When I asked Susan why she wrote this character this way, she said: "For the third novel, I wanted to go more deeply into racism and white privilege. I wanted to show how well-meaning, liberal white women, like my main character, Kristin Ginelli, perform white privilege while thinking they are "helping."
I know that many of you have been working hard to engage white supremacy and white privilege. I hope you continue that important work. Read everything you can on the subject. Engage critical leaders from various communities with you in the dialogue. And, while you are at it, think about adding Susan's book When Demons Float to your reading list. I did, and it caught me by surprise. I would like more artistic creations of characters who are on this journey, whose interior and external dialogues give us a model to work with. Susan has also included discussion questions for book groups at the end of the novel. She told me her novels are popular with UCC church book discussion groups.
As a side note to the story behind the story of this book, Susan was contacted by a young journalist, a recent graduate of a major university, for a book review. During the interview, she expressed to Susan that what the novel describes is not unlike what she had experienced her last year of college when white supremacists made a series of attacks on her campus. In her words, she had already lived in some ways what the novel describes. The white supremacists have returned to that campus this fall. In other words – the novel isn't as fictional as it was originally intended to be.
Life imitates art.
And as long as it does, the artists among us should find their voice.
The Rev. John C. Dorhauer is General Minister and President of the United Church of Christ.
---
Related News
Throughout the holiday season—from Thanksgiving, through Advent and Christmas, to the New...
Read More