A tribute to Congressman John Robert Lewis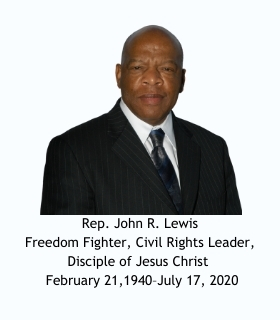 This commentary honors the life and leadership of Rep. John R. Lewis, Freedom Fighter, Civil Rights Leader, Disciple of Jesus Christ. February 21, 1940 – July 17, 2020 
President Franklin D. Roosevelt is quoted as saying: "Courage is not the absence of fear, but rather the assessment that something else is more important than fear." I would also add courage is not hereditary, but rather it is forged in the fires of life. Congressman John Robert Lewis was a man of great courage. Today, he will finally be eulogized in the church he called home, The Ebenezer Baptist Church, in Atlanta, Georgia. There will undoubtedly be many watching as he lived a life worthy of such honor. Many will speak fondly of him and undoubtedly his pastor, Rev. Raphael Warnock, will eloquently and powerfully paint a picture of the man who served fully and well until his dying days. I will be watching, along with much of the nation, mourning the loss of this great leader at a time when our nation is in such great need of leadership.  
But the truth is Congressman Lewis has already preached his eulogy. From the red dirt roads of Troy, Ala., he began re-writing his expected end by reading and studying his way out of the cotton fields to Fisk University. Inspired by the Montgomery Bus Boycott and the leadership of the Rev. Dr. Martin Luther King, Jr., Congressman Lewis began organizing sit-ins at segregated lunch counters in Nashville, Tenn. He volunteered for the Freedom Rides of 1961 in spite of the dangerous threat of violence present with each journey. He rose to leadership in the Student Nonviolent Coordinating Committee (SNCC) organizing student freedom fighters to end segregation and to secure voting rights denied Black Americans.  
By the time the Congressman reached the Edmund Pettus Bridge in Selma, Ala., to lead with his friend and colleague the Rev. Hosea Williams 600 people across the bridge in protest of the state-sanctioned murder of Jimmie Johnson in Marion, Ala., courage was embedded in his soul. It is said Congressman Lewis asked Rev. Williams, as they stood on that bridge over the Alabama River, if he knew how to swim. Neither young man knew how to swim but they marched forward anyway. Facing rows of Alabama troopers intent to stop their progress, they matched forward anyway with courage forged in the fires of life. Bloody Sunday should have killed him but it only made him stronger.  
I believe Congressman Lewis knew at an early age that physical death is not the worst thing that can happen to us. To live a cowardly life in the face of injustice quenches the Spirit of the Divine within, and to be spiritually depraved is worse than death. So he chose to march forward. For all of his days, Congressman Lewis marched forward. In spite of over 40 arrests, and opposition often on every side, he marched forward. All the way to the halls of Congress he marched forward. But marching is not his most courageous act. It is the fact he never lost his love. Congressman John R. Lewis was a man of great courage because he was a man of great love.  
As I viewed his horse-drawn casket, draped in the flag of a country that still fails to fully see the interconnectedness of all of humanity, cross the Edmund Pettus Bridge one last time, I was mindful the same bridge that was splattered with his blood 55 years ago was now scattered with rose petals to adorn his final journey. I wondered if the fragrance of the fresh rose petals crushed under carriage wheels would be enough to mask the stench of the blood that paved the way. I believe the ancestors are watching and Congressman Lewis is among them too. I believe he is telling us keep marching forward, don't ever lose your courage, and don't ever lose your love, and never go alone. Walk together children, don't you get weary; there's a great camp meeting in the Promised Land.  
Thank you, Congressman Lewis. Onward We March!  
http://www.ourfaithourvote.org
The Rev. Traci Blackmon is the UCC associate general minister, Justice & Local Church Ministries.
---
Related News
While I was pregnant with our second child, our local church held an Advent Fair where we all...
Read More