Collaboratively created, 2022 stewardship resources designed for year-round use
The United Church of Christ stewardship development team is doing something new: offering resources churches can use year-round to make the connection between faith and giving.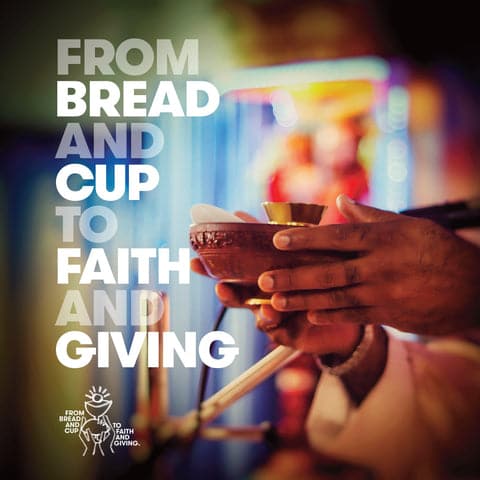 "Congregation leaders often look to the national ministries for resources. This is something concrete that we can provide to them to improve their local church," said the Rev. Andrew Warner, UCC generosity outreach officer.
That means the 2022 stewardship materials are already available. This year's theme, "From Bread and Cup to Faith and Giving," makes the connection between one's experience of God and generosity as a disciple.
Why they're out early
"We are releasing materials now that typically we would not release until July or August," Warner said, noting that a number of UCC churches do spring stewardship campaigns.
But just as important, he said, the materials are ready now because they are intended to be used throughout the year.
"Our past materials provided content for a four-week campaign. We are now providing resources for a 12-month focus on stewardship," Warner said.
The "From Bread and Cup to Faith and Giving" materials include a poster, commitment cards, bulletin inserts, and letters. Campaign guidance is offered to help pastors make the best use of the materials, which are available as digital download or in print.
Generosity as spiritual practice
"Churches can adapt and chose among the resources provided to create a campaign appropriate to their situation," Warner said. "We provide several outlines churches might consider.
"I'm particularly glad that we offer materials for eight Sundays of preaching — worship planning, exegesis of text — plus small group adult education and children's stewardship education materials. In total, these materials allow a congregation to focus on teaching about generosity as a spiritual practice."
Warner cited research by the Lake Institute on Faith and Giving that showed that teaching weekly or monthly about generosity was the single best predictor of increased giving to a local congregation.
"This echoed previous research by the United Church of Canada," he said. "Research on what matters for increased giving in local congregations informed the design and content of our materials."
Created with Disciples
Warner worked with the Rev. Bruce Barkhauer, minister of faith and giving for the Christian Church (Disciples of Christ), to create the materials.
"Teaming with Andrew on this project has been a great experience and we share very similar views about the place of stewardship in the daily life of a person of faith," Barkhauer said.
"Financial stewardship is essentially inviting people to participate in the Kin-dom work the church is engaged in so as to increase its impact and effectiveness. People need to know that your mission and ministry matter and then be offered a meaningful way to contribute."
How-to's and webinars
Barkhauer said he and Warner wanted to "provide real assistance to the pastor in terms of helping them to craft sermons that reflect the powerful biblical and theological dimensions of stewardship." They have also crafted resources that can be used in small groups or Sunday school classes, with children and in worship. Also included are the "how to" elements of how to run a successful year-round program — and an opportunity to gather in community with other church leaders.
"When you order the materials you will find a schedule for several webinars throughout the year when pastors and lay people will be able to join together to ask questions, share good ideas and celebrate success stories," Barkhauer said.
Warner said he and Barkhauer, who was raised in the UCC, will be co-hosting five webinars over the course of the year.
"Both the UCC and Disciples value collaboration. We understand that working together makes each of us stronger," Warner said. "Bruce and I shared this commitment."
"Anytime we bring more people and perspectives into the conversation about helping congregations fulfill their mission and ministry, the better the results will be," Barkhauer said. "This collaboration genuinely reflect decades of the Disciples and the UCC seeking ways to be faithful partners together. It is a natural progression from our working together in global missions to sharing our witness and work in the local congregation."
Discount until April 1
Right now, the materials, available on UCCResources in both digital and print packages, are offered with an early-bird discount until April 1.
"The resources will help strengthen the churches that use them and it is our joy to make them available," Barkhauer said. "We are already hearing from people who have reviewed 'From Bread and Cup to Faith and Giving' and they are amazed at all of the resources included."
Content on ucc.org is copyrighted by the National Setting of the United Church of Christ and may be only shared according to the guidelines outlined here.
---
Related News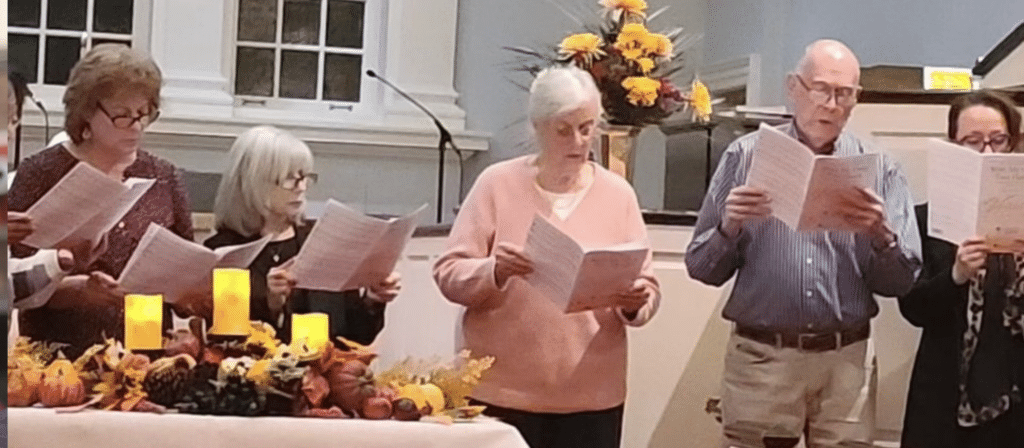 Many United Church of Christ congregations across the country participated in interfaith...
Read More