Clergy of color lead marches in Minnesota, accompanied by white colleagues
Clergy from the Twin Cities and across Minnesota took to the streets on Tuesday afternoon in a silent march and a prayful protest, first in Minneapolis and then in St. Paul. The action took hundreds to the block where George Floyd was killed in police custody.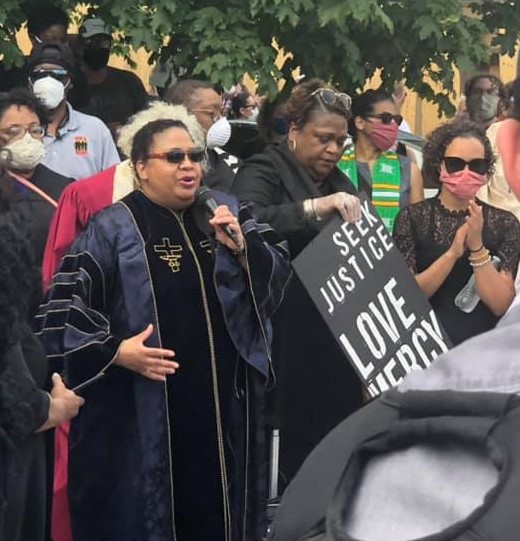 The march was organized by black church leaders in Minneapolis who invited other religious leaders to participate.
"People came out from large churches and small churches. Christians, Jews, Muslims, Buddhists. Everyone has been moved and shaken by this. And it's been our backyard," said the Rev. Shari Prestemon, Minnesota Conference Minister. "We are being called upon in some way – and it will reveal itself – in church, Conference and ecumenical settings, to work on this." 
The silent demonstration was led by clergy of color, with white religious leaders following behind, as allies. Prestemon estimated over 1,000 people participated in the clergy-called march, with more than 3 dozen clergy from the Conference taking part. Other justice advocates followed the religious leaders. Most wore masks, following COVID-19 precautions.
"I know that the group of clergy took up several city blocks. It was a massive turnout. We had clergy drive from 3 to 4 hours away," Prestemon said. "We know there is a role for us and work to be done, now and in the longer term. But right now, we feel emotional and overwhelmed. There is so little we can do immediately besides show up, so people showed up." 
The Minnesota Conference Minister spoke of two powerful moments during the first march in Minneapolis, which began at a community center and processed to the street where George Floyd died. The spot is now a memorial site. "There are people there every day, all day, to continue arranging flowers and such into a living piece of street art. There's chalk art – and the mural is amazing. At the site the last few nights, people aren't leaving at curfew. There's no violence, no problems, just there to show respect." 
At the memorial, a few preachers spoke, and Prestemon said it was hard to hear them in the large crowd. But she got emotional when she shared what she could hear and see.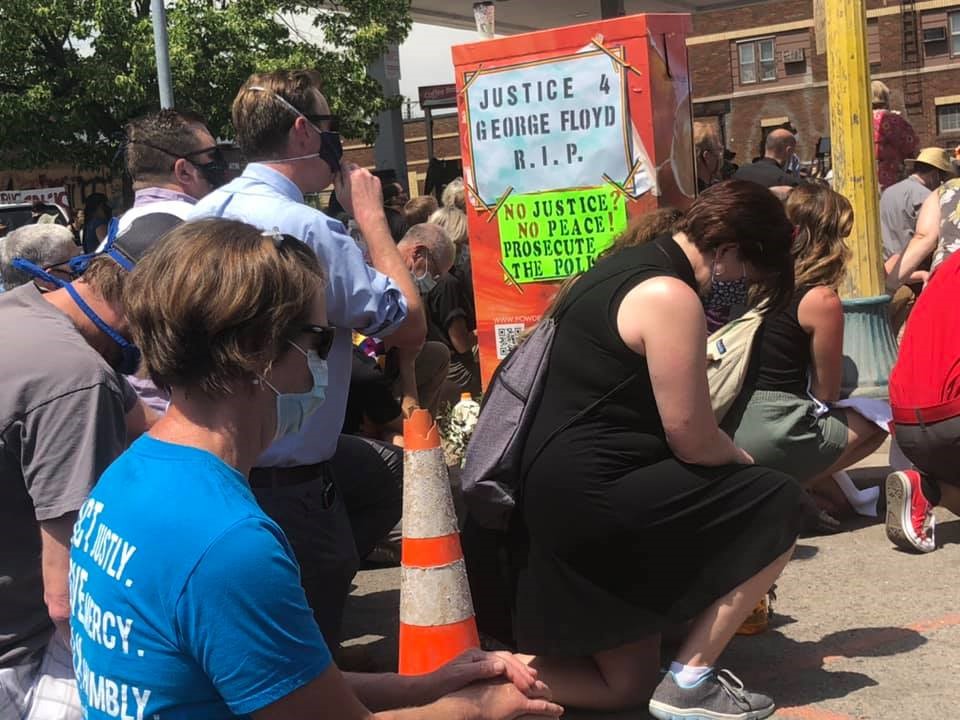 "But when one of the speakers asked everyone to kneel, it was a wave coming back into the group of clergy. Where George Floyd had died, where a policeman kneeled his weight into his neck, we were invited to pray aloud the Lord's Prayer. It's hard. It was powerful. That was the first moment."  
The second moment came as everyone was preparing to leave. 
"As we finished at that site, to walk back to where our cars were, we wanted the black clergy to lead the way back. They came through us – the white allies parted the crowd so the black clergy could pass through. We applauded them. It went on and on. It was one thing we could do to show them we were there, that we were grateful for their leadership and that we have their backs."
Prestemon said the march later In St. Paul took part in a section of the city that was destroyed after the protests of last week. "The buildings were either boarded up or burned down in the neighborhood as a result of the looting and violence. There's a National Guard presence everywhere. Blackhawk helicopters overhead. It was two very different experiences."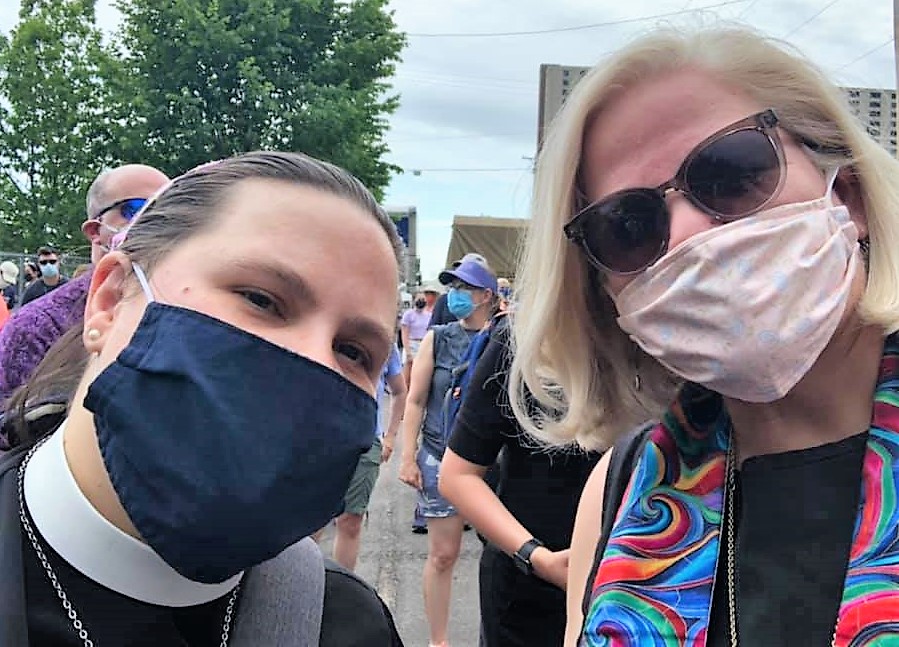 On Wednesday, June 3, the Minnesota attorney general increased the charges against police officer Derek Chauvin to second-degree murder and charged the other three officers with aiding and abetting in George Floyd's Memorial Day death. 
Tomorrow Prestemon will attend the memorial for George Floyd at North Central University, at the invitation of the Minnesota Conference of Churches. By the end of the week she hopes the Minnesota Conference will have appointed a task force to shape a more strategic response, in both the metro Twin Cities area and in greater Minnesota. 
"How does this country utilize this moment as a turning point and how do we as the Church use this moment? What is our work in this – both in the short term and the long-term," asked Prestemon (pictured at right with the Rev. Danielle Bartz of Winona, Minn, who is at left in the picture). "What does recovery look like, and what are the churches' role and the Conference's role in all that? We want to do the right thing in the right way, in the right time."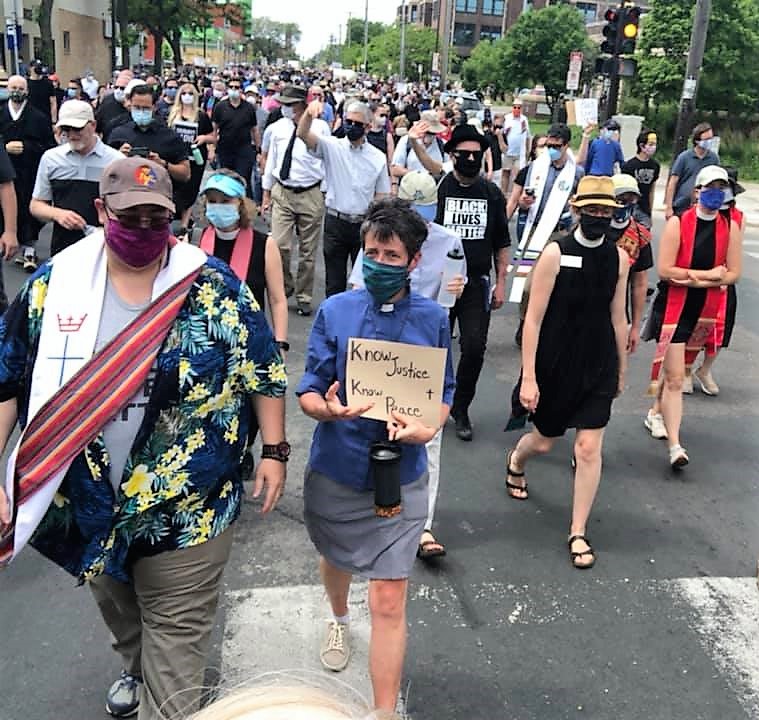 ---
Related News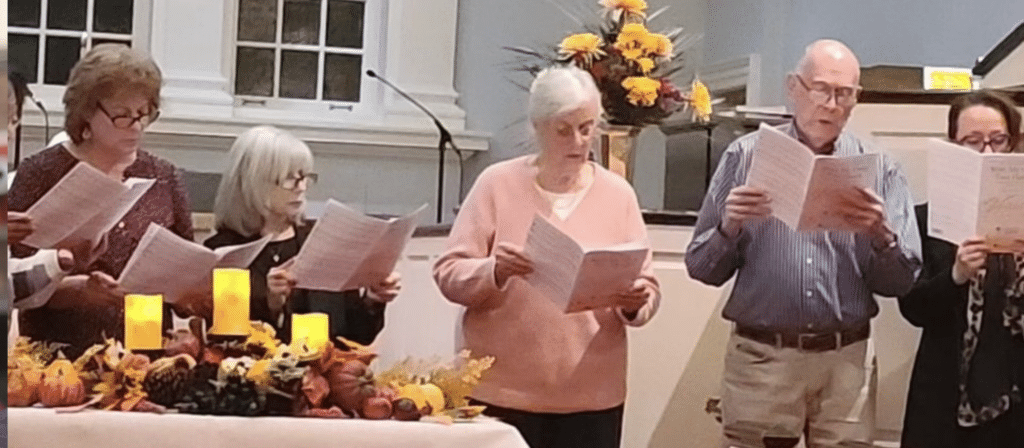 Many United Church of Christ congregations across the country participated in interfaith...
Read More