Clergy call for D.C. statehood to give voting representation to its residents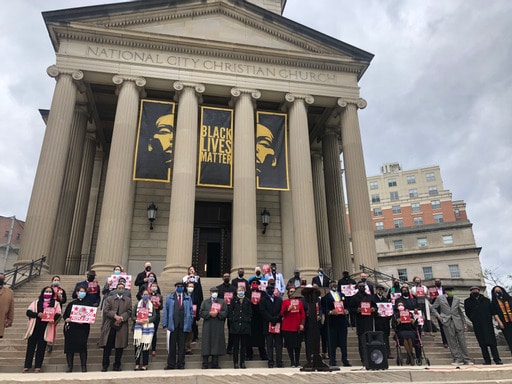 A group of interfaith leaders gathered on the steps of a church in the U.S. capital on Friday morning to issue a call for statehood for the area making up the District of Columbia.
They gathered at National City Christian Church on Emancipation Day, April 16. The holiday in Washington, D.C., marks President Abraham Lincoln's signing of the Compensated Emancipation Act, which freed 3,000 enslaved people in the District on April 16, 1862.
The faith leaders are calling for the freedom of current district residents to control their own destiny, with voting representation in Congress.
'The people should have a say'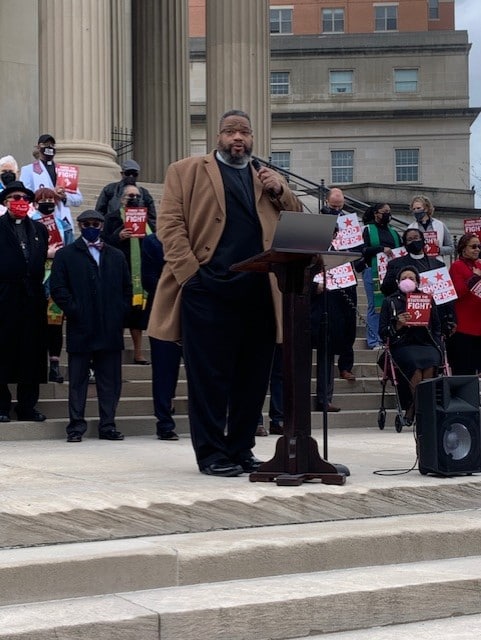 Bishop Dwayne D. Royster, senior pastor of Faith United Church of Christ, was one of the religious leaders who shared reasons to support H.R. 51, the Washington, D.C., Admissions Act. He told the crowd that denying D.C. residents voting rights "perpetuates the continuing racial inequity in the United States of America."
"This fight is about enfranchisement," Royster said. "It's about people having a say in their own collective destiny. It's about the people of the east coast city with one of the largest Black populations having a right to determine the future of their nation and their own communities without the micro-management of the federal government."
A matter of safety
The Rev. Amanda Hendler-Voss, designated senior minister of First Congregational UCC in D.C., was another of the dozen UCC clergy who turned out in support of the bill.
"Our congregation serves people who live and work in the district, many of whom find great meaning in living out their faith through advocacy, activism, neighborhood organizing and deep involvement in matters of policy on local and federal levels," Hendler-Voss said. "Lack of voting representation denies their ability to fully live into their faith as a justice-seeking community."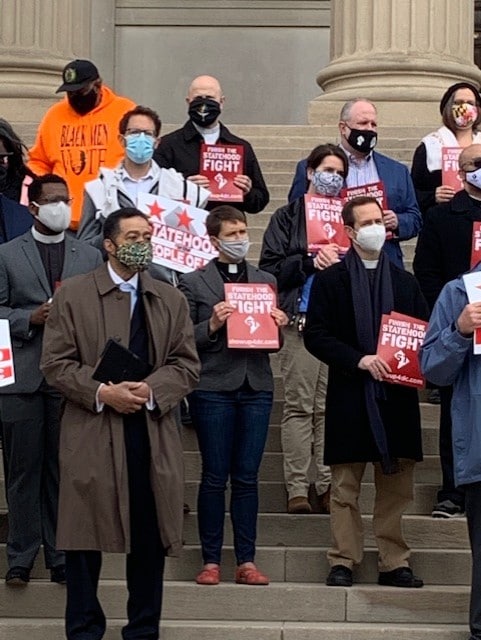 She pointed to two events in the last year where she said it became clear that D.C. statehood was a matter of safety and accountability. In the first, First Congregational members couldn't access their building when troops closed the roads on June 1, during peaceful Black Lives Matter protests.
"Then President Trump had tanks rolling through our city as crowds of peaceful protesters were maced in service of his photo op with an upside-down Bible at St. John's church," she said. "There was no accountability; no one we could call to say, hey, we need access to our church building and these protests do not merit tanks and militarized forces all over the city.".
In the second, on Jan. 6, people who live and work in D.C. were endangered by the attack on the Capitol. "Because Mayor Bowser is not a governor, she could not call for the National Guard herself," Hendler-Voss said. "And therefore the confrontation, which we now know was brutal for officers at the Capitol and which could have easily resulted in the death of elected officials, went on and on for hours."
700,000 with no voice
Because the district is not a state, its residents — more than 700,000 of them, the majority of whom are people of color — have no voice in Congress and no say over their own laws.
H.R. 51 would create a commonwealth of the D.C. area, excluding the federal buildings and monuments that would be known as the Capital. The new state would still be known as Washington, D.C. — but as a state, the initials would stand for "Douglass Commonwealth" instead of "District of Columbia." That change would honor abolitionist Frederick Douglass, who lived in Washington from 1877 until his death in 1895.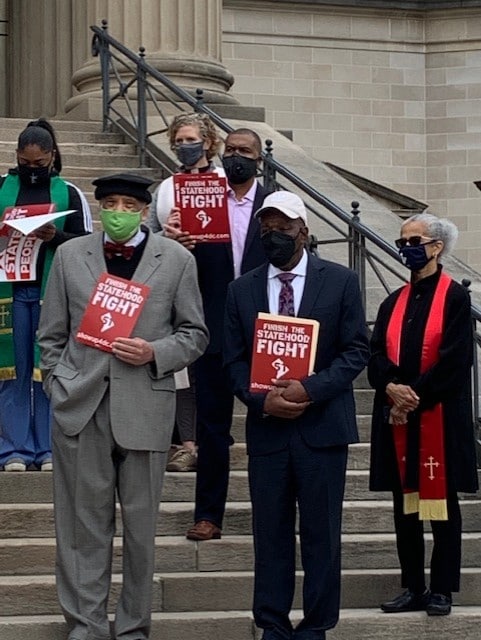 The Rev. Marvin Silver, associate Conference minister of the Central Atlantic Conference UCC, sent out a clergy call, urging church leaders to come to the event and to contact their congressional representatives to offer their support for H.R. 51. Silver said addressing D.C. statehood is a matter of justice, long-overdue.
"I first learned about this justice issue as a student of the former Jefferson Junior High School in D.C.," he said. "Being from the DMV (the D.C., Maryland and Virginia metropolitan area), this is an issue that is talked about often. Everyone clearly understands it as an issue of fairness and justice."
'National voting-rights issue'
"While the District of Columbia is often represented as an 'inside the beltway' home of politicians, my experience on the ground is that real people with children who go to school and meaningful lives of faith and neighborhoods deeply impacted by lack of affordable housing live in this city," Hendler-Voss said. "The very least we can do is ensure they have representation."
And, as Silver emphasized, D.C. statehood needs support from people around the country as well as in the District.
"This is a national voting-rights issue," he said. "Anywhere voting rights are threatened or denied, it chips away at our ability to be a free people who can determine our destiny. This is why citizens in states across the U.S. need to pressure their senators, where the fight will be, to support a floor vote in the Senate and to vote for D.C. statehood legislation."
The bill is expected to come up for a vote in the House of Representatives the week of April 19.
---
Related News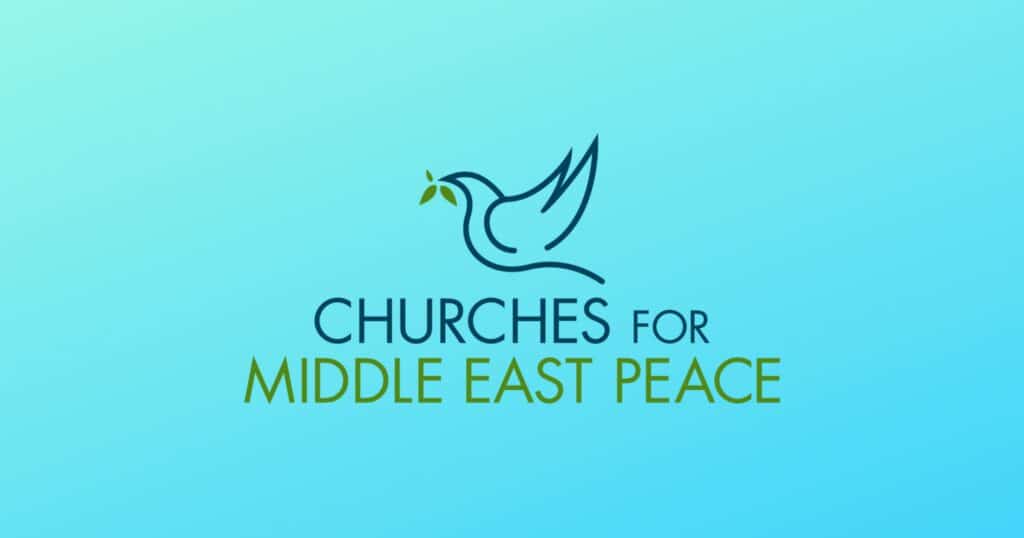 The following statement was issued Dec. 2 by Churches for Middle East Peace (CMEP), of which...
Read More