"Cinco Panes y Dos peces "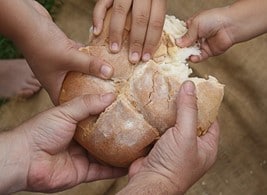 Acá hay un chico que tiene cinco panes de cebada y dos pescados; pero, ¿qué es eso para tantos? Juan 6:9
El abismo de la injusticia es hondo y oscuro y por todos lados nos rodea. Está en el fondo de las cárceles donde mueren de tristeza convictos que han sido olvidados, detrás de rejas refugiados y sus hijos, en el frio de los hospitales y debajo de los puentes. ¿Que son cinco panes y 2 peces para 5 mil, y que soy yo ante tanta miseria?
Al final de esa larga tarde de primavera, se encuentran Jesús y sus amigos sentados sobre una colina. Enfrente de ellos, está el lago genesaret reflejando los últimos rayos del sol. Galilea esta florecida y la pascua se acerca. El pueblo está buscando a Jesús. Lo habían visto al lado del lago, y en la plaza, platicando con los vecinos y comiendo con amigos. Por donde pasaba parecía iluminar el espacio, su llegada al pueblo había contagiado a todos de esperanza, y ahora no querían que se fuera. El, en cambio había visto en ellos tanta tristeza, tanta falta de sentido, tanto desconsuelo, y además al caer la tarde siente el hambre que traen.
Mirando aquel pueblo, Jesús toma una decisión.
Antes de que se acabe el día, y sobre esa colina habría un gran festín y todos (según el texto más de 5 mil) estarían invitados.
Los amigos de Jesús escuchan respetuosos el plan del maestro. Asienten con sus miradas tratando de esconder su preocupación. ¿Como decirle al maestro lo obvio? Hasta que finalmente se llenan de valor.
-Claro que si maestro, no más hay un pequeño problema, y es que no tenemos comida.
Jesus los escucha sin muestra de preocupación.
Nos dice el texto de Juan que solo un niño se acerca para poner en manos de Jesus, los cinco panes y dos peces que sus pequeñas manos guardaban. Seguramente era la merienda que su mama le empacó y que planeaba comer bajo algún árbol al terminar el día. No era mucho, nada más cinco pequeños panes y dos peces. Para los discípulos una ofrenda insignificante, pero para Jesús era más que suficiente. El maestro estiro los brazos y sostuvo el milagro entre sus manos. Después les invito a que se sentaran pues el gran festín estaba por comenzar.
¿A veces así es la vida verdad?
Por momentos la vida te lanza, porque estás cansado de todo, porque no sabes a donde más ir, porque las otras puertas se cerraron, porque ya nada tiene sentido más que el Reino de Dios. Y en ese momento te acercas diciendo finalmente.
Dios acá estoy has conmigo lo que quieras.
Y ahí, empieza el milagro. Con lo que iniciaste no importa, lo que importa es que lo pusiste en manos de Jesus. Según el texto, Jesús lo bendice, da gracias a DIOS y empieza a repartir.
¿Hasta dónde te repartirá Jesús? ¿A que rincones oscuros te enviara a llevar luz? Prepárate, seguramente serán los lugares que menos imaginaste.
Escrito por: Natalia Serna (La Muna) escribe canciones y cuentos. Es amante de los jardines con muchas flores y de juntar personas de caminos diferentes alrededor de una misma mesa.
---
Related News
The care of God's creation is a central calling of Christians that has found unique...
Read More