Churches can learn more about revamped refugee sponsorship program in April webinar
Welcoming refugees is a ministry near and dear to the hearts of many United Church of Christ congregations.
However, the United States government announced significant changes to the refugee sponsorship program in January. Welcome Corps, the new program, privatizes the process so that groups of individual citizens — not only a resettlement agency — can sponsor refugees. The catch is that the private citizens must pay $2,275 for each individual sponsored.
"Basically, what's happened is the U.S government has repurposed the U.S. immigration system so that it reflects the Canadian system, which means that churches or private individuals can sponsor a refugee on their own without the help of a refugee office," said the Rev. Irene Willis Hassan, UCC minister for refugee and migration services.
To help churches better understand this new paradigm, Willis Hassan is organizing an April 13 webinar, "Status of Welcome Corps with Church World Service," tailored to a UCC audience.
Church World Service — a partner of both the federal U.S. government and the UCC — will help roll out the Welcome Corps program, Willis Hassan explained. In the webinar, CWS representatives will give an update and more information about Welcome Corps.
Private citizens pay
Willis Hassan is preaching caution about individuals — including those from local churches — rushing into this new program. Therefore, she's encouraging as many people as possible to register for the informational event.
"The most accurate information on the recent developments to the immigration system will be offered at this webinar," she said. "We encourage you to attend the event live so that you are able to ask questions and engage with other churches interested in this topic."
Because of Welcome Corps' shift toward private sponsorship, congregations will need to be aware of the out-of-pocket costs.
"The difference between us — the private sponsors — and the refugee offices is that the refugee offices get paid $2,275 per individual that they're hosting," Willis Hassan said.
That money usually is used to help new residents start to settle in, supporting rent or other necessary costs, she added. Now, these expenses are being outsourced to the sponsors themselves — without government funding.
"What the U.S. government is doing is they're asking for private sponsors to come up with $2,275 per individual," said Willis Hassan. "Whereas the federal government was paying refugee offices, they're asking us to pay them."
Potential pitfalls
This new way of handling refugee sponsorship comes with potential pitfalls, which Willis Hassan worries could cause problems for congregations and the refugees they want to support.
One issue is that "it's causing a massive increase of desperate people sending emails" asking for financial assistance or sponsorship as refugees, she said. It's a lot to ask of private citizens, she continued, to be responsible with sorting out how to respond to these questions — and which ones are legitimate – instead of trained immigration and refugee professionals and government representatives. "It also puts churches at risk of scam."
In addition, the only people eligible for sponsorship are refugees that have already been processed by the U.S. government, and already be connected with a refugee office — "which are zero percent of the people sending us emails," Willis Hassan noted.
However, Welcome Corps is so new that the federal government could still make changes in the coming months. CWS and other advocates and partners are continuing to monitor the situation — and point out problems.
The lack of a mutual relationship between refugees and congregations, for example, is of concern to Willis Hassan. Still, there could be some benefit to any refugees who already have financial means.
"What would be really great from that is that if an individual from Haiti, Congo, wherever, decides that he wants to bring over his mother or his sister, then that person can do it, if they're rich enough," she said.
A better world
All this means that there's a lot for churches and other refugee-supporting groups to suss out.
Willis Hassan hopes that giving people an opportunity to learn and ask questions will help start them down paths that will lead to better services and outcomes for refugees.
"As we reflect on Jesus' ultimate example of transforming life and joy out of death and suffering, we look inward and how we can make the world a place of more blossoming empowerment for those on the margins," she said.
Register for the April 13 webinar here.
---
Content on ucc.org is copyrighted by the National Setting of the United Church of Christ and may be only shared according to the guidelines outlined here.
---
Related News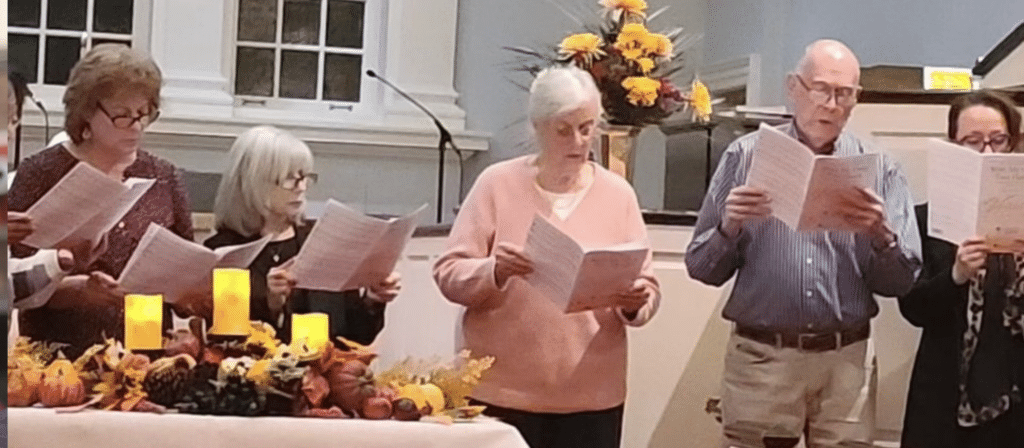 Many United Church of Christ congregations across the country participated in interfaith...
Read More