Churches and partners welcome — and prepare for — migrants bused from border
Buses of migrants from the U.S. border may be coming to a city near you. And the new arrivals will need help from local churches, say United Church of Christ leaders.
The Rev. Irene Willis Hassan, UCC minister for refugee and migration services, is urging communities to prepare humanitarian aid. The busing started this spring as a political statement by some state governors to show their displeasure with U.S. border policy by relocating migrants to "sanctuary cities" such as Washington, D.C., New York and Chicago. These relocations will continue — and grow, according to Willis Hassan.
UCC members, congregations and other entities already are pitching in to welcome these "bus migrants." More importantly, they are finding ways to help them begin the next step of their journeys.
However, more help is and will be needed. "Buses will come to many more cities," Willis Hassan said, and they will deliver people who will need long-term services. While congregations can offer vital assistance, Willis Hassan stressed that they must call on local governments to step up.
"Clearly, the church cannot handle, alone, thousands of migrants with a wide range of needs," she said. "Unfortunately, because the situation is so politically charged, government at all levels — city, state and federal — is poorly responding or not responding at all. While delivering resources we have capacity to provide, it's paramount at this time that we advocate for governmental organizations to cooperate in making the situation manageable for the community."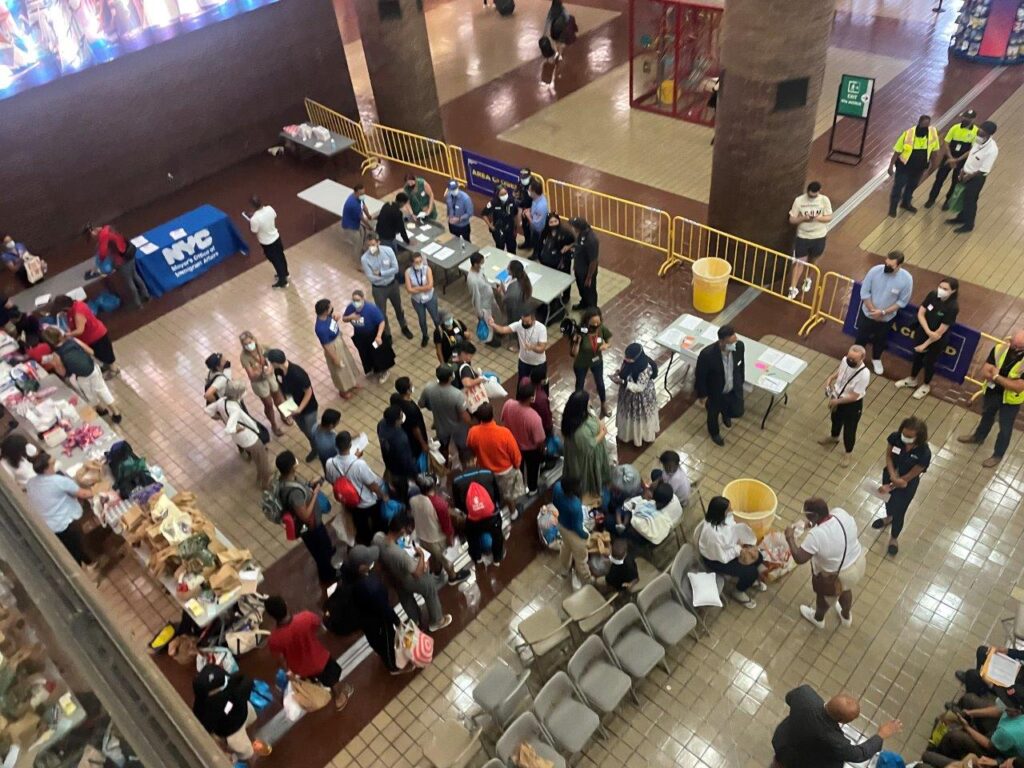 First, D.C.
"The buses were originally intended to be a negative political effort," said the Rev. Jerry Foltz, UCC Central Atlantic Conference disaster coordinator. "But now it's more like sharing the wealth. Migrants are coming to resettle and find work. It works for good, but ultimately, it's a struggle."
Foltz said groups such as Sanctuary DMV are taking the lead in welcoming migrants to the greater D.C. area. That's where the first migrants were dropped off and continue to arrive.
Foltz is a longtime member of Sanctuary DMV. Wellspring UCC in Centerville, Va., is receiving monetary donations for the group's work, he noted. Payments can be sent via Venmo to @SanctuaryDMV.
"We've gotten in hundreds of dollars," he said.
United Christian Parish — a joint UCC, Christian Church (Disciples of Christ), Presbyterian and United Methodist church in Reston, Va. — also is active in Sanctuary DMV, Foltz noted.
"I get an email now every day from Sanctuary DMV about volunteer needs, most often asking help for transport to appointments," he said.
Public emergency declared
Local faith groups and other nonprofits are cooperating in the effort.
"In partnership with a network of local faith communities organizing to uphold the dignity of migrant families, we have participated in advocacy and will now collect shoes for migrants arriving in the nation's capital," said the Rev. Amanda Hendler-Voss, senior minister of First Congregational UCC in downtown D.C. "It is a small but meaningful way to be part of the work."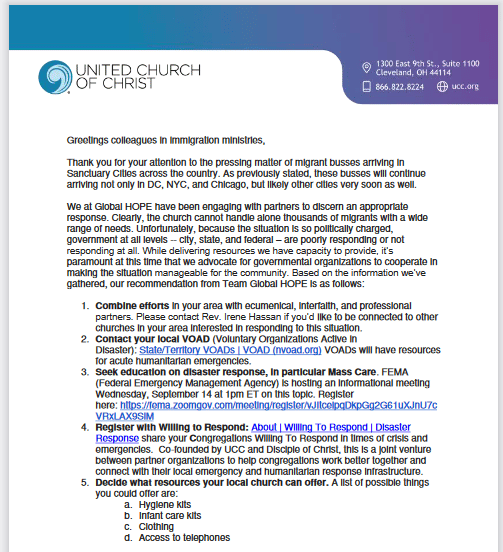 Recently, D.C. Mayor Muriel Bowser declared the migrant arrivals a public emergency and established an Office of Migrant Services. The office will "provide support and services" to nonprofits assisting migrants, according to the mayor's announcement.
"We celebrate Mayor Bowser's recent announcement, after months of advocacy from faith communities and mutual aid groups, to fund migrant services, providing a safe place to resource and resettle our new neighbors," Hendler-Voss said. "We will continue to hold the city leadership accountable, because this might be a model for other sanctuary cities throughout the country."
Now, New York …
In early August, New York became the second city to begin receiving buses of migrants. Willis Hassan highlighted a group there called Team TLC NYC that is involved in supporting the arrivals.
That organization, a chapter of the national Grannies Respond/Abuelas Responden, stays informed when buses are heading to New York. Team TLC then alerts local contacts, including several members of The Riverside Church, jointly affiliated with the UCC and the American Baptist Churches.
The welcome team also includes the Mayor's Office of Immigrant Affairs, the New York Immigration Coalition, Make the Road New York and several restaurateurs who supply box lunches.
… and Chicago
Chicago is the latest city to receive migrant bus arrivals. The Rev. Roger Dart, UCC Illinois Conference Disaster Coordinator, is reaching out to other voluntary organizations to help with migrant reception there.
"I think the biggest problem is politics. No government group is taking the lead," Willis Hassan said. "We don't have a model yet that works appropriately."
A few cities, such as Chicago, are leading the response, according to Willis Hassan. But more city governments need to get involved in offering respite for migrants being bused north, she believes. Her hope is that churches will keep petitioning local officials to create a framework for a response.
"If you declare as a sanctuary city, you need to prepare to be a sanctuary," Willis Hassan said. She encouraged cities receiving migrants to "do a Jesus on it" by turning the other cheek: "In this case, say thank you to the governors sending migrants: 'We will accept this challenge and turn it into beauty.'"
Conference coordinators' role
This influx of asylum seekers into sanctuary cities is creating some overlaps between the worlds of immigration response and disaster response.
In the UCC, for example, members of the Conference Disaster Coordinators' network have sometimes worked with refugees and immigrants. Willis Hassan spoke to them when they met Sept. 1.
One of them is the Rev. Karl Jones, the disaster coordinator in the Pennsylvania Southeast Conference. He helped with the resettlement of Puerto Ricans to eastern Pennsylvania, including Philadelphia, after Hurricane Maria. But "because Puerto Ricans are U.S. citizens, there will be some differences" between that situation and the current one, Jones said.
Other examples of CDCs who are equipped to pitch in are the Rev. Mona Lopez of South Central Conference CDC, who has expertise in responding to immigration detention, and Sue Frost of the New York Conference, who has committed to publicizing the need for volunteers, especially Spanish speakers, to help welcome buses of migrants to New York City.
But the situation is further complicated, Willis Hassan said, by the fact that separate government entities are responsible for disaster relief and refugee resettlement — and the Federal Emergency Management Agency has not declared this situation a disaster. This, she said, coupled with the political motivations behind the relocations, has caused some confusion about how, which and when federal agencies will respond.
Not illegal immigrants
During her meeting with the UCC disaster coordinators, Willis Hassan emphasized several points:
These migrants are not illegal immigrants. They are asylum seekers who have been processed into the United States and have documents and court dates.
Principles of disaster preparedness, including mass care, can be useful for organizing initial reception. Then refugee and immigration services agencies can take over.
Many of the migrants have family or other sponsors, but some do not and will need shelter and guidance.
Immediate needs might include a shower, a change of clothing, a hot meal, overnight accommodation, medical care and money for bus tickets to final destinations.
Engage Spanish-English interpreters and volunteers to help process arrivals.
Build a collaboration among governmental and non-profit partners.
Willis Hassan plans to offer a webinar to train churches for preparation and response to migrant arrivals.
Tips for churches
In addition, Willis Hassan shared recommendations from the UCC's Global H.O.P.E. team on how individuals and churches can respond.
"We at Global H.O.P.E. have been engaging with partners to discern an appropriate response," she said.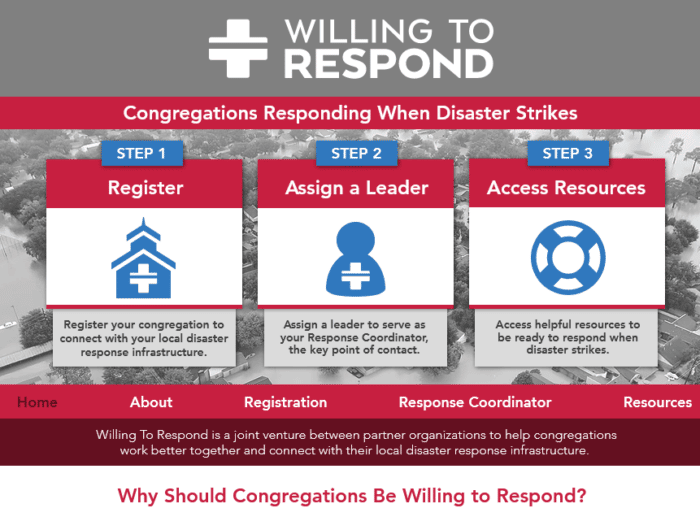 Those recommendations are to:
Combine efforts. Willis Hassan stressed the importance of connecting with local ecumenical, interfaith and professional partners. She invited interested individuals to contact her to connect to other churches in their area.
Contact local Voluntary Organizations Active in Disaster. VOADs offer resources for acute humanitarian emergencies. A list of VOADs by state and territory can be found here.
Seek education on disaster response, in particular mass care. FEMA offers information and training on this topic.
Register with Willing to Respond. Co-founded by UCC and the Disciples, Willing to Respond helps congregations work better together and connect with their local emergency and humanitarian response infrastructure.
Local churches also can discern what tangible resources they may offer migrants. A list of possible needs compiled by the Global H.O.P.E. team include:
Hygiene kits
Infant care kits
Clothing
Access to telephones
Limited or ongoing volunteer hours in coordination with a larger network, ideally guided by city government officials
Funding for final-destination bus tickets
Spanish interpretation
Asylum accompaniment for a family without a final destination (a toolkit about this is available here)
Transportation to medical services
Meal kits
Emotional and spiritual care
Childcare while adults are navigating a plan
Preparing for arrivals
Migrants appear likely to keep arriving in northern cities from some U.S. border states. And not just by bus: Florida's government flew about 50 migrants Sept. 14 to Martha's Vineyard, Mass., by plane. According to reports, the people on the flight believed they were headed for Boston, another sanctuary city that may soon receive migrant buses.
The Global H.O.P.E. team wants churches, their partners and cities to be ready to receive new community members with open arms.
"With ideas in mind of what you can offer, and your partnerships lined up, approach your city government and request that they make a plan in the event that migrant buses arrive in your city," Willis Hassan said. "City governments, in our professional opinion, should be taking the lead on this. Advocate for your city governments to create a preparation plan."
She said churches can apply for the UCC Refugee & Migration Solidarity Grant to fund migrant emergency situations.
"The most important element in any location is to advocate that the city government provide guidance," she said. "We, the church, can be instrumental in meeting this critical need, but not without solid partnerships that can offer sustainability."
Willis Hassan invited any interested individual or church to reach out to her by email at hassani@ucc.org for further information.
---
Maic D'Agostino, Carol Fouke-Mpoyo and Connie Larkman contributed to this article.
---
Content on ucc.org is copyrighted by the National Setting of the United Church of Christ and may be only shared according to the guidelines outlined here.
---
Related News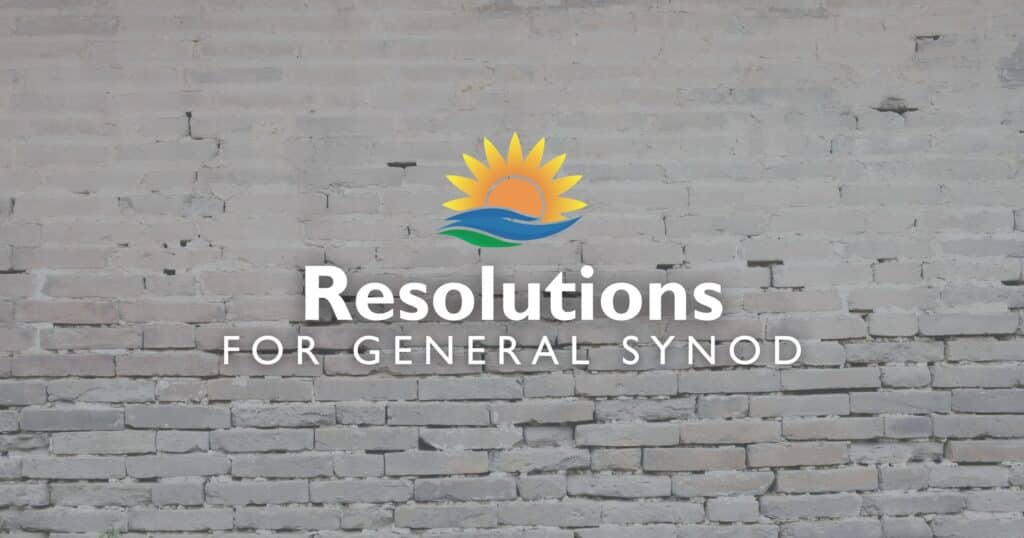 The 2023 General Synod of the United Church of Christ will consider 17 resolutions...
Read More