Church volunteers show love of neighbor with commitment to refugee resettlement in Maryland
A Maryland congregation working to build a just world for all is showing love of their neighbors in two ways this week, supporting refugee families and helping them find their way in a new country, a new culture and a new community.
On Sunday night, April 30, Westmoreland Congregational, in Bethesda, hosted a refugee support dinner at the church and invited their neighbors and friends. The joint effort of the UCC congregation with Quaker Friends and a Presbyterian congregation will assist three Syrian families in the D.C. area. Three cooks/aspiring caterers prepared the meal for about four dozen paying guests, which the churches used as a get-to-know-you gathering and fundraiser.
"Most of these families have only 6 or 8 years of schooling and many have members with disabilities, so they have great difficulty becoming self-sufficient within the 3 months they receive official support and language training from the resettlement agencies," said Nancy Pielemeier, part of the Westmoreland Refugee Support Team. "Our group decided to invite 3 cooks and their families to get to know our families at the same time we supported their cooking/catering at dinner."
"It was a test run, using the church as a test kitchen, so they could try making food for a lot of people," said the Rev. Tim Tutt, senior pastor.
"The food was delicious and enjoyed by all, and many of our church group plan to use these incipient caterers for other events in the future," said Pielemeier. "We will also share the experience with other church members and encourage further business."
The next morning, May 1, was moving day for an Iranian family, with the help of Mary Grossnick and the other volunteers of Westmoreland Refugee Hosting Committee. Grossnick has spent much of the last few weeks helping this mother and 16-year old son, in this country from Turkey just three months, find a better, safer apartment closer to public transportation, job opportunities and good schools. She's pretty fond of them and has been working hard to get them settled.
"The mother is a lifeguard at a hotel pool, and commuting two hours each way to work, sometimes late at night," Grossnick said. Her new apartment has an aquatic center less than a mile away, with a day job available, so Mary has been shuttling her to interviews, and helping her take the required tests for the position. Grossnick, who retired not too long ago, co-signed their lease on behalf of the church, which will pay their rent for several months until they settle in. But she said the mother is a go-getter, she wants to work and the two of them are managing with English.
Najla Drooby is helping make the connections between the refugee families and the church. She is guiding several faith communities in the area interested in refugee resettlement, and said she is working with 80 families, primarily Syrians, who aren't as easy. Most can't speak the language, they have several children who often can't read or write, and mothers who can't work outside the home.
"They come here, it's a hard lesson for them," Drooby said. "Up until now, every Syrian family has had extensive help. Here they get a few months of assistance and they're expected to be able to feed and house their families. The way we (U.S.) are bringing in the refugees is a disaster."
That's why Drooby is working to link the Quaker, UCC and Presbyterian communities to families, to get financial help, medical care, English classes, tutors, day care and ways to find jobs or ways to earn money cooking, baking, sewing or tailoring. As a Lebanese-American Muslim and daughter of a Syrian, she has spent much of the last year and a half providing interpretation and valuable assistance in interacting with people of another culture.
Pete Davis, another hosting volunteer, said that even though the church has adopted an 'easy' family to help them venture into refugee resettlement again, it is still a big commitment.
"The last time, in 1975, the church settled several families from Southeast Asia—Vietnam and Cambodia. You learn that it's a lot of work, and it's very rewarding. You see what these people have been through and what they've escaped. It's wrenching. The problems are numerous, and it takes years, not months."
"Tim gave a rousing sermon on Sunday about welcoming strangers and not only thinking positively about supporting refugee resettlement but actively doing something about it," Pielemeier. "It was a great rallying cry for our little group, and a number of people have expressed interest in joining our efforts."
Tutt said he is encouraged that these informal support networks and task forces of volunteers "keep bubbling up to help meet the needs of people where they are. Westmoreland has a long history of helping, from the 70s and 80s up to the present. The world seems to change but always stays the same. These people may be from different countries and speak different languages, but they are still our neighbors."
---
Related News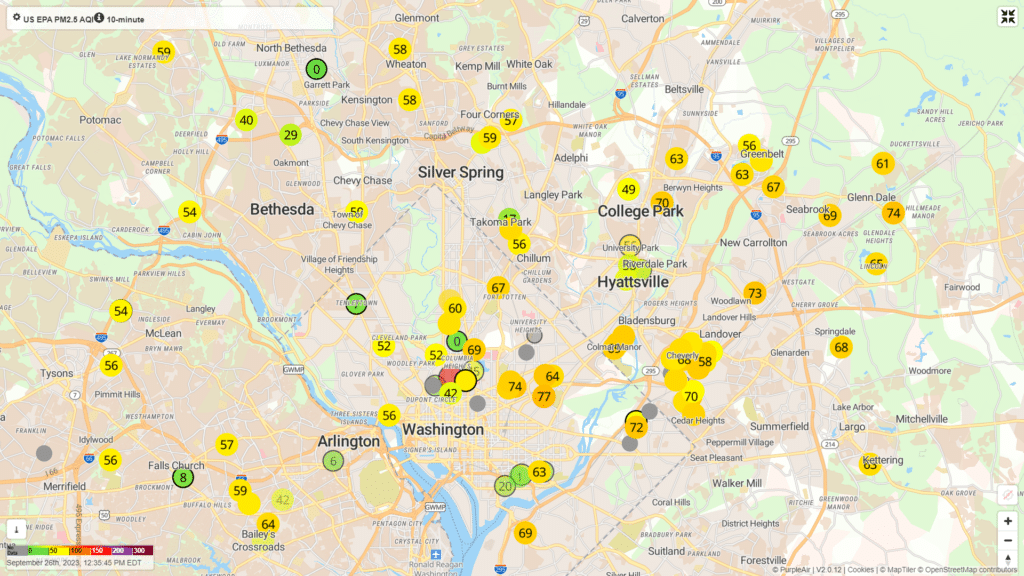 This summer, the United States experienced some of the worst days for wildfire pollution in...
Read More