Church leaders urge U.S. not to close borders to Syrian refugees
With recent deadly terrorist attacks in Paris, Beirut and Baghdad prompting a debate in the United States over the country's decision to accept additional Syrian refugees, national leaders of the United Church of Christ and the Christian Church (Disciples of Christ) are strongly urging lawmakers to resist a knee-jerk reaction to close the door and the border to innocent victims of the war in Syria.
In a statement released Nov. 17, "Not Terrorists; Not Tourists: Refugees are Human Beings," UCC and Disciples executives speak out against the current comments from many politicians — including the governors of 24 states who say they will not accept Syrian refugees for resettlement — along with members of Congress and U.S. mayors, who want the Obama administration to rethink the refugee policy, which will admit 10,000 Syrians in 2016.
"The Syrian war is the worst humanitarian crisis of our generation, and it has no resolution in sight," the statement reads. "More than half the Syrian population has been forcibly displaced from their homes, and more than four million Syrians are now refugees in neighboring Middle Eastern countries and Europe. Over half of Syrian refugees are children. The people of Syria did not choose such horrific suffering."
"We are appalled by the punitive and discriminatory rhetoric and actions by many political leaders to restrict and deny the admission of Syrian refugees because they are Syrian, or because they are Muslim," the joint statement continues. "Such attitudes are contrary to our understanding of our nation's values; and to our reading of our sacred scriptures. Such restrictions and limitations only make the displaced Syrian population doubly victimized: victims of the violence of war, and victims of the violence of hatred and bigotry."
"The Bible tells us that Jesus began life as a refugee when Mary and Joseph took their child and fled to Egypt to escape the murderous rampage of King Herod," said the Rev. Jim Moos, UCC national officer and co-executive minister of Global Ministries, a joint ministry of the UCC and DOC. "Today, Egyptian Christians joyfully remember the hospitality their ancestors provided for the Holy Family. Rather than fearing the refugees who have fled from unimaginable violence as many political leaders call us to do, let us welcome the stranger as the scripture commands." 
Church World Service President and CEO the Rev. John L. McCullough also urged public officials to avoid misplaced blame and to stand in solidarity with Syrian refugees, who are themselves victims of ISIS.
"These governors have turned their backs on Syrian refugees who, like the Parisians with whom the world is mourning, are the victims of ISIS," McCullough said. "For these governors to falsely assert that the U.S. refugee admissions program places their states at risk is utterly preposterous. Refugees are the single most scrutinized and vetted individuals to travel to the United States, undergoing more than seven security checks by intelligence agencies, including biometric tests, medical screenings and in-person interviews with Department of Homeland Security officials. To blame Syrian refugees, who are themselves fleeing the horrors of ISIS, for the acts of their perpetrators, is just plain wrong."
Some lawmakers have suggested a religious or nationality test for Syrian and other Middle East refugees. President Obama quickly denounced the idea, saying, "That's shameful. That's not American. That's not who we are."
"We aspire to something greater than this," the churches' statement continues. "We celebrate the human community. We recognize evil in the world, but the answer is not to shut out whole populations collectively; we know that each and every one of us could be excluded based on some aspect of identity. Refugees are already the most heavily scrutinized entrants to our nation, subjected to multiple and repeated security screenings. Such safeguards are essential, should be adequately supported, and should be efficiently managed. The U.S. should continue offering welcome to the world's most vulnerable peoples, including refugees from Syria."
Read the text of the entire joint statement of the leadership of the United Church of Christ and the Christian Church (Disciples of Christ).
Rev. John Dorhauer
General Minister and President
Rev. J. Bennett Guess
Executive Minister, Local Church Ministries
Rev. James Moos
Executive Minister, Wider Church Ministries
Rev. Bentley de Bardelaben
Manager, Justice and Witness Ministries
Rev. Sharon Watkins
General Minister and President
Rev. Ron Degges
President, Disciples Home Missions
Rev. Julia Brown Karimu
President, Division of Overseas Ministries
---
Related News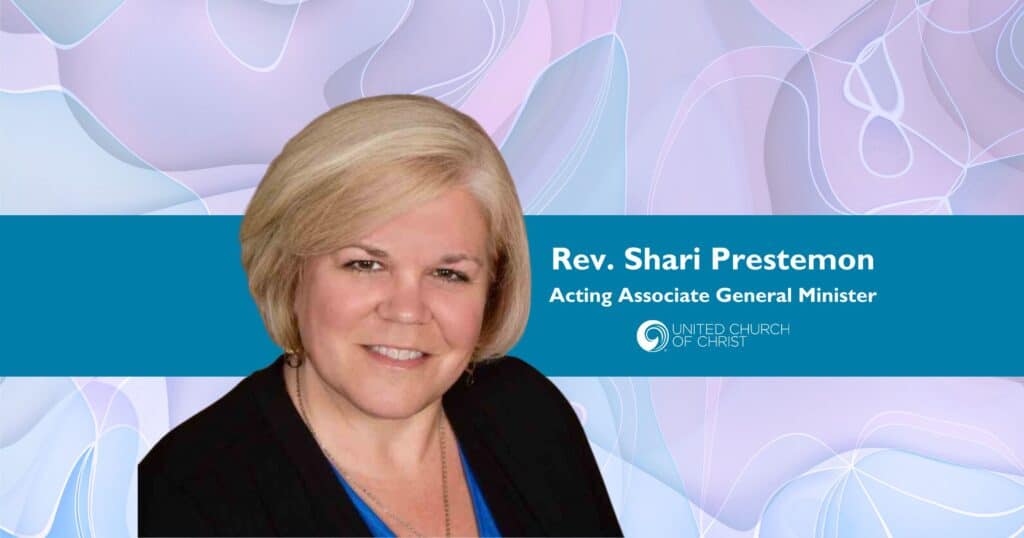 A new United Church of Christ national leader has been called. The UCC Board voted in a...
Read More