Christmas Fund Offering helps those who ministered to you
For the Rev. Chuck Yoak, the help he receives from the UCC Christmas Fund is "nothing short of a lifesaver."
Yoak, 77, began his ministry at 18, serving small churches that did not contribute to the UCC Annuity Plan. At one point, despite coming out of retirement to work again, his monthly bills exceeded his income by $900. Today, thanks to the UCC Christmas Fund, Yoak receives a monthly grant to supplement his pension, plus a Christmas gift check.
He also received an emergency grant for fuel and medical expenses after he needed hip replacement surgery in 2014.
"Every Christmas Eve in churches I served we took the offering," said Yoak. "I never dreamed that someday I would benefit from it."
Since 1902, the Christmas Fund for the Veterans of the Cross and Emergency Fund –– today one of four UCC Special Mission Offerings –– has provided assistance to clergy and lay employees who, after years of service to others, now find themselves facing unexpected needs. In addition to pension supplementation, Christmas "thank you" gift checks and emergency grants, the Pension Boards-administered program also grants quarterly health premium supplementation to individuals and families in need.
"The theme of the 2015 Christmas Fund Offering is 'Love Shines Through,' with a giving goal of $1.7 million," said Brian R. Bodager, president and CEO of The Pension Boards–United Church of Christ. "In the spirit of love, I invite and encourage you to prayerfully consider and support this year's appeal, and to spread the word so that others will join in this essential ministry."
In 2014, more than $1.4 million was provided in pension supplementation, almost $496,000 in health premium supplementation, $203,000 in "thank you" gift checks, and about $91,000 in emergency grants.
The Rev. Charles Busch found his call to ministry in rural parish work. The founder of the Peace Village program that teaches nonviolence to children, Busch retired after a long career in small-church ministry in order to spend more time with his family, who had challenging health and disability needs. He found retirement to be financially difficult, but is managing today thanks to annual Christmas "thank you" gift checks.
"I remember taking the Christmas Fund Offering each year in my churches, and now I am the recipient of that heartfelt gift," Busch said. "The dollars matter, but even more, it is the impact of being remembered by my wider church family."
That feeling of being part of the wider church family led Lydia Morrow, widow of the Rev. John W. Morrow, to establish the John and Lydia Morrow Fund, a charitable gift annuity for supporting widows and clergy families. "As I have been blessed, I hope the income from this fund will be a blessing to the many faithful servants in the United Church of Christ," said Morrow, "especially widows and clergy families."
Indeed, the Christmas Fund's most valuable asset may be renewed faith. Today, the Rev. Chuck Yoak belongs to Amery (Wis.) Congregational UCC. "I've been so terribly grateful for all the Pension Boards has done for me," he said. "The assistance programs give real hope to people like me who may have given up hope at some point."
Donate to the UCC Christmas Fund and download promotional resources.

---
Related News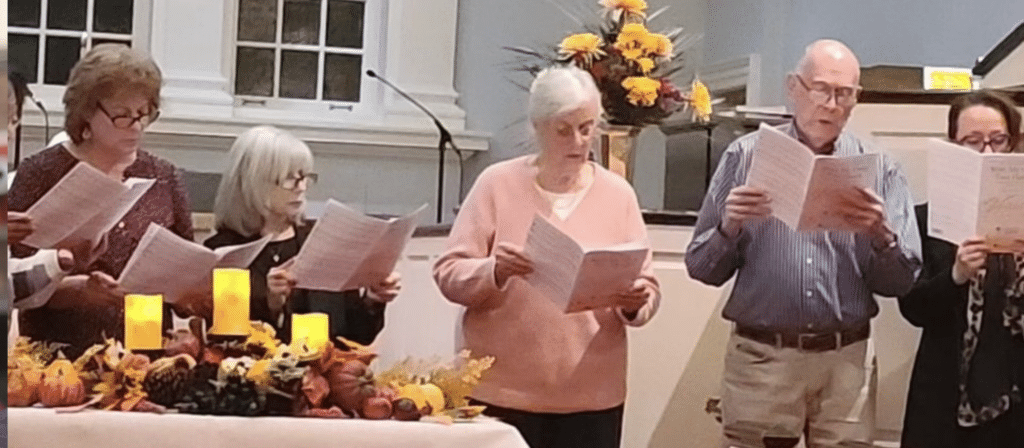 Many United Church of Christ congregations across the country participated in interfaith...
Read More