UCC Christmas Fund gives back to retired, active ministers in need
John Kelly Poorman is always exploring different ways to try to increase contributions to the Christmas Fund. For the past several years, the church council president of St. John's UCC in Boalsburg, Pa., has taken professional holiday photographs of members and their families in exchange for a Christmas Fund donation. This year Poorman wrote a nontraditional Christmas story to support the fund that recognizes and honors those who have served and continue to serve in lay and authorized ministries of the UCC.
"The ones who have been around for long time didn't have what pastors have now, so they struggle, and if anything devastating happens to them, they have no recourse," Poorman said. "We had their support when we needed it, and I think it's important that they have our support now that they need it."
Poorman's story, So, a Preacher and Santa Walk into a Bar, is for sale on amazon.com, and all proceeds will go to the Christmas Fund. While Poorman is not a UCC minister and does not personally benefit from the contributions, he has a special appreciation for the fund that assists ministers in need.
The Christmas Fund for the Veterans of the Cross and the Emergency Fund is one of the UCC's four special mission offerings. In 2012, the fund provided nearly $1.5 million in assistance to 900 clergy facing overwhelming financial demands in the form of Christmas thank-you checks, monthly pension supplementation, quarterly health premium supplementation, and emergency grants, which can also be utilized by active clergy. A ministry carried out by the Pension Boards for 111 years, the fund is received each year on the Sunday before Christmas.
The Rev. Jim Rapp and his ex-wife the Rev. Alicia Spring, who have both served various UCC congregations in Florida, benefitted from a Christmas Fund emergency grant after their son, Evan, had a kidney transplant in May 2013. While insurance paid for the surgery, both Evan and Jim, who was the kidney donor, needed to stay near the hospital for several weeks of follow-up appointments. The emergency grant enabled them to cover the costs of housing and meals during their recovery period. Jim is now pastor of Church of the Isles UCC in Indian Rocks Beach, Fla., and hopes to see his congregation become the highest giver per capita to the Christmas Fund this year. 
"It was a no-brainer for me to want to share a kidney with my son," Jim said. "Ministerial assistance came through quickly and generously and we were able to be ministered to."
"We always supported the Christmas fund," Alicia added. "I had always thought of elderly and retired ministers and spouses. I had never thought about the other side – people who were in difficult situations. It was a real blessing to have that weight lifted."
Vernis Brown is the widow of the Rev. Roy Brown, who was called to be a pastor at age 7 and served UCC congregations until he suffered a stroke in 1997 and passed away in 2002. Vernis said her husband always kept his promise to God to serve small congregations, which meant that she and Roy were often the only staff in churches they served in Minnesota, Wisconsin, and South Dakota. Vernis taught Sunday school, ran vacation Bible school, and worked with the women's and youth groups. In addition to preaching, Roy also drove a school bus, and worked as a farmer, hunter, trapper and fisherman. While she would never trade her life as a preacher's wife for anything, Vernis recalls how she, Roy and their 10 children lived on very little because the small churches they served couldn't afford to pay much. But the annual Christmas thank-you check has been and continues to be a welcomed contribution to her family. Each year, Vernis donates one-tenth of her check back to the Christmas Fund and encourages others to give as well.  
"It has really been a blessing and helped us in so many ways," Vernis said of the fund. "I'm the first one to stand up and say, 'I'm a recipient. Give generously to help other people.'"
To donate to the Christmas Fund, visit the Pension Boards website.
---
Related News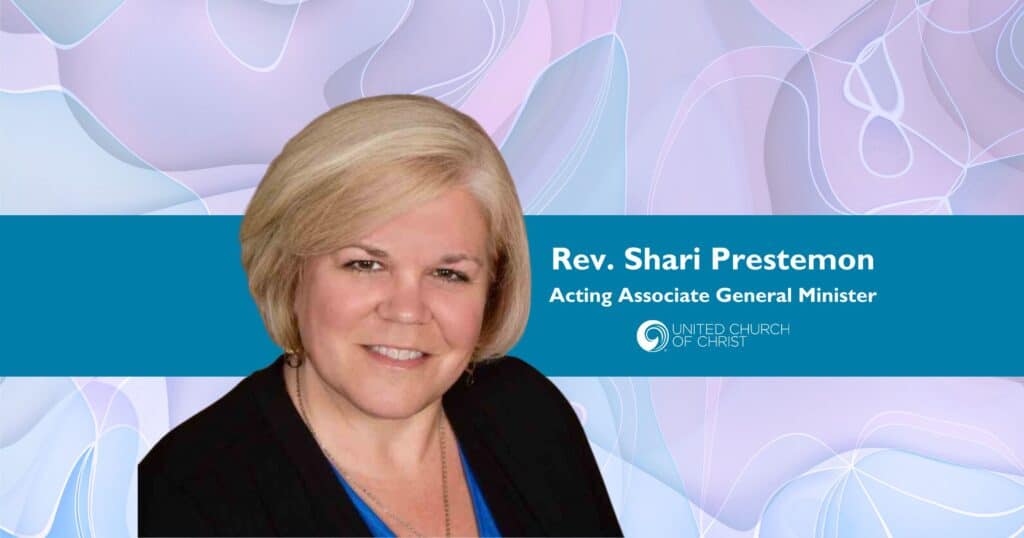 A new United Church of Christ national leader has been called. The UCC Board voted in a...
Read More