Christian activists invited to gather online April 25-27 for focus on voting, civil and human rights
"Fierce Urgency: Advancing Civil and Human Rights" is the theme of this year's annual gathering of U.S. "Christian advocates and activists."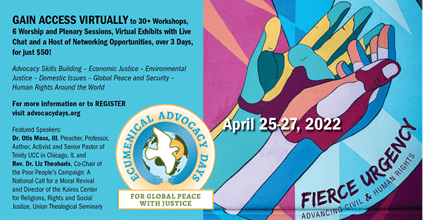 Ecumenical Advocacy Days will take place online Monday, April 25, through Wednesday, April 27. The United Church of Christ has long been an organizer and supporter of the annual event.
Offerings range from skill-building and informational workshops to a day of virtual Capitol Hill lobbying to seek elected officials' support for voting rights and human rights.
Tickets are $50 to $75. However, the UCC Office of Public Policy and Advocacy is offering full scholarships to attend EAD to the first 50 people who "follow" one of its social media accounts or become new members of the Justice and Peace Action Network. Interested people can follow the instructions on this page or email ucctakeaction@ucc.org for details.
The 2022 theme, according to the EAD website, "calls us into solidarity to restore, protect, and expand voting rights in the United States and to realize human rights around the world." More than 30 workshops will touch on subjects such as:
The COVID crisis and a human-rights approach to emerging from it.
Nonviolent resistance
Climate action, including public policy, ocean stewardship, reducing methane emissions and answering questions about renewable energy
International issues, including matters of justice and human rights in Cameroon, Cuba, Guatemala, Haiti, Honduras, Israel-Palestine, Mexico, the Philippines and Yemen
… and many more.
Featured speakers will include the Rev. Otis Moss III, senior pastor of Trinity UCC, Chicago, and the Rev. Liz Theoharis, national co-chair of the Poor People's Campaign.
"Ecumenical Advocacy Days is an opportunity each year to bring our faith voices together, and raise a common call for justice on urgent matters of our day," said the Rev. Michael Neuroth. As a UCC policy advocate based in Washington, D.C., he discussed the importance of the annual event — and the 2022 version of it — in a recent "Getting to the Root" column at ucc.org.
"From seasoned advocates to first time attendees, EAD will offer a powerful experience of worship, workshops, and advocacy training," Neuroth said. "This year, EAD will focus on key voting rights and arms trade legislation urgently needed to protect our democracy and strengthen human rights. The conference is an important way for us in the UCC to live out our ecumenical commitments and our vision for 'A Just World for All.'"
---
Content on ucc.org is copyrighted by the National Setting of the United Church of Christ and may be only shared according to the guidelines outlined here.
---
Related News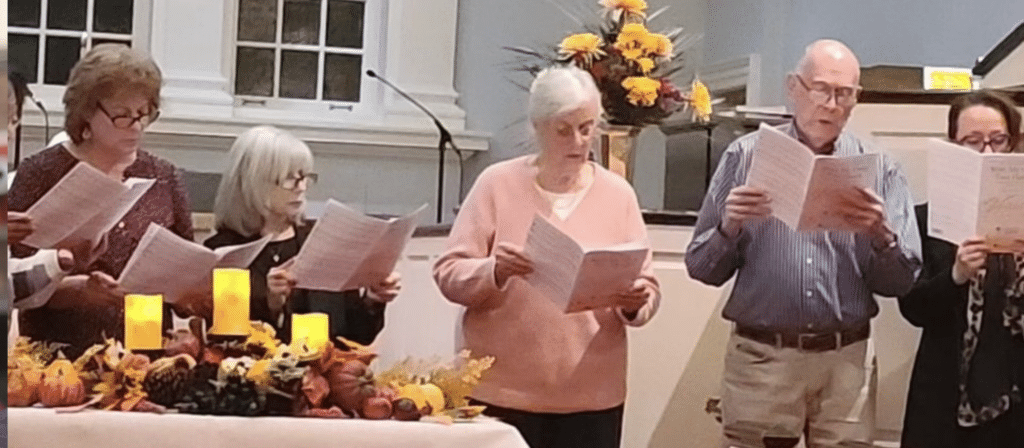 Many United Church of Christ congregations across the country participated in interfaith...
Read More