Children give frightening testimonies, UCC offers support during border march to save asylum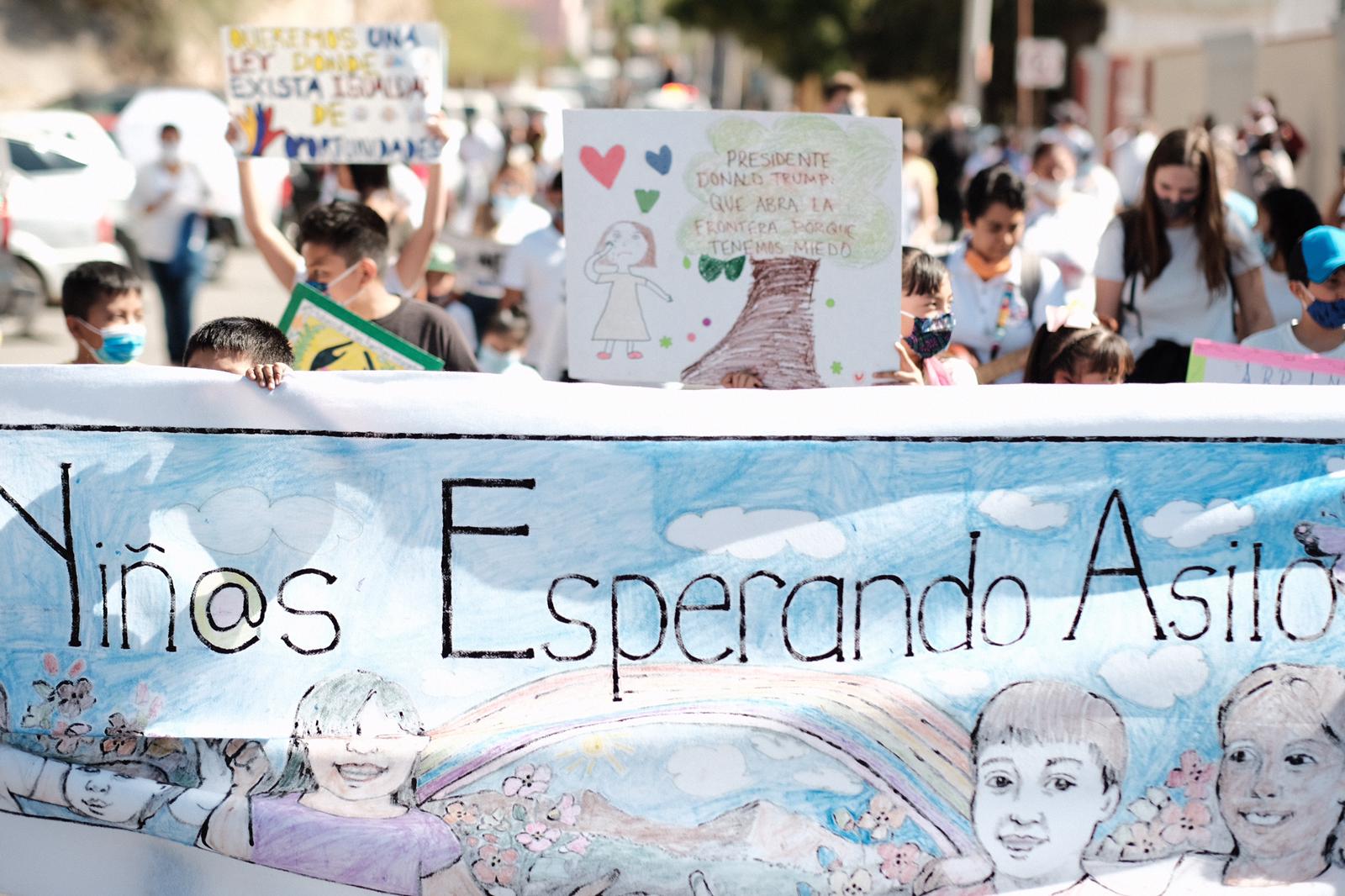 More than 90 migrant children and their families, seeking asylum in the United States, marched to the border wall in Nogales, Mexico on Oct. 21, accompanied by immigration advocates, where they were greeted by allies of faith on the American side.
Wearing masks, some carrying signs and singing, demonstrators in Sonora and in Arizona came together to protest U.S. policies they call inhumane and unlawful.
The march to Save Asylum, sponsored by the Kino Border Initiative, first made a symbolic stop at the Mexican port of entry. Participants prayed that one day the children and their families, fleeing violence, poverty and extortion in their homeland, would once again be able to seek asylum in the U.S.
The Rev. Mike Lonergan, pastor of Church of the Painted Hills UCC in Tucson, Ariz. served as emcee on the American side of the wall. He led the group in prayer, offering greetings of hospitality.
"This applause of welcome stands in stark contrast to the rejection being communicated by the hateful U.S. government's policies which have chipped away at the rights of asylum seekers. As we gather in an act of civil initiative, we choose to do what the government refuses to do: receive the stories and the requests of these people to seek asylum."
Children at the microphone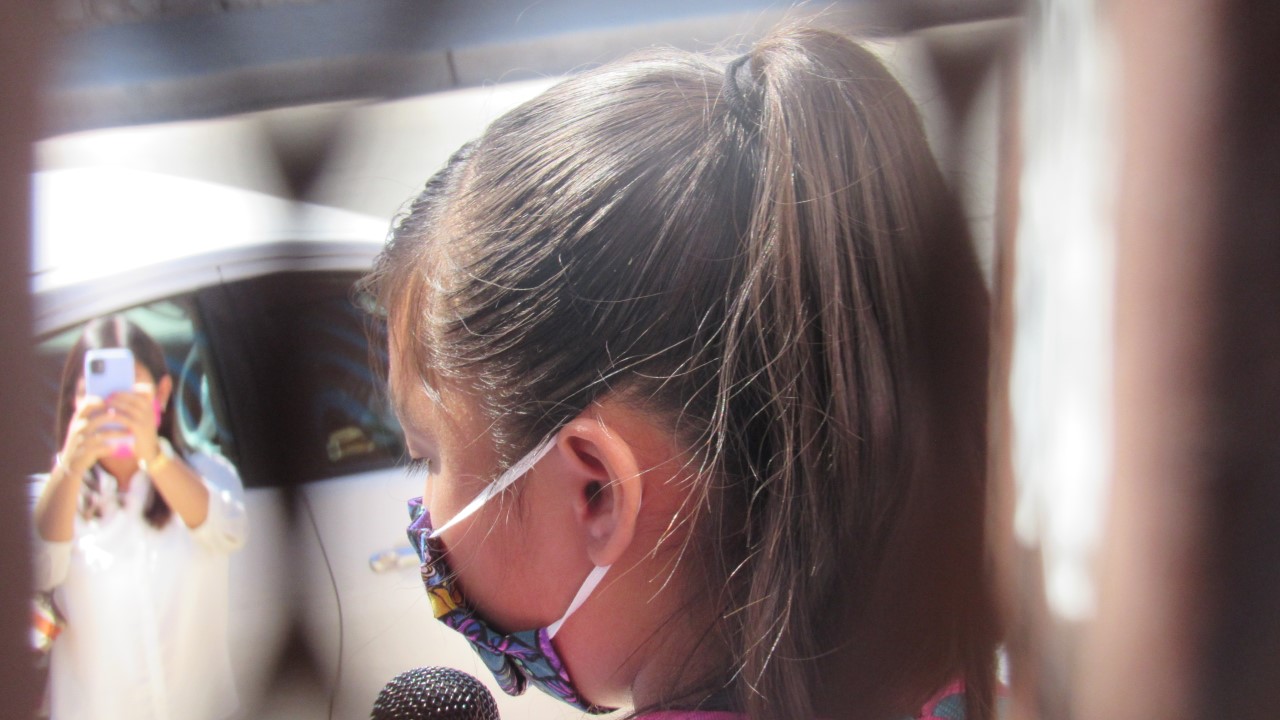 Several children stepped up to share the circumstances that brought them here.
Ten-year-old Fanny, from Guerrero, Mexico, said she and her family had to leave her grandparents behind because of insecurity and death threats. Criminals forced her uncle to work for them and "he was disappeared." Her parents were harassed for money, goods were stolen from their store, and they were forced to leave their home because police couldn't help.
She appealed to the president to open the gates. "We have suffered much here," she said. "As defenseless children … we have experienced many difficult things, but we cannot return home out of fear that we will be harmed. I love my parents a lot, and I don't want anything to happen to them."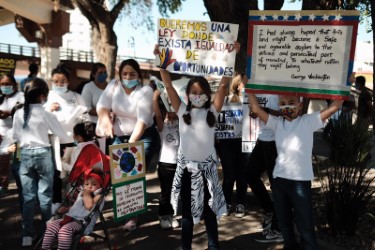 Anyeli, a 15-year-old from Comayagua, Honduras, spoke of danger to "girls like me." She fears the gangs who prey on children. "They kidnap the girls, and they reappear in the rivers. That's why my mom decided to leave the country and seek asylum: to keep me safe from this crime. My dream was to be a doctor and to help underserved people. I am asking you, political leaders, to give me the opportunity to have a life of peace and security and to allow me to accomplish my dreams." 
Maria, 16, said her family, from Guerrero, Mexico, has been waiting in Nogales for almost a year "to once again have a dignified life." "We abandoned everything it had taken us years to accomplish," she said. "We have experienced many sad and wild times, but we still hold on to the hope that soon, the nightmare will be over."
After the children spoke, they participated in a roll call with more than 50 others. The young people identified by their names, ages, home countries, and what they aspired to be when they grow up. Among them were prospective doctors, lawyers, college graduates, solders, sailors, chefs – the group even included a potential ballerina and an aspiring race car driver.
Border sealed in March
The border was effectively closed to these children and their families in March by the Trump administration, when Vice President Mike Pence directed the Centers for Disease Control and Prevention to use its emergency powers to shut it down. He used the coronavirus as the reason, even though health experts disagreed.
The action, as noted by the Associated Press, has so far caused nearly 150,000 children and adults to be expelled from the U.S.
Religious leaders from several denominations offered video greetings and prayers. The Rev. Traci Blackmon, associate general minister, spoke about the hardship, trauma and death she has seen as a result of the U.S. immigration policies and pledged the UCC's support.
"Friends, it is our moral responsibility to welcome and provide safe refuge for those fleeing violence and facing persecution. We cannot allow these children and their families to endure these injustices any longer," she said. "That is why we march today. As the UCC, we march alongside the many faith communities joining together today, to Save Asylum. We will continue to pray and act to ensure we protect and restore and save the asylum program. 
"We are in this together. You are not alone. I am not alone. We are in this together. And we will not give up."
'Welcoming and hospitality'
Pastor Mike said he and his congregation became involved in actions like this when the government began its "migrant persecution protocol." COVID-19 forced them to rethink in-person involvement, and in some cases participate online instead.
"I have folks who would like to be here, but they have health issues or families," he said. "When we do these things via live stream, we see responses from all over the country. The beauty of it all … live-streaming allows others to see the people we are advocating for. And they drive the bus. We follow them. These are the folks who know what they want to do."
Having ministered to asylum seekers in a shelter before the pandemic, Lonergan spoke of people he met during a previous mission trip to Guatemala. "Every time I went to the shelter I wondered if I would come across the people I knew.
"For me this is about welcoming and hospitality and returning the favor."
'Protect and save the asylum program'
It's also about obeying the laws, and U.S. law said people can apply for asylum.
"At every turn this administration has tried to dismantle U.S. asylum and refugee resettlement programs, long-standing programs founded by faith communities generations ago and passed into law by Congress decades ago," said the Rev. Noel Andersen, coordinator of the UCC Collaborative on Immigration.
"Our faith calls on us to walk alongside those fleeing violence and persecution. By shutting down asylum, this administration has violated U.S. laws, denied due process to asylum seekers and left families with children in dangerous and perilous situations as they wait for an opportunity to present themselves at the port of entry. Congregations in the UCC will continue to welcome and accompany asylum seekers in our communities and fight to restore, protect and save the asylum program."
---
Related News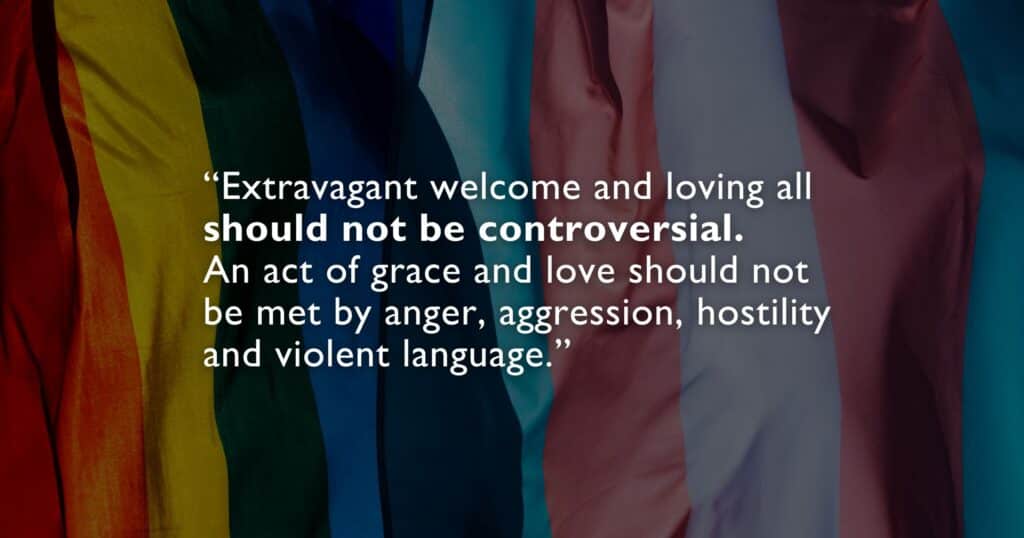 The United Church of Christ National Officers and the Conference Minister of the South Central...
Read More