Chicago's Trinity UCC is 'great gift to wider church family'
In the wake of misleading attacks on its mission and ministry, Chicago's Trinity United Church of Christ is being lauded by United Church of Christ leaders across the nation for the integrity of its worship, the breadth of its community involvement and the depth of its commitment to social justice.
"Trinity United Church of Christ is a great gift to our wider church family and to its own community in Chicago," says UCC General Minister and President John H. Thomas. "At a time when it is being subjected to caricature and attack in the media, it is critical that all of us express our gratitude and support to this remarkable congregation, to Jeremiah A. Wright for his leadership over 36 years, and to Pastor Otis Moss III, as he assumes leadership at Trinity."
Thomas says he has been saddened by news reports that "present such a caricature of a congregation that been such a great blessing."
"These attacks, many of them motivated by their own partisan agenda, cannot go unchallenged," Thomas emphasizes. "It's time for all of us to say 'No' to these attacks and to declare that we will not allow anyone to undermine or destroy the ministries of any of our congregations in order to serve their own narrow political or ideological ends."
Located in the heart of Chicago's impoverished Southside, Trinity UCC's vast array of ministries include career development and college placement, tutorial and computer services, health care and support groups, domestic violence programs, pastoral care and counseling, bereavement services, drug and alcohol recovery, prison ministry, financial counseling and credit union, housing and economic development, dozens of choral, instrumental and dance groups, and diverse programming for all ages, including youth and senior citizens.
Thomas, a member of Pilgrim Congregational UCC in Cleveland, has attended worship at Trinity UCC on a few occasions — most recently on March 2 — and says he is "profoundly impressed" with the 6,000-member congregation.
Among Trinity UCC's crowning achievements, Thomas says, is its work with young people.
"While the worship is always inspiring, the welcome extravagant, and the preaching biblically based and prophetically challenging, I have been especially moved by the way Trinity ministers to its young people, nurturing them to claim their Christian faith, to celebrate their African-American heritage, and to pursue higher education to prepare themselves for leadership in church and society," Thomas says.
'Exceedingly gracious'
The Rev. Steve Gray, the UCC's Indiana-Kentucky Conference Minister, describes Trinity UCC as a "jewel."
"It's everything a Christian community is supposed to be," says Gray, who has been working with Trinity UCC for the past three years to develop a new UCC congregation in Gary, Ind. "Trinity has given well over $100,000 in support of its partnership with us, and in 15 months of regular meetings with Jeremiah Wright, we always found him to be a man of gracious hospitality, humor, generosity, who paid attention to detail but also a man who does not call attention to himself."
Trinity UCC has been involved in planting more than 15 new congregations, according to the UCC's Evangelism Ministry in Cleveland.
Gray, a member of First Congregational UCC in Indianapolis, has worshiped several times at Trinity UCC and is most impressed by the overflowing sense of welcome it extends to visitors.
"When you're Euro-American, the people [at Trinity UCC] are so exceedingly gracious, warm and welcoming. They hug you and say, 'Welcome to our church!'"
Many, including Gray, point with appreciation to Trinity UCC's generous support of denominational and ecumenical ministries. From 2003 to 2007, Trinity UCC gave more than $3.7 million to Our Church's Wider Mission, the UCC's shared fund for connectional mission and ministry.
'Extraordinary outreach'
The Rev. Bennie Whiten, retired Massachusetts Conference Minister who prior served for 15 years as associate director of Chicago's Community Renewal Society, says, "Trinity was one church that we could always rely on to respond almost immediately. They have been very, very involved in the community in so many meaningful ways."
Noting the church's work in health care, early childhood education and economic development, Whiten says, "The scope of their concern and outreach is extraordinary. It's really just an outstanding congregation."
Whiten, a member of Pilgrim UCC in Oak Park, Ill., is especially taken with Trinity UCC's commitment to the need and importance of quality theological education. More than 60 members of Trinity UCC are currently enrolled in seminary and pursuing masters-level degrees. Moreover, the congregation pays for students' tuition costs.
"They firmly believe in the UCC's commitment to an educated, seminary-trained clergy," Whiten said, "and they have probably had more people feeling the call to ministry than any other church in the denomination."
The Rev. Susan Thistlethwaite, president and professor of theology at UCC-related Chicago Theological Seminary, says Trinity UCC is a model church in the way it supports its people in discerning and cultivating their gifts for ministry, both lay and ordained.
"Another thing I really appreciate about Trinity is that its ministries are always directed both inward, toward the congregation itself, and also outward in supporting other congregations ecumenically and supporting community organizations that are dedicated to lifting up the wider society," Thistlethwaite says. "We have had so many fine students come through Chicago Theological Seminary who were helped to discern their call to ministry through this church's dedication to serving the wider church."
'Jesus and justice'
The Rev. Kenneth L. Samuel, pastor of Victory UCC in Stone Mountain, Ga., says he is impressed that Trinity UCC "promotes spirituality and piety while also being emphatic about social justice."
While Trinity UCC is the denomination's largest congregation, Samuel's 5,300-member church is the UCC's second largest. Founded in 1987, it joined the UCC in 2004.
"Trinity was really one of the churches that inspired me to want to affiliate with the United Church of Christ," Samuel said. "My church was originally National Baptist and Southern Baptist, but it was the critical-thinking that [Trinity] brought to this work, the justice work, that helped me to want to become a part of the denomination. I have no regrets about that."
Samuel says that, during Wright's 36-year ministry at Trinity, Wright has not been afraid to tackle difficult topics, while staying equally committed to preaching "Jesus and justice."
"There have been two major sins in the Black church that many Black churches will not address – homophobia is one and sexism is another," Samuel says, "and Jeremiah Wright has been one of the articulate, courageous voices that has not been afraid to address these critical issues. If he can do that and still maintain his close connectivity to the Black community, and stay grounded in the Black ethos, that's what has inspired me."
'Speaks well for us'
Carol Brown, national president of United Black Christians and a member of Cleveland's Mt. Zion UCC for more than 50 years, describes Trinity UCC as "the flagship church of the United Church of Christ."
"I think it's very interesting that a minority group within a denomination can have the largest church, support the most ministries and give the largest number of OCWM [mission] dollars," Brown says. "That speaks well for us as an accepting, open and affirming denomination. Especially, as a justice-oriented church, [Trinity UCC] sets a standard for all the denomination that all are welcome."
Brown, who worships at Trinity UCC when in Chicago for meetings, says she is most taken by its exuberant spirit.
"It's certainly a very welcoming church, and it's certainly very reaffirming of the faith when people join in such large numbers when there's an altar call," Brown says. "It's something that you don't see in the average church. God is certainly at work there, and it's exciting when you see that many people stand up to witness to their faith and step forward."
---
Related News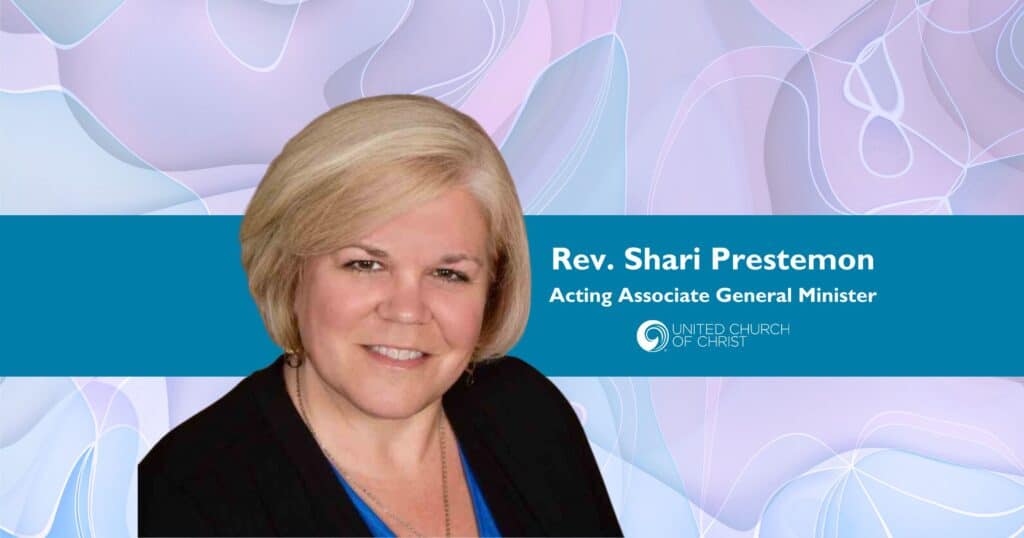 A new United Church of Christ national leader has been called. The UCC Board voted in a...
Read More