Chicago new church start attracts national attention before first worship service
Tell true stories. Share good food. Worship beautifully. Those three practices are the building blocks of a brand new church in the Chicago neighborhood of Rogers Park that must be doing something right.
Gilead Church Chicago has not yet celebrated its first weekly worship service. It's scheduled for May 7, location TBA. However the United Church of Christ new church start is already attracting a lot of people and attention. The spiritual community's first preview service in January drew a crowd so large, one of the worshippers had to leave because they felt claustrophic. And after its St. Patrick's Day celebratory launch of "Balm of Gilead" Session IPA — a craft brew made especially for the church and created right in the neighborhood — the Today Show came calling. The NBC morning show plans to run a story on Gilead on Tuesday during Holy Week.
All of this is a bit surreal to the church's co-pastors, Rebecca Anderson and Vince Amlin.
"Rebecca and I have been friends since divinity school at University of Chicago, part of a foursome of clergy that formed a covenant group to check in with each other," said Amlin. "A few years ago Rebecca had the idea to plant a church. Then the thought became what if we did this together? Part of a ministry team, drawn to planting, especially during this time in particular in our country when a progressive denomination like the UCC should be out there, doing church in a different way."
Underscore the term different. Gilead started out as a community of faith first, without a scheduled worship service. Initially, there were monthly get-to-know each other social events from September through December of last year, including a garlic-planting party, time scheduled to come together to create an Advent calendar. In January, Gilead launched 'preview' monthly worship services, with the first two held in a room at a local watering hole.
"Our target number for our initial weekly worship is 120 people. We had 120 people come to our first monthly preview service," said Amlin. We had 65-70 the next month. Those two services were held in a bar in a room that holds 85 people. Both experiences told us we needed to move to a different location. We ended up moving the March service to a church, which we wanted to avoid. Told the group we may have to try something strange, and try worship in a church. We want to reach out to folks who wouldn't necessarily feel comfortable in a traditional worship setting."
"We want to be church for and with people who've been turned out, turned off, or just left cold by church. We believe God welcomes all — and we have the stories of Jesus hanging out with all the 'wrong' folks to prove it — and so we do too."
"We don't really want to be in a church space for a lot of different reasons," said Anderson. "We want to reach people who were wounded by Christianity.
"Why a new church? The fact of the matter is, far as I can tell, sometimes new churches can do something that existing churches don't or won't or can't. And even when they can, for some people, the front steps of the church are just 'too tall.' Not literally, but in the sense it is too difficult to walk into the architecture of a Christian church," Anderson continued. 'We are really interested in giving that back to people. These spaces are for you —but we need to get them in the door."
They focus around a meal, where true stories are told, and a worship service where all are accepted.
"This is who Gilead will be," Amlin said, "Making beautiful worship — community created, emphasis on play and communal process of a worship service. We are a gardening church, about making and sharing delicious food to build community and do justice. That's where beer fits in. To be a church for 'makers' in the widest sense possible — what can we make and enjoy the goodness together? Bringing joy and fun back to faith."
Gilead also emphasizes 'Telling true stories that save lives.' During worship, participants are sharing first-person stories about their own lives. A place for public confession.
That really resonated with Anderson, from the first preview service. "We call that part of the worship, 'The one time I did something shitty.' A woman told a story at confession, a story of her ghosting on a friend. A very painful story, a hard story to listen to. But I got to stand up next to her and say, 'we all have stories like that' and talk from there about the assurance of pardon. Then we looked each other in the eye and passed the peace. Which said — we heard your story and we still like you." Many in attendance later told her they thought that was a pretty powerful way of handling confession.
As Amlin said, "You don't have to have the perfect story to tell — just your story, which is a lifesaving story. We're serious when we say we think your story is God's story. A story on par with scripture stories — the word of God for the people of God, honoring the value and the holiness of each other's life stories."
The second preview service, Anderson said, was notable about the way it hung together around food. "We talked about 'One of the most memorable meals I had was when,' and told stories about that," she said. "We collected notes from people in the service and read them. The one that wiped me out (was), 'I was at my grandpa's and we ordered pizza the day after Thanksgiving while we waited for the funeral home to come and take my grandmother's body.'
"It's why we are doing this storytelling. A true first-person narrative, these shared stories, feels sacred in and of themselves. I think all of us in the Mainline beat our breasts and worry that young people aren't in church. Do a better job! A story is more than just your story, it's shared experiences and all of that."
They chose Rogers Park, the northernmost neighborhood in Chicago. Gilead is centered in East Rogers Park, a neighborhood Anderson says has a lot going on, with college students (Loyola University), immigrants, artists, and "need, resources and imagination. A place that treats people as resources, not problems."
To help make Gilead a reality, Amlin and Anderson are pastoring two churches simultaneously. This new church plant, and Bethany UCC, an older, traditional UCC congregation on the north side of Chicago that needs attention. A small church that, since the new leadership team took over in September, has already seen glimpses of revitalization. Amlin noted that the group of 40 in worship was welcoming 10 new people last week.
"Both revitalization and planting are a shaking out process," he said, "with a lot of supporting each other. We are trying to meet with as many people as we can and get them to stick."
Anderson, who was ordained by the Christian Church (Disciples of Christ), said it's about introducing people to the core values of the UCC. "Both Gilead and the other church we pastor are UCC, so I took a history and polity course and really enjoyed it. Now more than ever, to recognize the deep roots of our progressivism was energizing to me. People just don't know! Over the years … (society) gave over Christianity to conservatives. Exciting to me to take it back, give it back to who God loves. It's important to convey that to the people we are in an immediate relationship with."
And appropriate that Gilead's final monthly preview service is going to be held on Easter Sunday, in a still unnamed location.
"It feels fitting that our last preview service is on Easter, that day of God's greatest plot twist," Amlin said. "We have no idea where the story of Gilead is going; we certainly didn't expect it to go where it has so far, but we're excited to see what's next."
---
Related News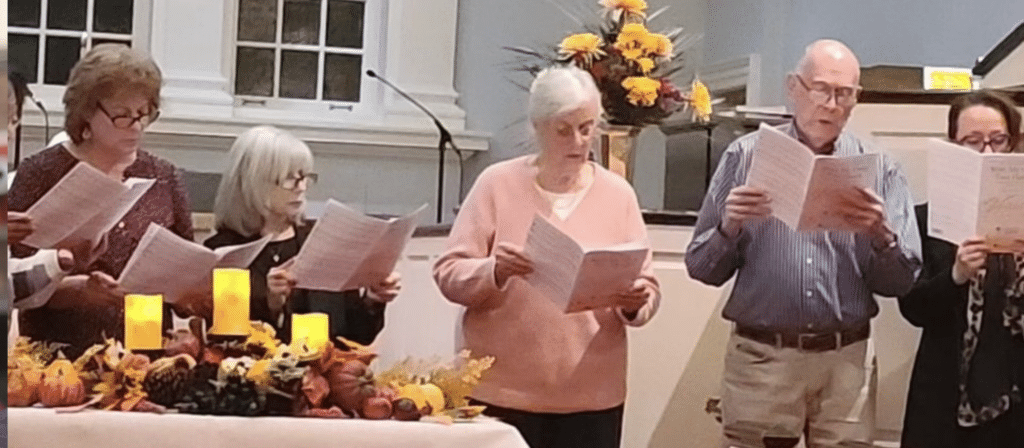 Many United Church of Christ congregations across the country participated in interfaith...
Read More