Chicago Theological Seminary offers online path to ministry
The path of Melanie Poehls, a graphic artist from Dallas, changed the day she knelt along side an injured motorist, staying there as a man she didn't know slipped closer to death. Charlotte Morgan is a doctor of naturopathy in private practice in Las Vegas. Her path too, changed when she witnessed the healing power of her patients.
Two different paths now lead down the same road: a calling to ministry, to learn to help people in spiritual ways. Both women are following that call and are completing their second semester at Chicago Theological Seminary, one of six United Church of Christ-related seminaries.
There's one catch. Neither Poehls nor Morgan relocated to Chicago for their seminary education.
This year, CTS has been approved to offer a master of divinity (M.Div.) program online, making it the first progressive seminary in the country to do so.
CTS's three-year M.Div.program prepares students to be transformative religious leaders in the church and society. The degree also helps students prepare for non-church and non-traditional ministry, including settings such as health care facilities, human services organizations, government agencies, non-profit organizations, business and academic environments, and advocacy groups. Those are the places where Poehls and Morgan hope to minister when they graduate from CTS.
Poehls was raised Southern Baptist and has lived with a spiritual relationship with God throughout her life, but stopped attending church in her late teens after witnessing how her faith excluded some groups of people.
A pair of events six months before she applied to seminary, both involving death and near-death experiences that made her ponder what she was meant to do.
She saw that brutal motor vehicle wreck involving a motorcycle and truck, and rushed to the side of the man severely injured in that accident. "I was never close to anything like that, but I knew CPR," Poehls said. "I felt this compulsion to rush over to him, but I realized CPR wasn't going to help. Nothing was going to help. So I just laid my hands on him, just trying to comfort him."
In another instance, Poehls found herself comforting a group of women in a hospital emergency room. Both events got Poehls thinking about how she could comfort people dealing with death or near-death experiences, without relocating her and her partner from Dallas.
"How can a lay person work in hospice care? And the answer I got was chaplaincy," said Poehls, who then began – and eventually grew frustrated with — searching for a progressive seminary. "One day I Googled 'gay friendly seminary' and CTS popped up."
Morgan grew up in the ELCA Lutheran Church in the Midwest, and after moving around the country she landed in Las Vegas. She and her partner have been together for 23 years and have two daughters. While looking for an inclusive faith community that was open and affirming, the family discovered the United Church of Christ.
But it was in her practice and her work in the hospice community that Morgan's life turned toward a seminary education.
"I saw hope and healing in front of my eyes, and the call came from God," Morgan said. "It created a new life trajectory to go to seminary and get my M. Div. and work with God and help others."
When Morgan thought about what she would do with a seminary education, she figured her path would continue along in the medical field through hospice work or chaplaincy. Now Morgan says she wants to help with the Open and Affirming movement — a way for UCC congregations to become more inclusive of all people — and will spend time in the coming years discerning how her skills as a doctor might help her future ministry.
Both women couldn't move their families to Chicago for three-years of seminary; through the web-based curriculum CTS students can be connected to the Chicago campus without even being in the same state.
CTS's accreditation for its online M.Div. degree was the result of two years of work to develop a web-based program, along with a grant to help translate an educational experience to an online environment.
The distance-based learning courses have assigned readings, video-based lectures and podcasts, and web-based classroom discussion. "There's a lot of reading, and responding to the readings and to classmates," Poehls said. "We have a Facebook group for all incoming students, so I'm friends with some of my classmates on Facebook and they might ask me how things are outside of classes. So there is that sense of camaraderie."
As for any advice to share with people considering a web-based seminary education, both women offered their thoughts.
"Be highly-organized. Have the knowledge about yourself that there is a lot of alone time, time for thought and reflection, but be careful to balance that out. Take advantage and get out of the location [in which you learn] to not become too isolated," Morgan said.
Morgan also suggests registering for one-week intensive classes for credits, which she has done for summer and winter classes. The intensive courses, which take place on the Chicago Theological campus, offered her a chance to meet a few other students, visit the campus and meet administrators and faculty.
Added Poehls, "I can't speak for others [in this program], but at CTS your voice is heard and your thoughts are recognized, regardless if it's online or in person. It's a family."
Founded in 1855, CTS promotes a progressive philosophy, and its students have been advocates for social justice. CTS serves more than 25 different Christian and non-Christian faith communities by preparing men and women for the religious leadership.
"At Chicago Theological Seminary, we like to say, 'You don't have to come here to go here,'" said the Rev. Alice Hunt, president of CTS. "Now that's more true than ever.
---
Related News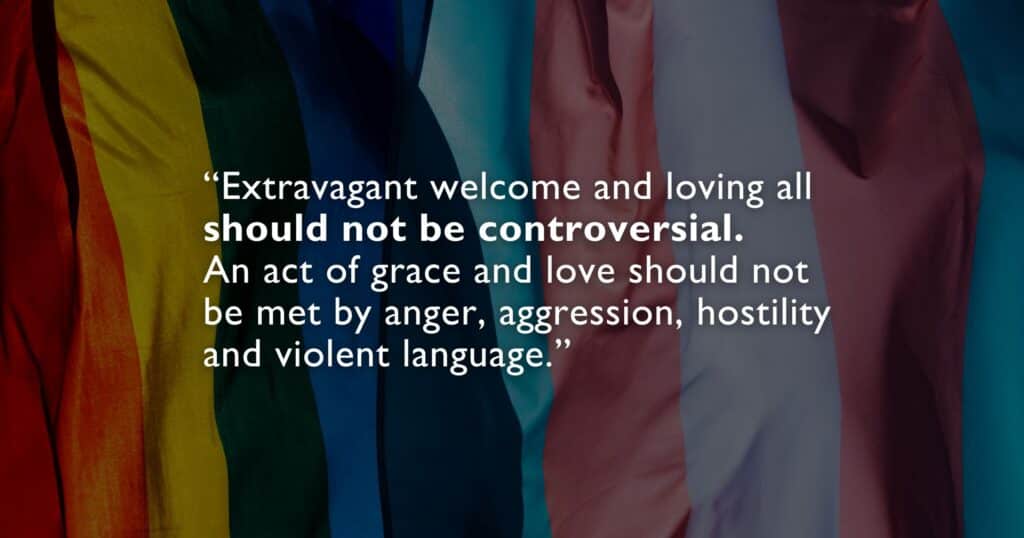 The United Church of Christ National Officers and the Conference Minister of the South Central...
Read More