Scientist, inventor, Nobel Prize winner, UCC member Charles Townes dies at 99
Winner of the Nobel Prize, inventor of the laser and devoted United Church of Christ member Charles Hard Townes died on Tuesday, Jan. 27, in California. His contributions are being celebrated by both the religious community and science community — a fitting way to remember a man whose strong faith helped open a discussion on the similarities between religion and technology.
Townes was 99.
"Charles was one of the most pre-eminent scientists in the United Church of Christ, and was also a man who was very open about the way in which his faith and spirituality informed his scientific imagination and vision," said the Rev. John H. Thomas, former general minister and president of the UCC. "He was important in the scientific world and religious world for finding common ground and seeing their vocation together at a time when the public assumed science and faith were at odds and competing."
His death was reported by news outlets and publications throughout the United States, on the front page of the New York Times, on major TV networks and by science magazines commemorating the man who envisioned the laser, an invention with so many applications in today's world, such as price scanners, DVD players, metal cutting machines, printers and vision correction devices. 
Townes was honored by his denomination at the 2007 UCC General Synod in Hartford, Conn., where an evening of worship concluded with a laser-light show to recognize his contributions and achievements.
"Charles' visit to the General Synod in 2007 was a way to celebrate that connection [between science and faith], as well as his life and work, and was a wonderful way to say thank you," Thomas said.
"I was editor of United Church News at the time, and remember both reporting on the occasion and being so proud of my denomination that has long emphasized that science and religion are not mutually exclusive," said the Rev. J. Bennett Guess, executive minister of UCC Local Church Ministries.
A member of First Congregational UCC in Berkeley, Calif., Townes later advocated for the UCC's Pastoral Letter on Faith Engaging Science and Technology. Townes said the letter was "a thoughtful, knowledgeable and perceptive discussion of science and religion and growth of their helpful interaction." The letter, which Thomas authored in 2008 in conjunction with members of the science and theological communities, urged the church to engage science and honor scientists.
As a faculty member at Columbia University, Townes and his students built a microwave-emitting device (called a maser) in 1954 that paved the way for the creation of the laser. For his work, Townes shared the 1964 Nobel Prize with two Russian scientists who independently came up with the idea for a maser.
In 1966, Townes wrote an article, "The Convergence of Science and Religion," arguing that religion and science are not necessarily contradictory. "Understanding the order of the universe and understanding the purpose in the universe are not identical," he wrote, "but they are not very far apart."
For his life's work, he was awarded the Templeton Prize in 2005 for "progress toward research or discoveries about spiritual realities." The only other person to win both the Nobel Prize and Templeton Prize is Mother Theresa.
Born in July 1915 in Greenville, S.C., to Baptist parents as one of six children, Townes graduated from high school in 1931 at age 15. He later found his passion as a sophomore at Furman University, majoring in physics and modern languages before he graduated with two bachelor's degrees at age 19. He earned a master's degree at Duke University in 1937 and a doctorate at the California Institute of Technology in 1939.
Townes married Frances Hildreth Townes in 1941, who survives him with their four children, Linda Rosenwein, Ellen Townes-Anderson, Carla Kessler and Holly Townes; six grandchildren; and two great-grandchildren.
---
Related News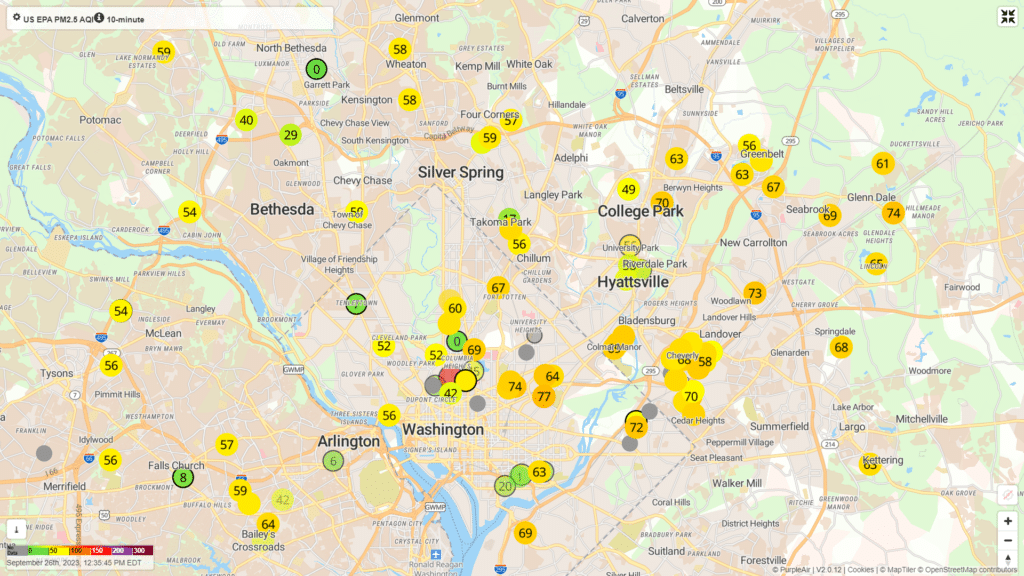 This summer, the United States experienced some of the worst days for wildfire pollution in...
Read More