Certificate in faith formation, youth work now available churchwide
Teachers and youth leaders in local churches of the United Church of Christ can now get certified.
Educators everywhere can now enroll in the Faith Formation Leadership Training and Certification Program offered by the UCC's Southern New England Conference.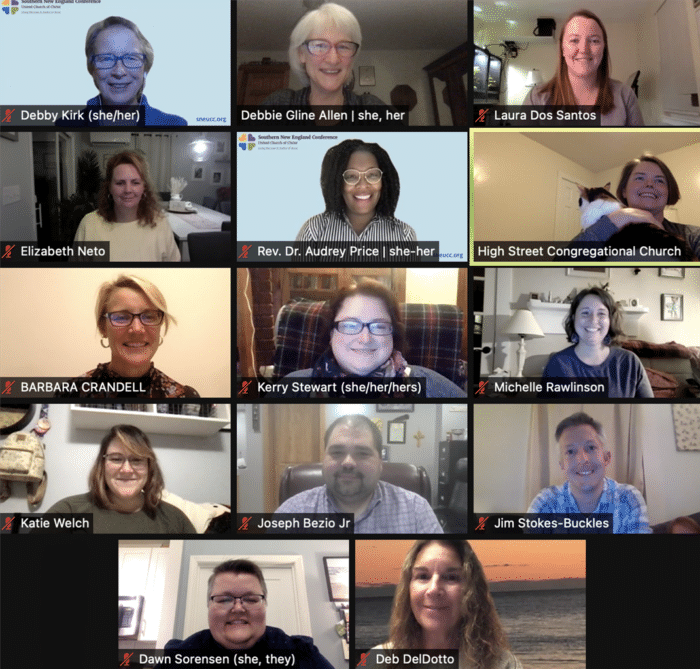 The program is "specifically for faith formation and youth ministry leaders with a progressive theology," said its administrator, Debbie Gline-Allen. She is the Conference's minister of faith formation and serves on the national board of the Association of United Church Educators. "We are not aware of any other program in the UCC with this focus," she said. AUCE endorses the program, and becoming an AUCE member is required for certification.
Students can enter a two-year cycle of classes at any point and take as long as they need to finish. Course titles include:
"Engaging Our Sacred Scripture's Stories,"
"Mission for All Ages,"
"Exploring Curriculum and Digital Resources"
"Racial Justice Training,"
"Developing Faith — Ages and Stages"
…and many more.
The program has certified 62 people since its start in 2011.
'An organic approach'
Eleven people received certificates this fall, including the first ever from outside Southern New England: Rose Stanfield, director of Christian education and outreach at High Street Congregational UCC, Auburn, Maine. Students are now also enrolled from New Hampshire, Wisconsin, Texas and Tennessee, Gline-Allen said. That's in addition to Southern New England's own states of Connecticut, Massachusetts and Rhode Island.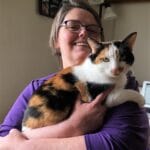 Stanfield heard about the program at New England Region meetings of AUCE. "I was unsure if I would be able to participate, because I lived in Maine," outside the boundaries of Southern New England. But Gline-Allen "welcomed me wholeheartedly," Stanfield said.
Starting in September 2019, she took classes in person in Worcester, Mass. — then moved online when COVID-19 hit. Virtual learning didn't get in the way of good-natured hospitality, she said. "During the Zoom classes, my cat, Skittles, made a point of being present during all of the meetings. Subsequently, she has also received a special certification." (For 2022, the program is moving entirely online.)
In her work at High Street, the faith-formation training "has helped immensely," Stanfield said, both with her overall approach and specific methods. "I have learned to take an organic approach," she said. "We are currently utilizing filmmaking and student artwork to solidify the stories that we are teaching in our middle school and high school program. They are not just hearing the story, they are tearing down, reconstructing and re-presenting the story to others."
She has younger students doing similar work with Lego building blocks. "I am excited to say that our students are remembering their lessons several weeks after learning them and are able to retell them," she said.
Legos, and other connections
Legos are in the mix over at Pilgrim Congregational UCC in Southborough, Mass., too. There, junior high kids are using the plastic blocks to make stop-motion videos of biblical stories. At the moment, they are immersing themselves in the Christmas story. They'll share their results with the whole congregation.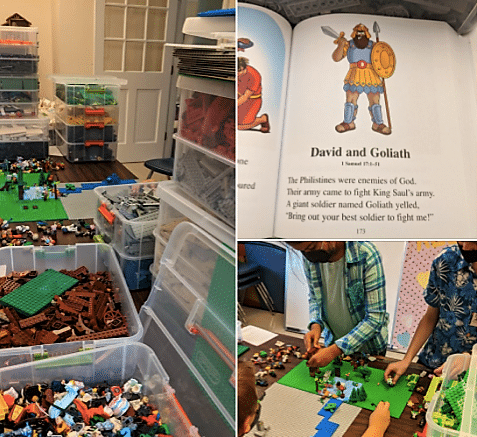 "We will use their stop-motion videos as part of Live Christmas Pageant on Christmas Eve," said their teacher, Dawn Sorensen. "There's a place for everyone in this project, whether you're a Lego fanatic or a budding videographer, whether you're a writer who can help create a script or a lighting designer."
Sorensen, Pilgrim's director of children's ministries, earned her faith formation certificate this fall. She was struck by the diversity of students she interacted with over the three years she took to complete the program.
Network of peers
She said they ranged "from younger people who wanted to continue their church youth group experiences to parents who were volunteering to support their kids, to grandparents who had extra time and wanted to give back to the church," she said. "No matter the journey or the level of education, this program resonated with people who were involved in the practice of working with children and youth in the church. The learning we were doing gave us tools to achieve excellence in our churches. Often the connections we made with each other helped us share best practices."
For Sorensen, those connections have continued. One result of the program — "which alone has been worth the price of admission," she said — was connecting with an ongoing Community of Practice. It's a group of nine people who do similar work in UCC churches in her area of Eastern Massachusetts.
"We meet once a month and discuss the current happenings in our respective churches," Sorensen said. "We give each other ideas, feedback on what has worked or not in our settings and why, and general support. These people were an invaluable resource during the pandemic, especially when things were changing so rapidly."
'Vocational shift'
With a degree in business management and more than 20 years in the health-care industry, Kerry Stewart felt a tug toward church work. A lifelong church member who grew up near New Haven, Conn., she had volunteered in Sunday schools in the past.
"About two years ago the call became so loud I could no longer push it aside," she said. "My pastor directed me to the minister of faith formation for [what was then the] Connecticut Conference, Karen Ziel. She suggested getting my toes wet with the classes. And that's where this part of my journey began."
She enrolled in the certificate program — and in 2020, she joined the staff of First Congregational Church of Branford, Conn., as faith formation coordinator. It was, she said, both "a calling and a complete vocational shift."
People 'we can reach out to'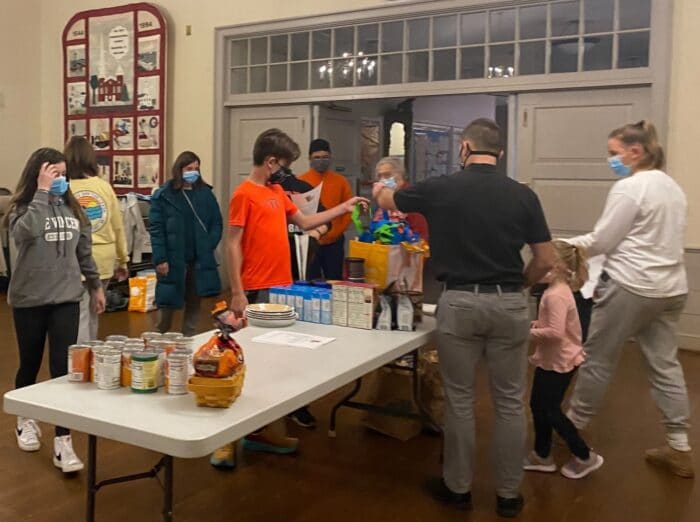 "My responsibilities include all faith formation activities for our children, youth and families," she said. "I am also involved with adult faith formation — more during special times of the year such as Advent or Lent. Mission also comes under my purview, especially as it's related to getting our youth and families involved. Same goes for worship."
She said the Southern New England classes offered "a foundation for many of us who may not have much formal training" in Christian education. She liked learning varied approaches to faith formation and "having your perspective shifted on how you can present and show love for God, love for our communities."
Connecting with classmates during the pandemic paid off, she said. As "a community of people who were in the same storm but may be different boats," they encouraged each other "in our adaptation of our programs in our churches." Those peers, as well as Conference staff members such as Gline-Allen and Debby Kirk, are people "we can reach out to when we need resources and ideas or find ourselves stuck."
Full online course list
A full course list through 2022-23 is here. The classes, taught over Zoom, cost $45 each. People who take all of them get a discount. Any class can also be taken a la carte. Complete program details are here.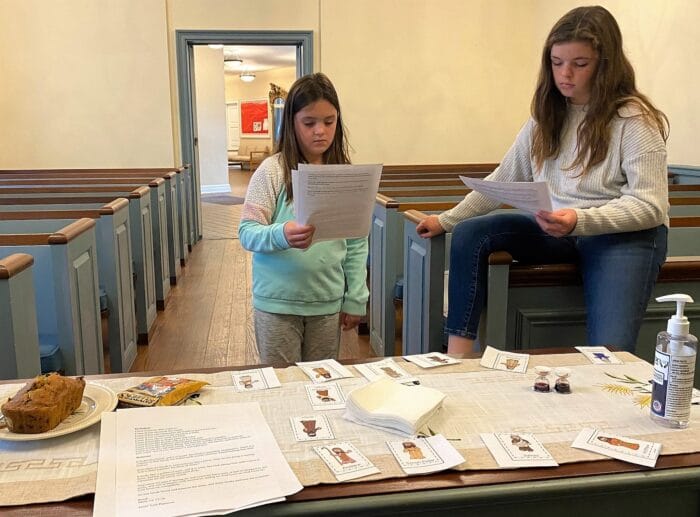 "Most programs of this sort focus on equipping lay ministers, and/or providing an alternative path to ordination," Gline-Allen said. "Our program, on the other hand, while open to all, specifically equips those who are providing faith formation and youth ministry programming in their local congregations."
Sorensen has done seminary coursework and is on the UCC's member-in-discernment path toward possible ordination. But she said the faith formation leadership program is valuable in and of itself for all sorts of people. "I highly recommend this program for anyone who wants to feel connected to other Christian educators across the UCC," she said.
Stanfield offered a similarly glowing review. The program can help teachers "take Christian education skills to the next level" and build networks with peers, she said. "The classes are captivating, the instructors are very knowledgeable and very dedicated, and your cohorts will become lifelong friends."
---
Related News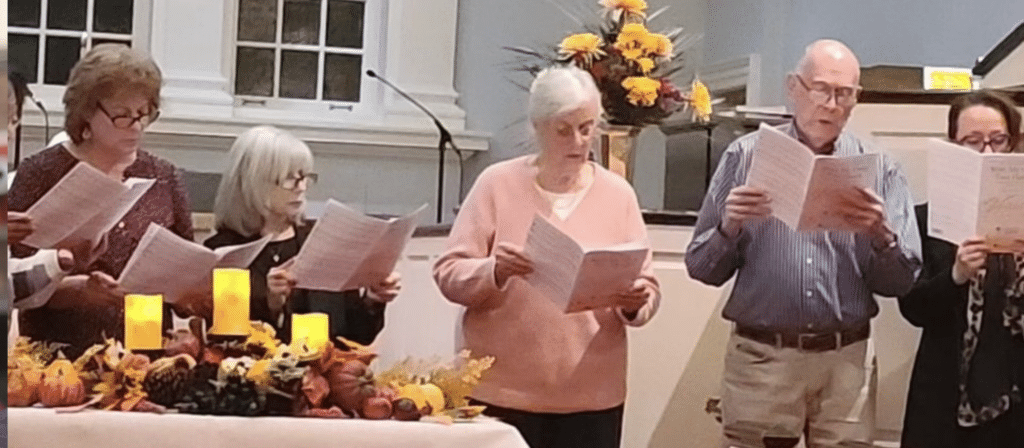 Many United Church of Christ congregations across the country participated in interfaith...
Read More