Central American family embraced in Arizona
A brave woman and mother from Central America shared her family's story with a group of migrant justice advocates from several Conferences and Churches across the the United Church of Christ over dinner last week. The conversation with almost 100 people, brought together by the Southwest Conference's Faithful Witness at the Border, took place over a shared meal at the host church, Good Shepherd United Church of Christ, Sahuarita, Ariz.
As part of an allied exchange of culture, the congregation's two asylum families prepared supper for the group on Monday, August 27. After delicious tamales, Eva Cristina shared a story of survival, of unwavering support and of a hopeful future for her and her children — possible because people of faith offered them assistance.
Eva and her four children — 17 year-old William; Leslie, 14; Caren, 12; and 6-year old Brandon just recently won their petition for asylum, sponsored by the Good Shepherd UCC community.
Eva's family came up from Honduras through Mexico in a difficult journey that took two years. They were first helped along the way by nuns who sent them along through shelters.
"When I decided to come, I was fleeing violence in Honduras," Eva said. "I had my house and two businesses, but the gangs were asking for taxes, for quotas. When I couldn't pay the quota, my children were threatened. So I decided we would leave everything behind."
"Essentially the gangs said give us your two oldest kids or we are going to kill you," added the Rev. Randy Mayer, pastor of Good Shepherd UCC, or "Pastor Angel" as Eva calls him.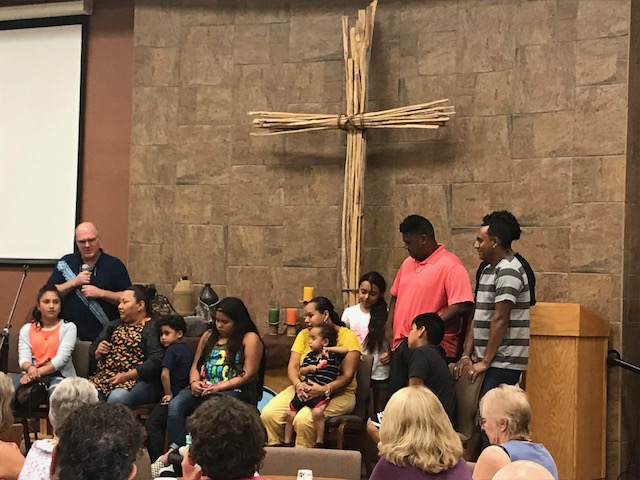 Initially, as the family made their way through Mexico, Eva was kidnapped. She was raped, and when she didn't have the money to pay her kidnappers, she and her children were sent back to Honduras.
They began their journey to get to the United States border once again, after a priest helped them get Mexican visas so they could get through the country. But the family ran into another obstacle when their bus was stopped at a checkpoint in Mexico.
"Her son (William) had a different last name, so they accused her of being a smuggler," Mayer said. "She went to Mexican detention for 34 days." The Kino Border Initiative, which runs the Comedor shelter in Nogales, Sonora, helped Eva find proof that William was her son.
The Green Valley Samaritans, based at the Sahuarita Church, volunteer at the Comedor. Those advocates connected Eva with Mayer and the Good Shepherd congregation. The church sponsored her family, members wrote letters of support to Immigration and Customs Enforcement, found them an apartment and helped them establish lives in Arizona.
"Pastor Angel, he is always with us, no matter what," Eva said. "He is Pastor Randy."
"They are our brothers and sisters," Mayer said. "They are no different than us and we will support and fight for them."
In addition to the unwavering support of Good Shepherd and the the Southwest Conference, Eva and her children received love and encouragement from the wider United Church of Christ, in the form of letters of welcome sent to the Conference from around the country. Hundreds of notes collected as part of Faithful Witness for the Border, to be distributed to migrants at local churches and shelters. A few of which Conference Minister the Rev. Bill Lyons presented to Eva, William, Leslie, Caren and Brandon.
"These notes of welcome make sure asylum families know they are welcome here," Lyons said. "Part of our core values — whoever you are, where ever you are on life's journey, you are welcome here. We know you have not always been welcome. We are sorry for that. You have a home here. We rejoice you are safe."
---
Related News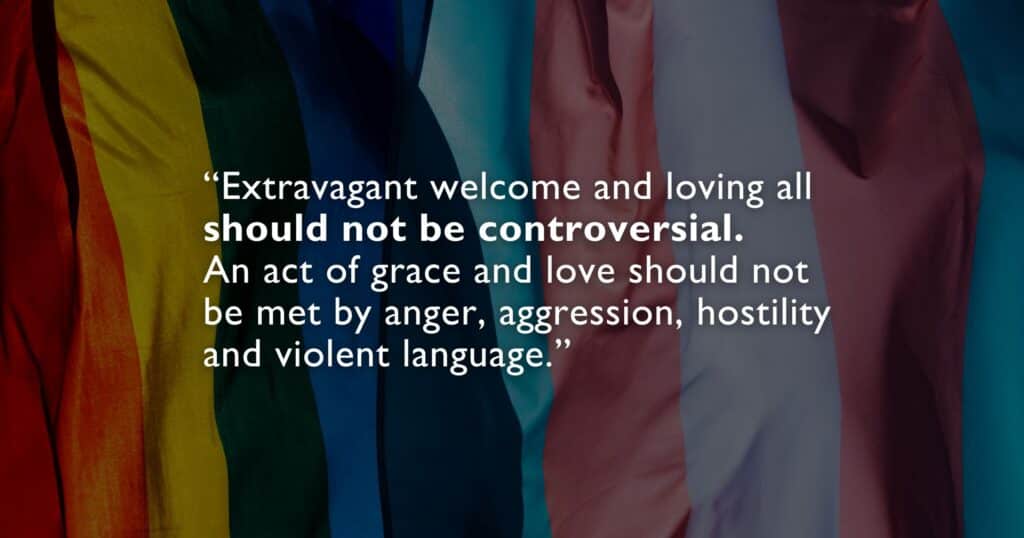 The United Church of Christ National Officers and the Conference Minister of the South Central...
Read More