Burning of UCC rainbow banners in St. Louis far from a first, still disturbing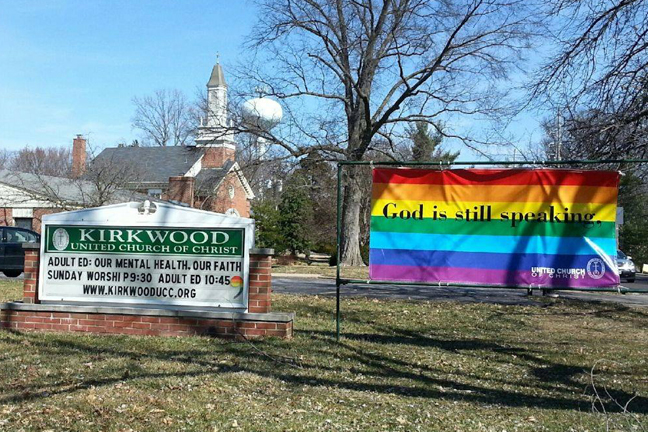 Two United Church of Christ "God is Still Speaking" rainbow banners were found burning in an alley behind an LGBTQ-welcoming bar in St. Louis just before midnight June 3. Both almost certainly came from a theft at Kirkwood UCC, an Open and Affirming ("ONA") congregation about 12 miles away, where a security camera recorded a young man cutting down and stealing two such banners at 10:55 p.m. that Monday.
While police investigate, the congregation is responding with courage and love.
A special message went up on the church's sign board Thursday, June 6, next to the frame that held the banners: "God loves you if you are queer and even if you stole a banner from here." Two members of the LGBTQ community who belong to Kirkwood UCC, Heather Arcovich and Barb Black, suggested the message, said Pastor Betsy Happel.
The congregation will pray for the thief in Sunday worship June 9. Happel will wear a stole she made from shredded remnants of the banner found on the church lawn after the theft. "This is a young person who is very troubled," Happel said. "It's a violent act to carry a banner to a specific place and burn it. There's something troubled about this person's soul. I have a lot of compassion for that. I wonder if it's someone who's wrestling with their own sexuality and doesn't know what to do with it, especially in today's environment. There's a lot of brokenness in this world and a great deal of misunderstanding about the LGBTQ community, sexuality and gender identity. So we will pray for this person, and give it to God."
The banners hung outside Kirkwood UCC for seven years without being defaced. The only opposition they attracted until now were occasional visitors who stopped to argue with Happel about LGBTQ openness.

Theft and desecration of UCC signs proclaiming openness and justice are nothing new:
The Kirkwood church had 26 "Black Lives Matter" lawn signs stolen over an 18-month period ending about a year ago.
Supporters rallied around Hillsborough (N.C.) UCC when someone burned its rainbow flag in 2016.
In Arlington, Va., Rock Spring Congregational UCC was in the news in 2015 when vandals sliced up its "Black Lives Matter" banner.
Of course, vandals do not just target UCC churches. A few examples from 2019 alone:
Someone set fire to rainbow flags June 3 outside an LGBTQ bar in New York City's Harlem neighborhood.
Rainbow flags were burned at homes in Burlington, Vt., the weekend of June 1, and Charleston, S.C., April 13, and outside an LGBTQ-oriented store in Baltimore May 4.
Vandals wrote hateful words on a sign expressing love for LGBTQ people, immigrants and Muslims at a Presbyterian church in Towson, Md., Feb. 10.
Leaders in the wider UCC were among those offering words of concern and support after the St. Louis incident.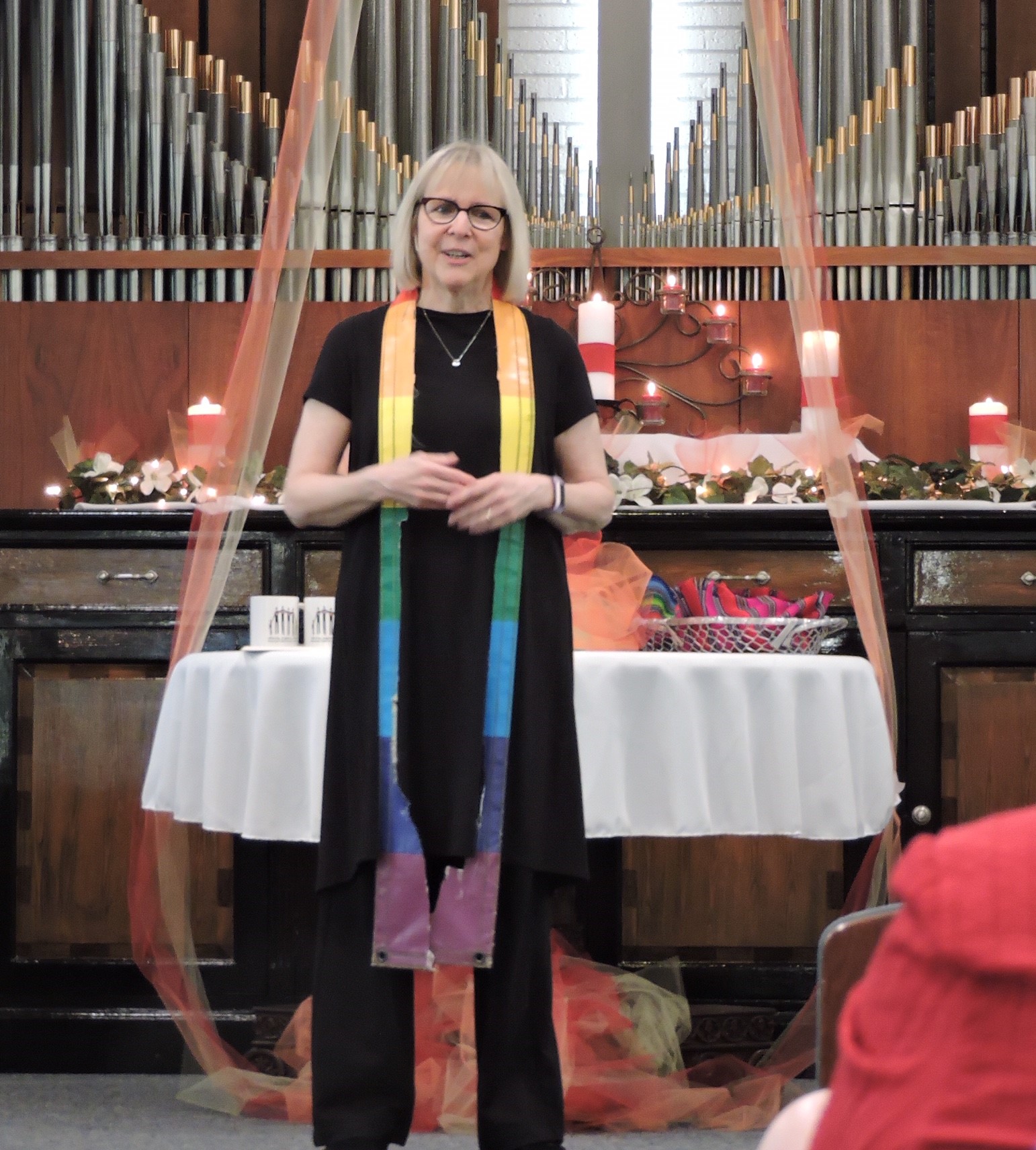 "Kirkwood UCC is one of many ONA congregations that have risen above the hatred that motivates acts of petty vandalism against rainbow flags and banners outside our churches," said Andy Lang, executive director of the UCC's Open and Affirming Coalition. "Their prayers for the perpetrator of this act, and their renewed commitment to live up to their ONA covenant publicly and confidently, are an inspiration for our entire movement."
"Anyone reading this should know that such acts of hate and terror are not going to deter the United Church of Christ from proclaiming our core belief that no matter who you are, or where you are on life's journey, you are welcome here," said General Minister and President John Dorhauer in a June 5 Facebook post linking to a St. Louis Post-Dispatch article on the incident.
"We know that God is Still Speaking from the blazing fire of hatred and fear," said Missouri Mid-South Conference Minister Ginny Brown Daniel in a June 4 Facebook post that included images of the burned banners. "May Divine Peace unclench the hearts of those who set these banners on fire. And may Divine Strength protect all who are in danger of violence upon their personhood as God created them."
The LGBTQ community in St. Louis is not letting the incident spoil its Pride Month. "For whomever took the time to rip down these signs and set fire to them behind Rehab Saint Louis, whatever message you may have been conveying is sadly lost," said Kyle Henton, the owner of the establishment where the burning took place. He posted video of the banners on Facebook June 3, just after he extinguished them. "The only message we received was time was wasted, property was damaged, and you/persons have entirely too much time on your/their hands. Let's practice love, respect, and compassion for everyone. I, as so many others, hope you/persons find peace in life. Have a great night."
[This article was posted June 6, 2019, and updated with a photograph on June 10.]
---
Related News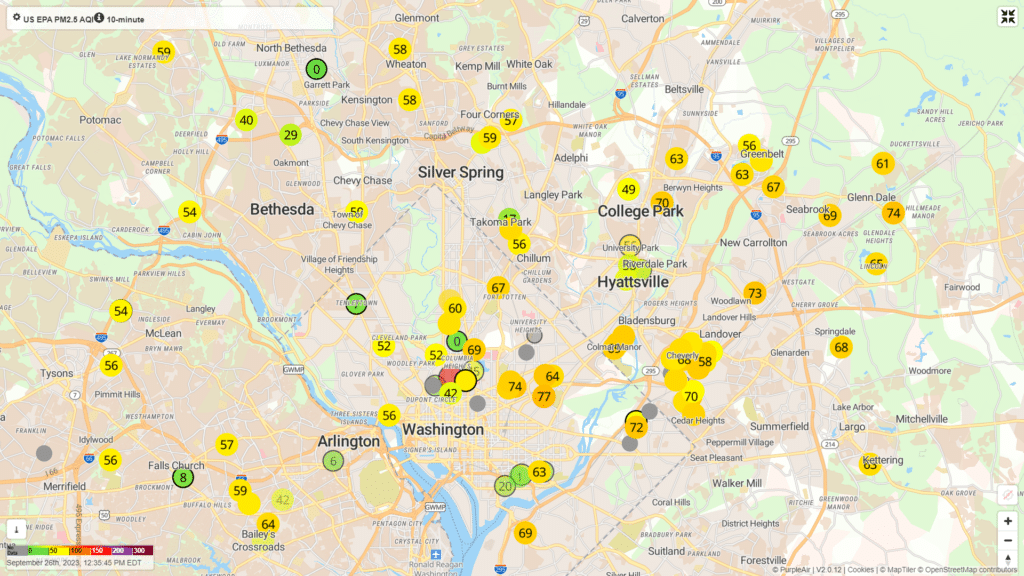 This summer, the United States experienced some of the worst days for wildfire pollution in...
Read More