'Burned down but not burned out' church finds new sense of community at Christmas
This is a Christmas story six months in the making, one of a congregation coming together, with a bond forged by a tragic fire.  While the people of First Congregational Church UCC, Vancouver, Wash., won't be worshipping in their sanctuary on two of the holiest days of the year, it isn't stopping them from being the church. The members of the distinctive structure, known in the community as the 'ark on the hill' have spent more than six months as nomads, displaced by a devastating blaze believed set by an arsonist on May 25.
"The way the congregation has come together after the fire is really remarkable," said the Rev. Jennifer Brownell, First Congregational UCC's assigned pastor. "This is really a living example of how the church is not the building—it's the people who make up the congregation who are the church."
The congregation, celebrating its 125th year as a church in 2016, has been dealing with the challenge of putting their building back together during a time of massive change.
In a period of months, their music director of 25 years retired, their pastor announced he was leaving to take a position with the UCC national office, they welcomed a new choir director and called an interim minister.
"Our congregation was in various places emotionally—in relation to all things," said Kristina Martin, First Congregational CE Coordinator/Youth Director. "And then, the fire happened."
"This was to be a simple interim position," said Brownell. "The fire changed everything for the congregation and my relationship with them in a very positive way."
First Congregational's lay leaders had to focus their energies into reconstructing their building, so the search committee recommended that Brownell stay on so the church could suspend the search and call process while rebuilding. Restoring the heavily damaged structure is more complicated than the group originally thought. No one could even enter the building until the asbestos was abated, just weeks ago. And the reshuffling—finding places to hold classes or choir practice, relocating renters, arranging space to worship. But it didn't deter them. It made them stronger.
"I think that the best thing we did was hold services under a big white tent on our labyrinth," said Martin. "The chairs had to be set close together, the lectern was carried down and smelled of smoke and charred wood, and the burnt remains of our sanctuary sat just across the parking lot. It was good in that it gave us a tangible reminder of Jennifer's statement the Sunday after the fire: you can burn us down but you can't burn us out."
"The fire, interim operations and plans for rebuilding, (which we call re-imagining), have forged a renewed spirit of unity and determination in our congregation," said John Greenauer, a church member acting as building manager liaison between the congregation, the restoration company, insurance adjustor and architect. "Our Sunday attendance has markedly increased since the fire despite worshiping in a variety of rooms and halls throughout the community. At one point after the fire we worshiped in a different location four weeks in a row. Many of the weekly activities such as Bible study are held in the area churches. Some activities and meetings are held in a temporary office trailer on site. An increase in volunteer participation and leadership involves most if not all of the congregation."
Church members have convened in 8-10 different places over the course of the last six and a half months, leasing locations for different activities. The congregation will worship on Christmas Eve at the Trinity Lutheran Church and Christmas Day in a local Senior Center.
"Being displaced during the holidays is basically the same—just trickier," said Martin. "Every Sunday, I carry boxes of stuff from my garage or the trailer into the senior center…but it is amazing  just how little it takes to make a space feel sacred. I'm actually excited to be at Trinity Lutheran for Christmas Eve. Of all the services that I 'need' to feel sacred and soul-filled, it is Christmas Eve with our singing of Silent Night by candle light. As much as I truly believe you can be the church in the middle of a sterile community room, I'm looking forward to having one 'traditional' service after all these weeks of change and needing to be flexible."
"There are so many of our Biblical stories that speak about a people in exile, and we have really leaned into those messages during the past six months," said Brownell. "The notion of the Christ child being born in temporary quarters, to parents on the move, has a special resonance for us this year."
And this Christmas, they are embracing that new spirit of community.
"While we have always been a friendly, welcoming congregation with established social groups, such as book club, movie night, cards and board game night, since the fire our church community has been even closer," said Ken Rowe, former moderator and the church's communication director. "Attendance since the fire has been up. We have regular visitors attending now, people who had not seen the inside of our church before the fire."
"There are people who found us because of the news who never realized there actually is a church that loves everyone, invites everyone, takes communion with everyone," said Martin. "And now, post-election, we continue to have people find us —folks hungry for affirmation that goodness exists in the world. And for many, the burnt shell of the ark on the hill that continues to do God's work is a great revival of faith."
"Overall we have learned that we are the church and we can meet, worship and share fellowship despite the loss of our building," said Greenauer. "We have benefited from a generous community giving us support, sharing space and caring for us. Our Pastor Jennifer Brownell's can-do attitude, loving spirit and effective leadership during this trying time have been key to our managing the many changes required."
"How will we be tomorrow's church? I don't know," said Martin. "But I do know that we are a stubborn, resilient bunch and we are determined to not lose what makes us special: our glorious, generous God-filled community. We are still here, doing the work, even if we wear hard hats and safety goggles sometimes."
As Brownell said, "Having literally been through fire together, I think we trust and rely on each other more than we ever did before."
---
Related News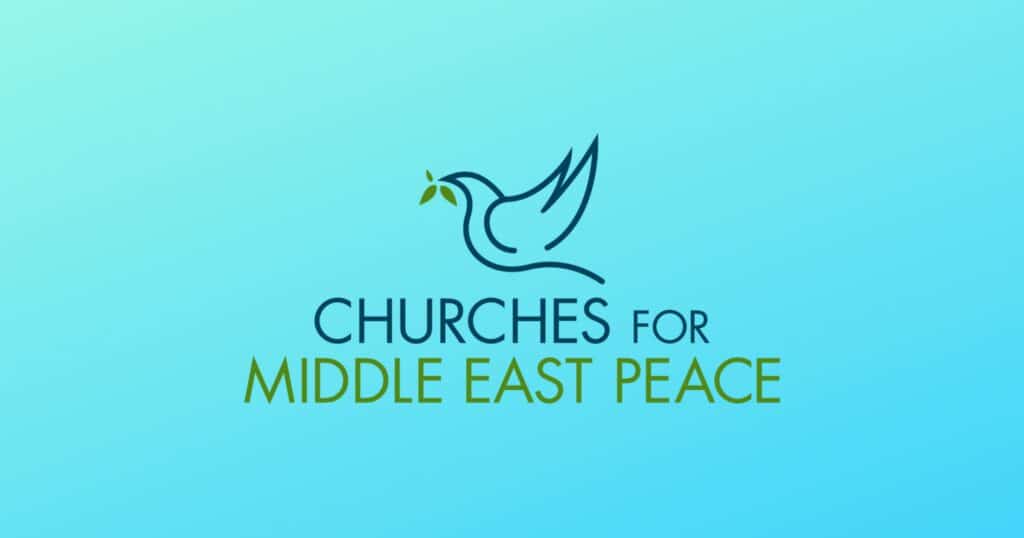 The following statement was issued Dec. 2 by Churches for Middle East Peace (CMEP), of which...
Read More