Building Sanctuary For All… All of Us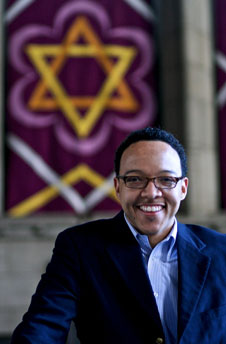 Everyday we read the headlines – usually on our timelines – and find more brokenness that both enrages and touches us at a deeply personal level. In one sense, we must appreciate technology for its profound ability to spread information rapidly and put us in community with others doing the work and being affected in the same way. Whatever your passion is, you are not alone. Thanks be to God!
On the other hand, we'll rarely talk about issues that don't affect us personally. I've even heard well meaning "liberal" folk say, about immigration in particular, "That's THEIR issue." People wonder (but are smart enough to not ask, I guess?) what a young black pastor from the Southside of Chicago is doing so entrenched in immigration justice, leading a congregation offering Sanctuary right now.
I grew up a child of hip-hop, was deemed "negligible" by those controlling Chicago's streets, and it all led to my artistic expression through music and my faith as a pastor.
I have seen, too often, the powers and principalities set against and between those who bear the brunt of unjust policies. As Attorney General Jeff Sessions directs prosecutors to prioritize violations related to immigration, he is also re-instating "War on Drugs" policies that were the root cause of mass incarceration resulting in Blacks and Latinos constituting the majority of the prison population. If you can't see the cross-section of immigration reform and criminal justice reform, or the color-blind nature of wage theft against poor workers, or mothers that can't get adequate treatment for breast cancer or support against a violent partner…
…is this really THEIR issue?
As hundreds of thousands marched on May 1st for International Labor Day, and as we approach May 7th when we mark Immigrant Rights Sunday in the UCC, it is an important time to reflect. Providing sanctuary has been part of the DNA at University Church. Our deepest intention is that we would provide a safe space for someone who would need it, such as the case for Jose Juan, a father of five, who is taking Sanctuary with us as he fights to stay united with his family. Sanctuary helps provide a moral platform for Jose Juan to tell his story, and work to change the public narrative that has recently grown xenophobic, even from within. THEIR issue?
Shouldn't our sanctuaries offer this same kind of Sanctuary…to anyone? Wouldn't we want this grace, and do we not call upon this kind of love every Sunday?
We have an ethical responsibility to stand up to these unjust immigration laws because we follow a higher law, to love our neighbors. As a congregation we're dedicated to the work of the Sanctuary Movement, beyond just providing housing for those in need, but to organize together for expanding Sanctuary City proposals beyond immigrants.
Together with groups like OCAD (Organized Communities Against Deportations), we're working to guarantee local law enforcement will not arrest or detain individuals based on their immigration status, close major loopholes, change bail procedures, increase accountability for the Chicago Police Department, and provide broader and stronger protections for all immigrants and all communities of color.
This is Sanctuary for everyone, and it means that everyone is going to need to see how these issues – no, ALL issues – are connected. When impacted communities start organizing together, joined by allies in the faith community, we can build power at the local level to make the concrete changes needed to protect marginalized communities, even as the terror on our timelines persists.
---
The Rev. Julian DeShazier is senior minister of University Church in Chicago, Illinois (a United Church of Christ and Disciples of Christ congregation). Julian is a Morehouse College/Univ. of Chicago Divinity School alum, known to many as hip hop artist "J.Kwest."
---
Related News
One hundred and twenty-five years ago, the United States was in the throes of a most vibrant...
Read More