Bryan Stevenson urges luncheon attendees to do justice, get close to those suffering
The first time that Bryan Stevenson was sent to visit a person on death row as a law school student, he didn't feel qualified to be there. But the experience changed him.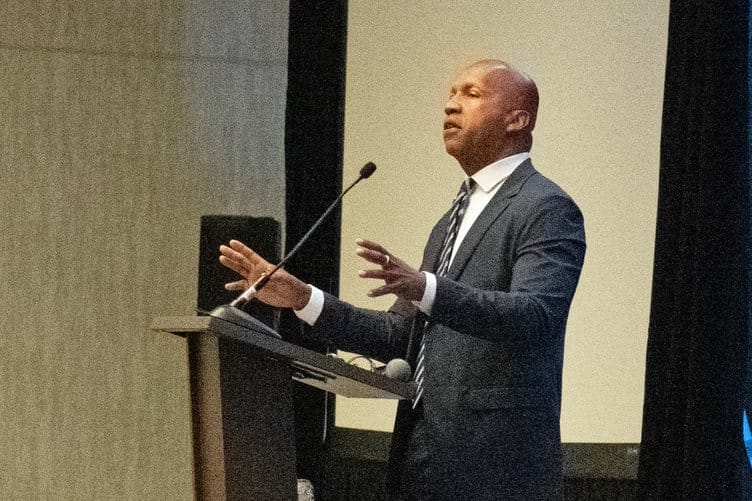 He spent much longer than the allotted hour talking with the imprisoned man and finding commonalities between them. When guards arrived to shackle the man and harshly take him away, the man started singing, "Lord, plant my feet on higher ground."
"I'm here to tell you, when I heard that man sing, everything changed for me because I got proximate to a condemned man and heard his song," Stevenson said. "I knew I was being called to help condemned people to get to higher ground … What's important is that I realized that my journey to higher ground was tied to his journey."
Stevenson shared this and other personal, compelling stories as the guest lecturer for the United Church of Christ General Synod's Valerie Russell Luncheon on Saturday, June 1.
The lawyer, activist and author of Just Mercy went on from his law school experience to found the Equal Justice Initiative, which has won relief for more than 135 wrongly condemned prisoners on death row.
'Get close to people who are suffering'
Stevenson emphasized he was speaking to the UCC as a person of faith, and he posed the question of how to best follow the words of the prophet Micah to do justice and love mercy.
Proximity is a central practice for doing justice, he said, like how becoming proximate to the man on death row instilled him with purpose and drive to finish law school and assist so many others.
"I talk about proximity a lot," he said, "because I don't believe there's any way to do justice, any way to love mercy if you isolate yourself from people who are experiencing injustice. The only way we understand how to do justice is when we get close to people who are suffering and excluded, marginalized, incarcerated and condemned."
He added that leaders often create bad policies "because they're creating policies from a distant place and they don't know what they're really trying to deal with."
'Truth-telling spaces'
Stevenson highlighted the power that exists in work to change the narrative in a time that is contaminated with "narratives rooted in violence and bigotry."
He described how the United States became the country with the highest incarceration rate in the world – 2 million people – due to narratives of fear and criminalization, preached by politicians, to describe people who are drug addicted.
"We have to fight against narratives of fear and anger," he said. "They are the essential ingredients of injustice and oppression and abuse. And that means we have to stand strong and represent something else. I think doing justice means pushing back against fear and anger as a governing principle, as a way of moving through the world."
For Stevenson, this means new conversations rooted in truth-telling and addressing "this narrative of racial inequality that we have inherited" that has persisted to this day.
"I believe we need an era of truth and justice in this country," he said.
This is why the Legacy Museum and the National Memorial for Peace and Justice in Montgomery, Ala., where Stevenson serves as CEO, is so important. "We created these spaces because we think of them as truth-telling spaces. We believe our nation needs it, and we do it because there are so many things we just haven't even started to talk about," he explained.
'Something better is awaiting us'
Stevenson centered the interconnectedness of every person's humanity in his talk, telling several stories about values imbued in him from his mother and grandmother.
He shared a painful experience when, despite his best efforts, a motion that his team filed for a stay of execution for a man on death row was denied. It shattered him.
"I said, I can't do this anymore. I said, it's too much. I kept thinking about how broken he was, and the question I had in my mind is, why do we want to kill all the broken people?" Stevenson said. "What I realized that night that I'd never realized before is that I don't do what I do because I've been trained as a lawyer. I don't do what I do because somebody has to do it. I don't do what I do because it's about justice. That's important. But what I realized that night that I've never realized before is that I do what I do because I'm broken too … I began to understand I'm not just fighting for the condemned – I'm fighting for myself."
Stevenson expressed that such difficult and crucial work for justice must be animated by hope and carried through community, particularly as people of God.
"Let's do justice. Let's love mercy, walk humbly with God and show the world that something better is awaiting us when we come together as a beloved community," he said.
Honoring lay leaders
The Valerie Russell Lecture Series and Scholarship Luncheon honors late visionary lay leader and justice advocate Valerie E. Russell, who devoted her career to working with marginalized and oppressed people through Boston's City Mission Society and UCC national ministries.
"The luncheon is all about lay leadership because you can be a church without a pastor, but a pastor can't be a pastor without a church," said UCC Associate General Minister the Rev. Traci Blackmon as she introduced the event. She added that the speaker is always Black and a lay leader.
The luncheon was co-hosted by UCC Justice and Local Church Ministries and CHHSM, and sponsored by United Church Funds.
---
Content on ucc.org is copyrighted by the National Setting of the United Church of Christ and may be only shared according to the guidelines outlined here.
---
Related News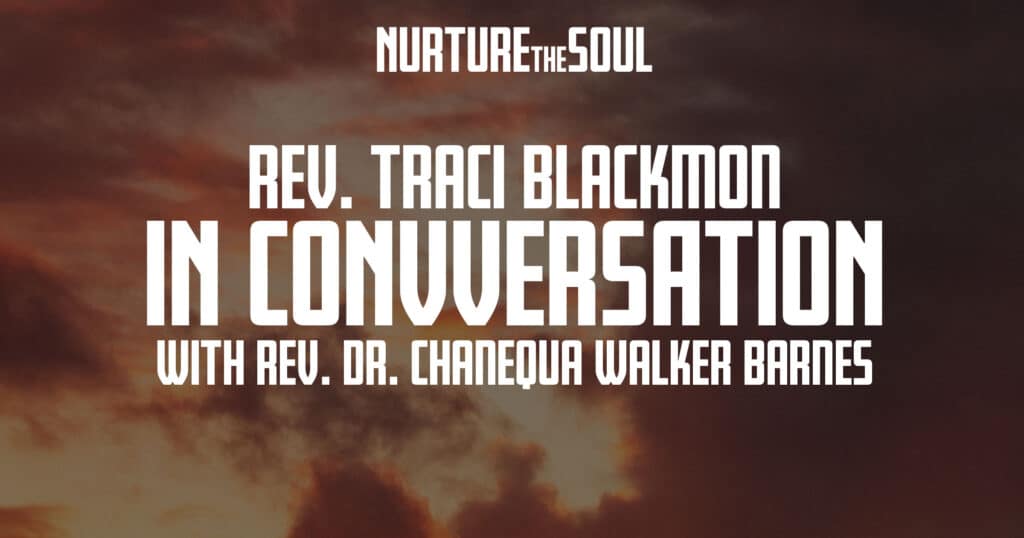 The impact of trauma and the need for self-care are vital -- and sacred -- topics for the...
Read More