Immigration advocates gather to address impacts of increased border militarization
For the past decade, immigration reform advocates, concerned clergy and citizens have gathered each year at the Santa Cruz Valley Border Issues Fair and Concert for education, advocacy and community. This year, in light of President Obama's recent executive action on immigration, the event will focus on the continued militarization of the country's borders and how it impacts those living in border communities.
The 11th annual event takes place Jan. 16-17 at The Good Shepherd United Church of Christ in Sahuarita, Ariz.
"President Obama's deferred action is great and we applaud his efforts to give more than 5 million people the opportunity to get their U.S. residency," said the Rev. Randy Mayer, pastor of The Good Shepherd UCC. "But one of the downsides of his executive action is that he plans to build up the militarization of the border in our border communities."
The event will begin the evening of Jan. 16 with a performance by musician and social activist Josh White, Jr. The fair will take place the following day beginning with a talk by Todd Miller, author of "Border Patrol Nation: Dispatches from the Front Lines of Homeland Security." Robin Reineke, co-founder and executive director of the Colibrí Center for Human Rights, will discuss her work with families in the U.S. and Latin America who are trying to locate their missing loved ones. The Rev. Noel Anderson, grassroots coordinator for immigrant rights for the UCC and Church World Service, will give an update on the 2014 Sanctuary Movement and immigration issues from a Washington, D.C., perspective.
The fair will also feature representatives and informational displays from several humanitarian and immigration advocacy groups. Attendees are requested to make a $10 donation and to offer warm hats, gloves and jackets for those making the journey through the desert. Mayer says the event's focus on border militarization stems from Obama's plan to drastically increase border security, which could create dangerous situations for those immigrants not covered by his deferred action plan.
"From what we hear, [Obama] is planning to send as many as 20,000 more border patrol agents, more technology, drones, helicopters," Mayer said. "With more than 7 million people left out of Obama's deferred action, we anticipate that desperate family members who are deported will try and cross the border, which could mean more deaths." 
Mayer expects about 250 people to attend the conference, including UCC members from throughout the country. Groups from the Ohio Conference of the UCC; University Congregational Church UCC in Missoula, Mont.; Westmoreland UCC in Bethesda, Md.; and United Church of Santa Fe in Santa Fe, N.M., will travel to Sahuarita for the event, and a UCC campus minister from the University of Albany (N.Y.) is bringing a group of college students.
"It should be a great event," Mayer said.
---
Related News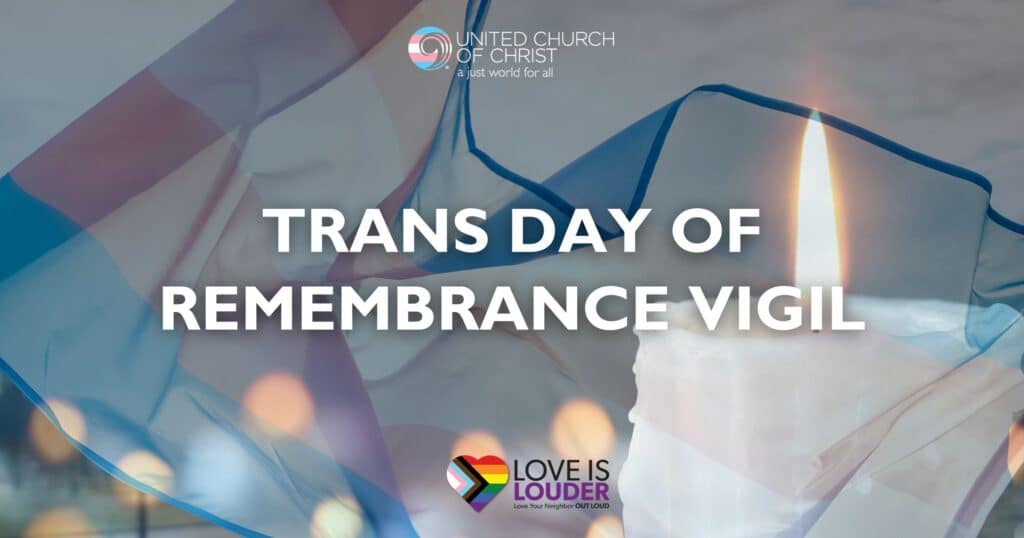 To mark Transgender Day of Remembrance (TDOR), the United Church of Christ hosted a vigil...
Read More