Black pastors demand action to combat disproportionately high COVID-19 death rates in urban communities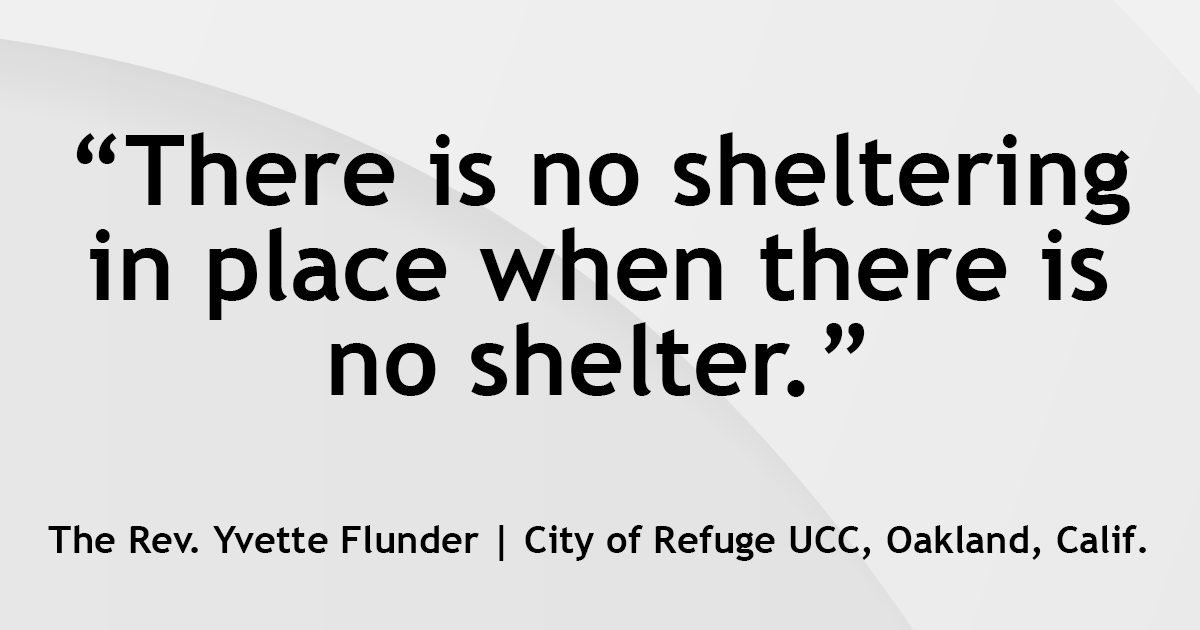 Two United Church of Christ pastors are part of a group of black faith leaders calling on the Trump administration to provide better testing, treatment and health care for people of color during the coronavirus pandemic.

"As pastors serving churches in communities that are most impacted by the coronavirus crisis, we have come together to issue a moral appeal to the conscience of a nation in a state of emergency," said the Rev. Frederick Douglass Haynes III, senior pastor of Friendship-West  Baptist Church, Dallas. "As of this moment, black and brown people are being tested the least, but dying the most."
The clergy, representing communities from San Francisco to St. Louis to Philadelphia, came together in an online press conference April 15 to call attention to a disproportionately high COVID-19 death rate in African American communities and demand that all people suffering from the virus have access to testing, treatment and protective equipment.
"Blacks often live in communities with less access to high-quality, affordable healthcare. This limits testing and treatment which results in more severe cases and deaths," said the Rev. William Barber II, pastor of Greenleaf Christian Church (Disciples of Christ), Goldsboro, N.C. "This is why we must guarantee health and living wages as a right, not a privilege, especially in states that have refused to expand Medicaid — states in the South like Mississippi, where the death rate is reported to be 70 percent among blacks."
Barber noted a number of demands of the coalition said must be addressed now.
First, the president should use the Defense Production Act to produce much needed protective materials and life-saving equipment – masks, gloves, ventilators – and see them equitably distributed. The federal government needs to work with state health officials to set up testing sites and field hospitals in black and poor communities hit hardest by the pandemic, push the 14 states that have not expanded Medicaid to do so now, and urge all states to provide immediate eligibility to those who become unemployed.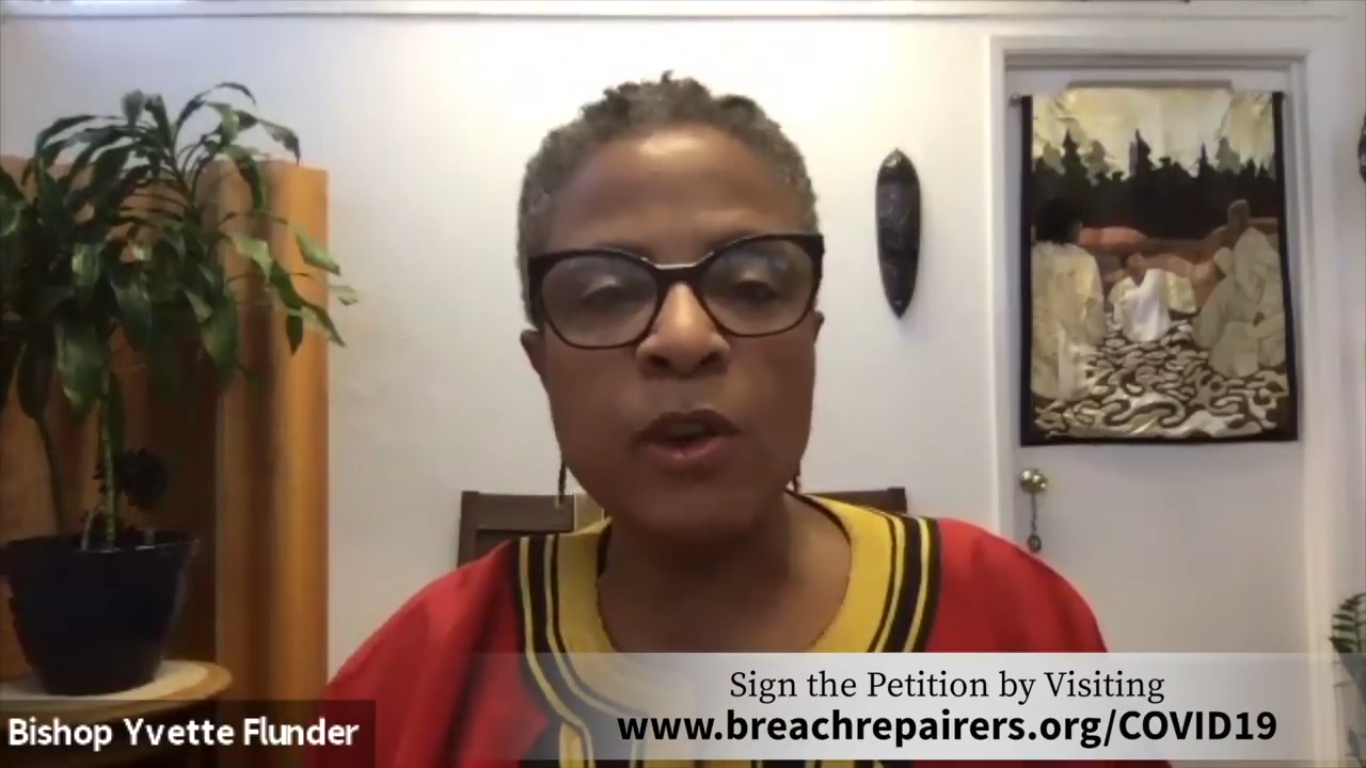 One by one, 10 pastors talked about how the pandemic is impacting the lives of the people they serve. Bishop Yvette Flunder is pastor of City of Refuge UCC in Oakland, Calif., whose ministry provides food, medical and case management services to housing-insecure inner-city poor. "There is no sheltering in place when there is no shelter," she said. "We fear an explosion of the virus in this untested population as homelessness is often created as urban populations experience huge rent increases as median income has declined." She cited the explosion of  rodents, as COVID-19 intensified in New York, "ground zero," and in New Orleans, "where the virus is out of control" and her city. "These people" she said, referring to the homeless and housing insecure "are in grave danger."
The Rev. Traci Blackmon, UCC associate general minister and senior pastor of Christ The King UCC in Florissant, Mo., got emotional when she talked about members of her congregation, "undervalued workers performing essential work." Out of a small congregation of 80 people, five have tested positive for COVID-19. She has two funerals this week for people who died. Three of the five had to go back to the hospital three times before they were tested. "Three times were they sent back home into their families, into their communities, being positive, but not being deemed worthy of a test." The area health center "begged for tests," she said, but the surrounding suburbs were served first.
"I pastor in an area where there aren't enough masks, where there isn't enough shelter," Blackmon said, referring to Missouri's shelter-in-place order that wasn't issued until April 3.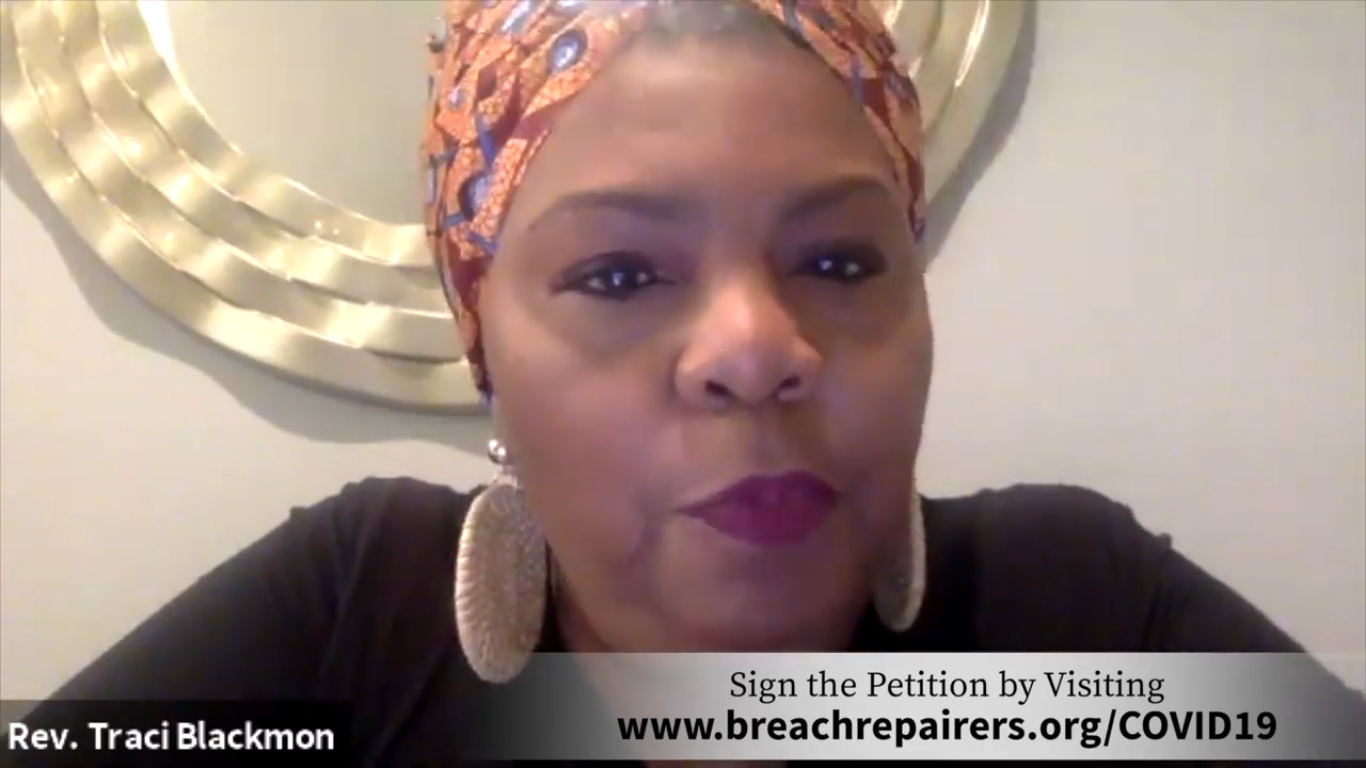 "So now we are sheltering in place, because now we are dying. What happened to the nation of compassion where it didn't have to be you for you to act.
"This is my reality. This is all of our reality as pastors. And we will not be silent anymore."
The news conference, sponsored by Repairers of the Breach, based in Goldsboro, N. C., and the Samuel DeWitt Proctor Conference, based in Chicago, kicked off an online campaign that urges other Americans to join the effort to push lawmakers to collect and release data on race, ethnicity and other demographics to identify health inequities, and to take action to address them immediately.

The faith leaders are appealing to state and local leaders to prioritize "healing humanity over restarting the economy," said Haynes. "What the coronavirus has shown us – infection anywhere is a threat to health and wellness everywhere." 
---
Related News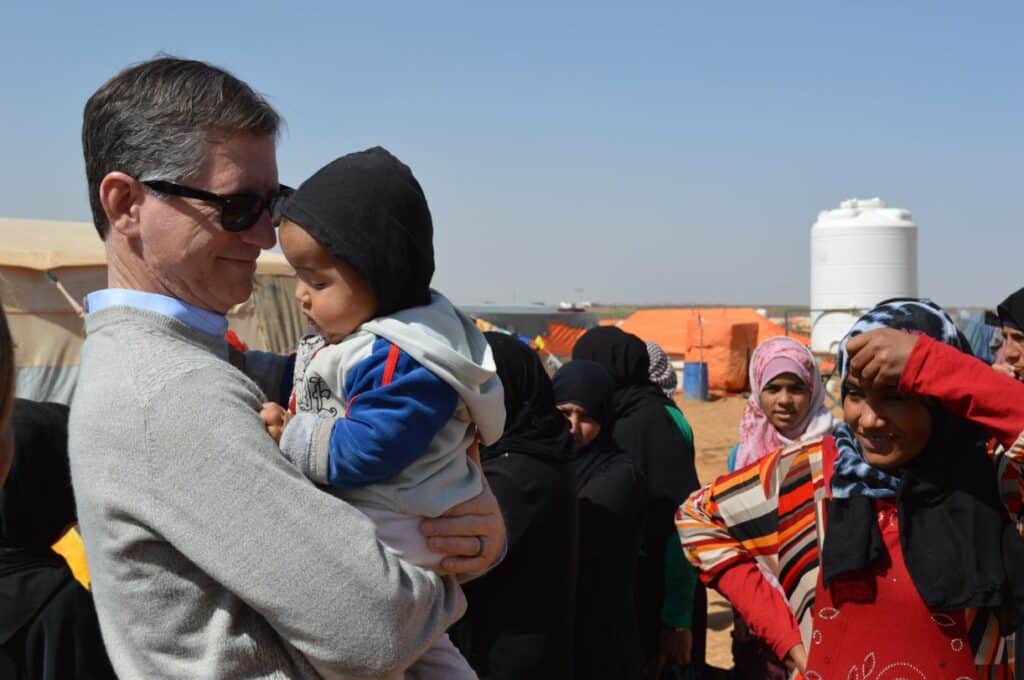 General Minister and President-elect John Dorhauer celebrates his new call with his wife Mimi...
Read More