UCC groups urge community dialogue after more acts of Black Lives Matter banner vandalism
More banner vandalism, more controversy. United Church of Christ congregations and conferences continue to face backlash within their communities after making visible the proclamation that Black Lives Matter. But instead of fighting back, the UCC groups are using these acts of aggression as opportunities to try to engage community members in conversation and work toward a common ground of acceptance and understanding – which some are discovering is easier said than done.
The Massachusetts Conference of the UCC hung two Black Lives Matter banners on its property in Framingham, Mass., in late December. Over the Christmas holiday, one of those banners was spray-painted to read "All Lives Matter." A local resident also emailed town officials complaining that the banners were in poor taste and violated local sign bylaws. The conference decided to replace the defaced banner with a sign that said "Let's Talk," inviting the public to have a conversation about the issue. But so far, no one has taken them up on that offer.
"Initially, the goal was simply to offer to be in conversation with whoever it was who had taken issue with our sign, and to make public to passersby our willingness to be in such conversation," said Dawn Hammond, an associate conference minister. "When we published an article in the local paper, the goal was a bit broader, in that we were offering to listen to anyone in the community who had thoughts or feelings about our banners."
Hammond said she is not particularly surprised that no one responded to the conference's invitation to talk. She thinks the lack of a relationship between the conference staff and the residents of Framingham is preventing people from feeling a level of trust that is often needed to address difficult issues. Regardless, the conference has a number of anti-racism initiatives underway among its staff, board and volunteers, and has since hung a banner that reads, "Building a world where black lives matter, police lives matter, all lives matter to everyone."
"Whoever vandalized the sign was obviously more comfortable with making an anonymous protest than with raising their concerns person to person," Hammond said. "That said, I still think it was important to publicly make the offer."
On Jan. 16, the Black Lives Matter banner at Christ Congregational Church UCC in Silver Spring, Md., was also defaced to read "ALL Lives Matter." The Rev. Matt Braddock used the incident as the focus of his sermon the following Sunday, which happened to be the day before Martin Luther King Jr. Day. The congregation decided to rehang the vandalized banner on its front lawn "to make sure the Silver Spring community knows that an act of vandalism will not deter [the church] from continuing to raise awareness and fight for racial justice," Braddock said. On Sunday, Jan. 25, church members gathered for a special ceremony before worship services to rededicate the altered sign and place 20 additional lawn signs around it. The church, which was the first in Maryland's Montgomery County to integrate, purchased another Black Lives Matter banner to hang on the side of its building throughout the month of February in honor of Black History Month. 
"Our insistent affirmation that black lives matter means that living as healers and reconcilers means more than a banner and a few lawn signs," Braddock said. "It means living out our covenantal commitment to be an anti-racist congregation."
As a next step in the discussion, Christ Congregational will host an event sponsored by the Maryland Alliance for Justice Reform on Feb. 8. The lobby day and training event will focus on racial injustices in the state of Maryland, and Braddock expects more than 100 local activists to attend, including about six members of the church's racial justice circle. By hosting the seminar, Braddock hopes members and friends of the congregation will continue to see the church as a community that continues its long-standing commitments to racial justice, and that the training will inspire more members to become spiritual activists.
"I believe, and teach, that we cannot be comfortable as long as there is a spirit of vengeance in our communities of faith, even something seemingly small like banner vandalism and it's responses," said Braddock. "We cannot be comfortable if there is any emptiness of spirit or bareness of soul among us. In the web of humanity, we thrive and suffer together."
Greenpoint Reformed Church in Brooklyn, N.Y., was one of the first to report vandalism of its Black Lives Matter banner, and the Rev. C.B. Stewart, a co-pastor of the church, is not surprised that churches in other parts of the country have also had their banners defaced. While New York became a focal point of racial tension with the death of Eric Garner at the hands of a white NYPD officer, Stewart says that no place is free from racism, which she calls "our pervasive and fundamental national sin." While Greenpoint Reformed Church doesn't currently have plans for a community conversation, Stewart says such a meeting is possible, and thinks dialogue is an important way to get to the root of this systemic issue. 
"Conversation on all levels – familial, congregational, community, and so forth – can change us and move us toward action," Stewart said. "Right now I believe strongly that the action needed is to listen to what this movement of people of color, and often youth, is telling us, and show up to follow their leadership into the streets [and] the courtrooms."
---
Related News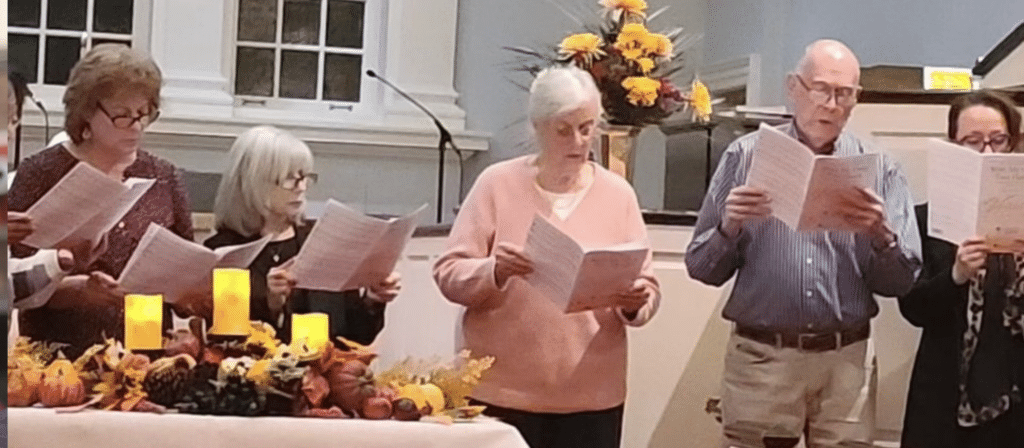 Many United Church of Christ congregations across the country participated in interfaith...
Read More