"Bailando con el Viento"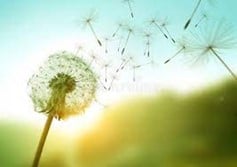 El viento sopla hacia donde quiere: oyes su rumor, pero no sabes de dónde viene ni a dónde va. Así sucede con el que ha nacido del Espíritu. Juan 3:8
Esa noche cuando Nicodemo y Jesús se encontraron en Jerusalén, seguramente se respiraba una gran tensión en la ciudad. Nos cuenta Juan que se acercaba la pascua y Jerusalén estallaba de gente. Los peregrinos habían llegado de todas las ciudades del Reino. El Gran Sanedrín, la corte suprema de los judíos estaba en sesión y tenía a sus 71 integrantes presentes. Además, Pilatos había llegado con sus tropas para asegurar el orden en la capital.
Sabemos que Nicodemo hacía parte del Gran Sanedrín. Era uno de los hombres más importantes y ricos de Jerusalén. El texto parece indicar que fue enviado por el partido fariseo. Seguramente sospechaban que la presencia de Jesús en la capital indicaba que se estaba organizando un levantamiento armado, y querían prevenir cualquier desorden durante la festividad.
No podemos estar seguros de las motivaciones de Nicodemo esa noche. Lo que sí sabemos es que la conversación le cambió la vida.
Jesús probablemente sabía desde el inicio porque Nicodemo estaba ahí. Nadie lo podía engañar. Él sabía que Nicodemo venía queriendo averiguar cuál era su plan, su razón para estar en la capital. Entonces el maestro, con esa astucia que lo caracterizaba, agarró al invitado por donde menos esperaba.
¿Vienes queriendo saber cuál es mi plan? Mira al viento Nicodemo, esa es mi estrategia. 
Nicodemo, quedó desconcertado. 
Recuerdas Nicodemo que en el inicio el VIENTO Ya estaba. Antes de que Yahveh creará las estrellas, las estaciones, las vueltas al sol, las horas en el calendario, los días en el mes, mucho antes, el viento ya volaba sobre las aguas. ¿Le has puesto atención? El viento no es como el sol, no le preguntes donde estará en tres semanas, o a qué hora pasará por tu ventana. Nadie la puede controlar, nadie sabe a dónde va. No hay ley ni camino que la pueda descifrar.
Tu ¿Dónde estás Nicodemo? ¿Sigues atado al pasado? ¿al futuro? ¿a un montón de leyes y conceptos que alguien te enseñó? El viento es más antiguo que todas tus reglas. Acá ha estado desde el inicio, en el eterno presente.
¿Dices que prefieres tener una ruta bien trazada con pasos a seguir? ¿Sigues creyendo que tienes el control? Así no funciona este reino. La vida es un baile con el espíritu y a este Reino nadie lo puede controlar.
La puerta al reino está abierta. Ahora solo tienes que hacerte como el viento y dejarte llevar.
Yo te pregunto a ti, ¿qué te está atando? ¿qué peso debes soltar?
Abba llena de espíritu nuestro corazón, quiero ser viento en tu viento, quiero sentir y soltar. Tu Reino es un misterio que nadie puede descifrar. Tu reino es un baile entre dos enamorados que no saben para donde van. 

Escrito por: Natalia Serna (La Muna) escribe canciones y cuentos. Es amante de los jardines con muchas flores y de juntar personas de caminos diferentes alrededor de una misma mesa.
---
Related News
Throughout the holiday season—from Thanksgiving, through Advent and Christmas, to the New...
Read More