Back to "Normal" Still Won't Work for Women
It is alarming how quickly society and decision makers lost the will to fully grapple with long-standing and deep-seated inequalities. Instead, there is a push to "get back to normal," even after being reminded that "normal" was not working for most people.

― Sandy Sorensen
There was a time in the initial phases of the COVID-19 pandemic when long-standing structural inequalities most directly impacting women, people of color, people living with disabilities and other marginalized communities were revisited in public policy discussion and debate. Inequalities in health care access, affordable housing, living wages, access to paid family leave and affordable childcare compounded the toll taken by the COVID-19 pandemic on marginalized communities in more visible and immediate ways.
The strong push to "get back to normal" was countered by an alternative narrative in many justice circles: "We can't just get back to normal when normal was not working for so many communities. We need to build to better." The Washington Interreligious Staff Community, a partnership of over 60 faith-based policy advocacy organizations outlined what better might mean in a document titled WISC Priorities for Recovery Legislation.
President Biden's comprehensive Build Back Better legislation plan offered an entry point addressing some of the structural inequalities that exacerbated the terrible toll of the COVID pandemic. Yet Build Back Better has been mired in Congress for over year, and it seems likely that many key provisions including affordable childcare and paid family leave will be stripped from the bill. It is alarming how quickly society and decision makers lost the will to fully grapple with long-standing and deep-seated inequalities. Instead, there is a push to "get back to normal," even after being reminded that "normal" was not working for most people.
Given the lack of political will to tackle fundamental inequities, it should come as no surprise that in the third year of the pandemic, women continue to face structural inequities that create significant barriers to access all that supports their well-being and the well-being of their families. The National Women's Law Center recently released a report entitled Resilient But Not Recovered: After Two Years of the COVID -19 Crisis, Women Are Still Struggling.
Among the findings from the study:
More than two-thirds of the net lost jobs since the pandemic are women's jobs – and while men have returned to their pre-pandemic labor force size, over 1.1 million fewer women are in the labor force today than in February of 2020.
Nearly 40 percent of women – including 66 percent of women who have lost or quit a job since February 2020 and 51 percent of women in jobs paying $15/hour or less – say their family's financial situation is worse today than before the pandemic, compared to 26 percent of men.
Women of color fare even more poorly. The study identifies support for care infrastructure – childcare, home care and paid leave – are the top three solutions named by those most impacted. Also named is the access to comprehensive health care.
In recent budget considerations happening this spring, Congress has already proposed to end funding for global vaccines, and funding for the uninsured to receive tests and vaccinations. Penny-wise perhaps, but pound foolish.
We know what supports the well-being of women and families. Sound bites ring hollow. What we need is the political will and vision to do the hard work of structural change.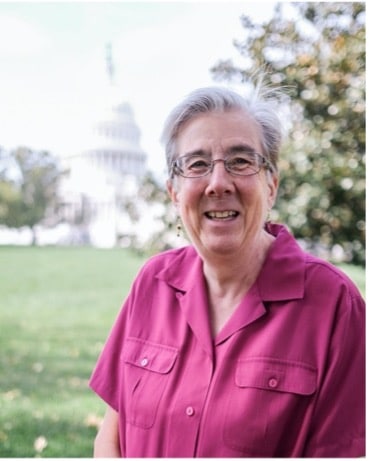 Sandy Sorensen currently serves as Director of the United Church of Christ, Justice and Witness Ministries, Washington, DC office.  Sandy has served in a variety of capacities in her over 30 years of experience in the national setting of the United Church of the Christ, including work in communications and policy advocacy on civil rights, justice for women and media access.  She currently serves on the board of the Council for Health and Human Service Ministries. 

Sandy Sorensen Director of UCC Justice and Witness Ministries office on Capitol Hill in Washington, D.C for the United Church of Christ
Contact: SorenseS@ucc.org
---
Related News
Throughout the holiday season—from Thanksgiving, through Advent and Christmas, to the New...
Read More