At six months of war, UCC 'overwhelming response' to Ukraine appeal supports most vulnerable
Any war's story can be told in both numbers and names. That's evident in the Russian Federation's military offensive against Ukraine, a conflict that marked its six-month anniversary on August 24.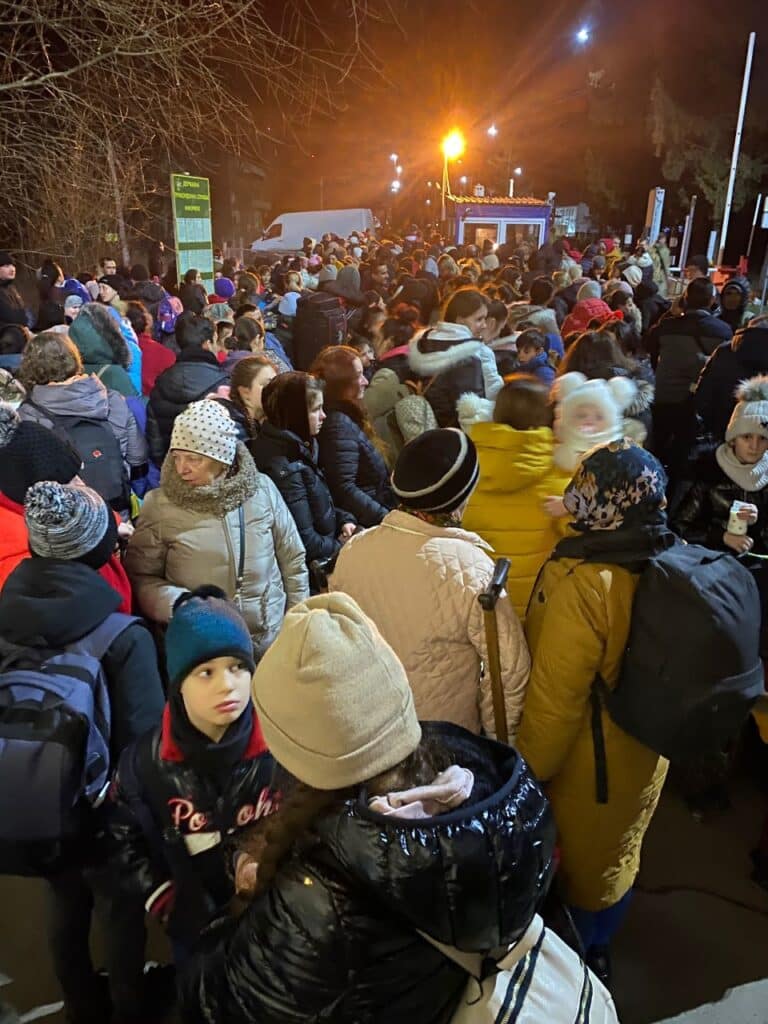 This war's numbers include 6.7 million refugees seeking safety outside Ukraine and 6.6 million people displaced within the country, where shelling and missile attacks continue to cause destruction, injury and death.
Those numbers include people with these names: Mykhaylo, Alyona and Platon. There is also Doxa, a dog with an important role helping children cope with the war's trauma.
There's another number: the $2.7 million that members of the United Church of Christ have contributed to the UCC Ukraine Emergency Appeal to date, both for immediate needs and for an eventual long and costly recovery.
"The overwhelming response from across the denomination demonstrates a clear commitment to care for the most vulnerable in this crisis," said the Rev. Josh Baird, Global H.O.P.E. team leader, UCC Wider Church Ministries.
"Because of the outpouring of generosity, the UCC is able to be present now and to accompany them in the recovery, which certainly will take many years in Ukraine and beyond."
Baird said the war in Ukraine illustrates how interconnected our world is. One enormous impact of the war has been deep food insecurity. Tens of millions are at risk of starvation in Africa this year due to droughts and the loss of grain normally imported from Ukraine. He urged donors to support other humanitarian crises as robustly as they are addressing the crisis in Ukraine.
Meeting needs
In the Ukraine response, the UCC is supporting partners with deep experience in the region. The funds help meet immediate survival needs of people displaced within Ukraine and of refugees and others the war is impacting in Hungary, Poland, Romania, Slovakia, Moldova, Lithuania and Greece.
And here's another number: ACT Alliance, a global network of Christian partners, reports touching 700,000 lives through its Appeal for Ukraine, which the United Church of Christ is helping to fund.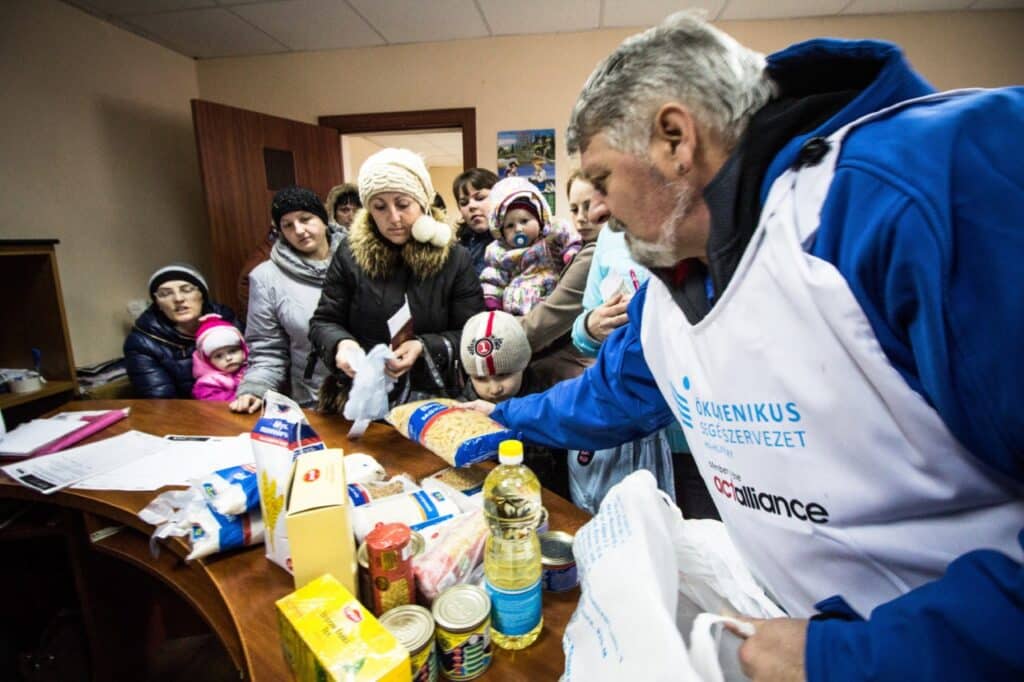 UCC members' contributions are supplying food, shelter, protection of women and children against violence and trafficking, spiritual and psychosocial support, welcome centers at border crossings, and more.
"We look forward to receiving our partners' updates and evaluations and their sense of emerging needs in this highly fluid context of war so we can plan future disbursements," Baird said. "It's important to respond to their requests," he noted, "because they are adapting swiftly to changing needs and circumstances as they happen."
As an example, a few weeks in, partners observed that for refugees and internally displaced persons (IDPs) who are sheltering near functioning markets, multipurpose cash assistance (MPCA) made more sense than to distribute food baskets. This "survival cash" for basic needs gives those who are displaced the power to purchase what they can use, rather than accept prepackaged support that may not be helpful.
'Survival cash' stories
A 67-year-old pensioner, Mykhaylo and his family fled the almost entirely annihilated Lysychansk for the L'viv region in Western Ukraine, where they found a one-room apartment. Their household budget already was tight, but setting up a new life and affording rising prices made just making ends meet "an arduous endeavor," he said.
But Mykhaylo had an even greater worry. His son was in dire need of an eye operation, without which he would go blind in his right eye. Funds donated through local charities fell short of the need.
Then the family connected with one of several ecumenical partners offering MPCA. He also applied successfully for another type of assistance, Cash and Protection. The two new sources of income allowed him to save for his son's operation.
Alyona fled a besieged Kharkiv with her two toddlers and sought safety in L'viv. There, she faced an existential dilemma. Her children were too small to be left alone, so she couldn't go out to work. But staying home meant trying to live on an impossibly limited budget. With MPCA, Alyona is able to make ends meet.
Support for children
Care for children is a high priority for the UCC and its partners. They have been torn from their familiar places and routines, including school.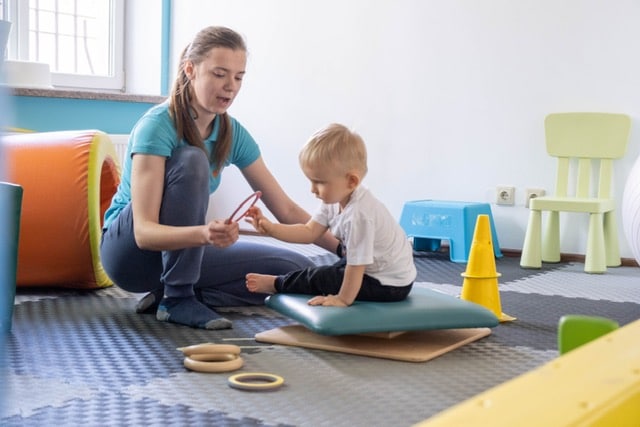 Many have been rushed to bomb shelters or loaded at night into darkened trains to other cities or countries. They carry a heavy burden that they don't know how to express or cope with on their own.
Several Hungarian Interchurch Aid (HIA) projects are helping children bear that burden and release it in healthy ways.
Among children getting help is two-year-old Platon, who is hard of hearing and might be autistic.
"At least he didn't hear the explosions," his father said, noting the family hid in the Kharkiv metro before fleeing to L'viv. Platon is now enrolled in the Center of Development and Socialization (START) program for children with special needs, receiving the medical and social support he needs.
Children of Hungarian-speaking Roma refugees from Zakarpattia, Ukraine, are getting special preparation for their upcoming first day of school in Hungary.
Internally displaced children in Vinnytsia, Ukraine, are getting art therapy to help them work out the trauma of war. This and other projects are being supported through flexible small grants to help non-profits serve IDPs, refugees and others deprived by war.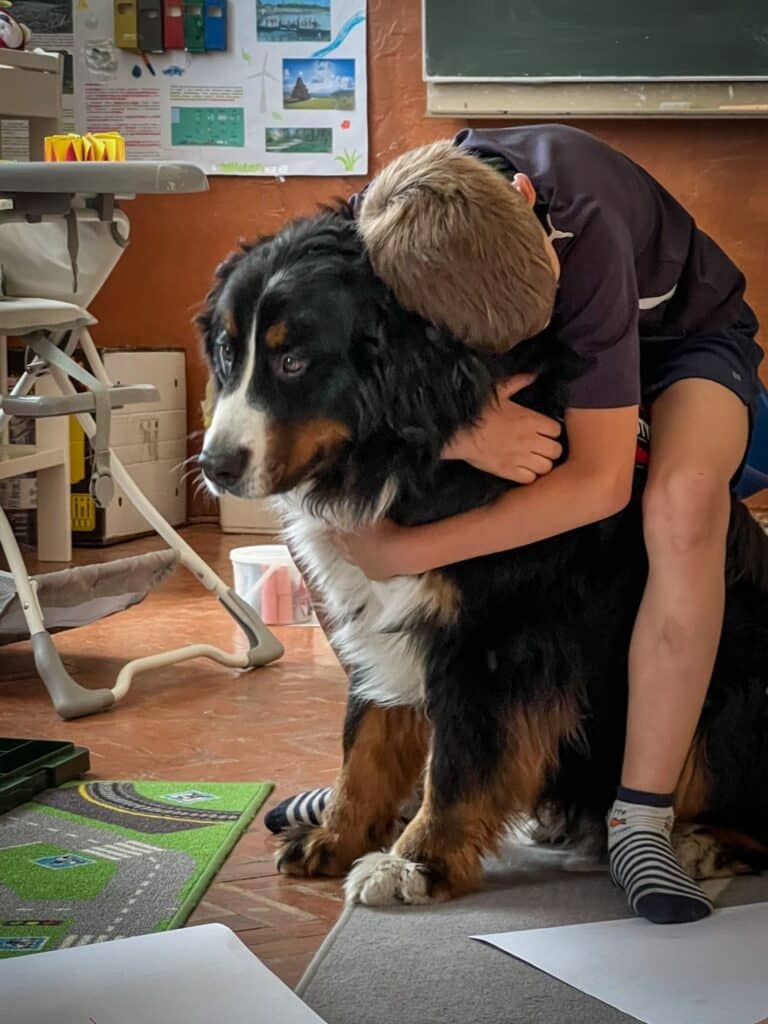 And then there is Doxa, a big and fluffy Bernese Mountain Dog, a weekly visitor to an HIA shelter in Berehove, Ukraine.
"It is important for the children to decide what the dog will do," said therapist Barbara Korozsi, Doxa's owner. In the chaos of war, "they need a sense of being in control in their lives."
Leading Doxa on the leash and getting her to do tricks increases self-confidence, Korozsi said. The children are able to talk to Doxa about feelings, memories and desires they can't share yet with adults.
Doxa's presence inspires even the most traumatized.
"There was one family who arrived here from Severodonetsk," Korozsi recalled. "They had a boy and a girl. When they arrived, the children were afraid of any noise that sounded like war. Thunder caused anxiety in them. The children wouldn't go anywhere without their mother.
"But when they started to come to the program with my dog, the children began to get more and more open. They now come without their mom. They don't cry. They have fun."
Content on ucc.org is copyrighted by the National Setting of the United Church of Christ and may be only shared according to the guidelines outlined here.
---
Related News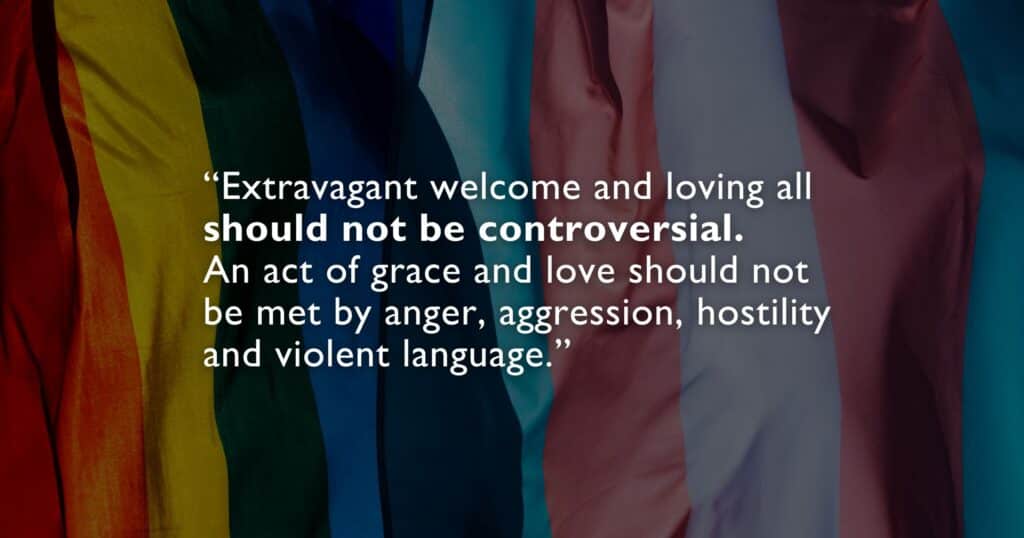 The United Church of Christ National Officers and the Conference Minister of the South Central...
Read More