At 87, a UCC trans trailblazer reveals she's 'not done' yet
As she steps down from a national job speaking out for LGBTQ people in church life, Barbara Satin doesn't mind revealing her age.
"In July, I'll be 88 years old," said the United Church of Christ's transgender trailblazer. "That's important, simply because I'm concerned that people look at the aging of America as a detriment. People think of the cost involved in caring for our seniors as if it were as a minus — and there are so many of us doing good stuff."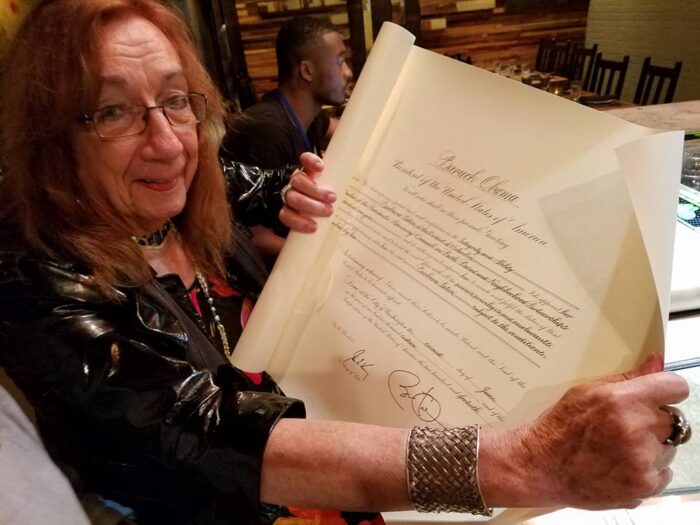 In Satin's case, that good stuff has involved everything from securing housing for elderly queer people to serving on a U.S. presidential council to authoring TransAction, a resource for churches. Since coming out in her 50s, she has embraced the work of revealing to churches, in the UCC and beyond, the gifts of trans people — often just by being present.
For more than 14 years, she worked for the National LGBTQ Task Force, directing its faith-related work much of that time. As she left that position this month (though she'll remain as a consultant), accolades poured forth from colleagues — including the UCC's national officers. "Your faithful leadership has made a significant contribution to creating a just world for all," they told her.
Satin said a UCC event years ago — and what happened afterwards — were keys to discovering the value of just telling her story.
Key UCC moment
That key moment came in 1998. That's when she spoke — and did more than that — at the national summer gathering of the UCC's Open and Affirming Coalition, held in Chicago. She was still fairly new to being out — and new to the UCC. Recently, she had become the first trans person to join open-and-affirming Spirit of the Lakes UCC in Minneapolis. (It's now part of Living Table UCC. She's still a member there.)
Satin recalled it this way: "I got an invitation to come and make a presentation on being transgender in the church. They had never had that conversation. And so I said yes, I would do that, although I was a little apprehensive because I really was brand new at this.
"So then I got a follow-up message saying, oh, we would like you to do it in song, dance, poetry, dramatic reading, something entertaining. And I thought, wow, okay, I don't do those things. … But I thought it was too important an opportunity not to be involved, so I said, yes, I'll figure out something."
'Renewed my life'
That "something" was to take the stage in a terrycloth robe as David, the person as whom she had lived most of her life, and tell her story. While speaking, she began a visible transformation, starting with a makeup kit. "And by the end of my presentation, I dropped the robe and I had on a fabulous outfit, and put on the wig and presented them with Barbara Satin."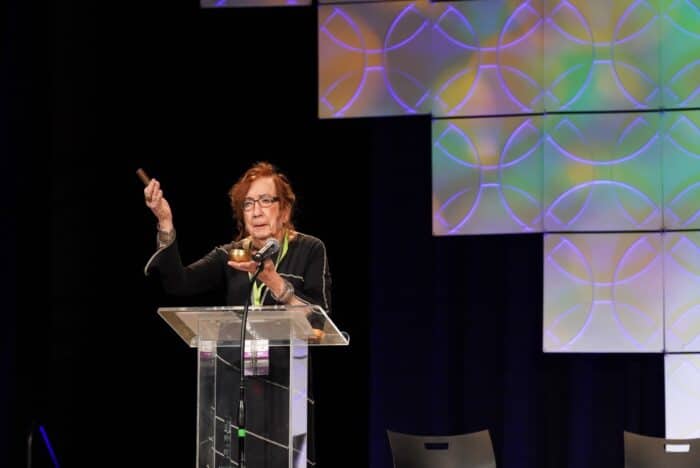 It was warmly received. But the real impact for her work came a few months later, back in the Twin Cities.
A woman who had been at the Coalition gathering sought Satin out at a Thanksgiving church service. The woman said she had cut herself off from her father because he was transgender. "I hadn't talked to him in years until I watched you in Chicago and I realized that you were telling my dad's story," she told Satin. "That was my dad up there. And I realized that I needed to reconnect with him."
The reconnection had "renewed her life, and she was so thankful," Satin said. "But it renewed my life also, because it made me realize that what I [had] was this ability to be present as a trans person, and that that was an important element for a lot of people — to be able to hear my story, see me." Since then, Satin said, "I've sort of lived this ministry of presence, trying to be a trans presence in places where people wouldn't normally see a trans person."
'Strength and beauty'
That story — in fact, her whole life's story — appears in an oral history at the website of the LBGTQ Religious Archives Network. Among the things she describes in that recorded interview — and in the transcript there — are:
Being aware as a child in the 1930s and '40s that she was transgender — but lacking any available language for it at the time.
Her "very Catholic" upbringing and adult life.
Her marriage, as David, and three children.
Her military service and her career in corporate public relations.
The conversation with her adult son that led her to counseling and to embracing her trans identity.
How she chose her name ("Barbara was the name of the first girl that I felt attracted to, and satin is the fabric of my life.").
As a national leader in the UCC, she served multiple terms in the 2000s as moderator of the Coalition and as a member of the Executive Council (a forerunner of today's UCC Board). During that period, the 2003 General Synod passed a resolution "affirming the participation and ministry of transgender people" in the UCC and "supporting their civil and human rights." The vote happened to come on Satin's birthday. "That was just a marvelous time and experience," she said.
Soon thereafter she began the work she has done ever since with the National LGBTQ Task Force and its Institute for Welcoming Resources. There, she said, she has worked across denominational lines "to gain trans acceptance in faith communities" and on "helping churches understand why LGBTQ people are and should be seen as welcome additions." "They bring a great deal of strength and beauty to congregations," she said.
'Clarity and vision'
Her work has not gone unnoticed.
"Barbara's courage, clarity and vision have inspired many of us in the UCC's Open and Affirming movement," said Andy Lang, executive director of the Coalition. "General Synod finally took a stand on support and advocacy for transgender people on her watch as the Coalition's moderator, and later she and the Coalition's other leaders made the decision to require a serious commitment to transgender and nonbinary inclusion as a condition for the certification of new ONA churches." The Coalition will honor her during its online national gathering Aug. 5-7, which will celebrate the movement's 50th anniversary.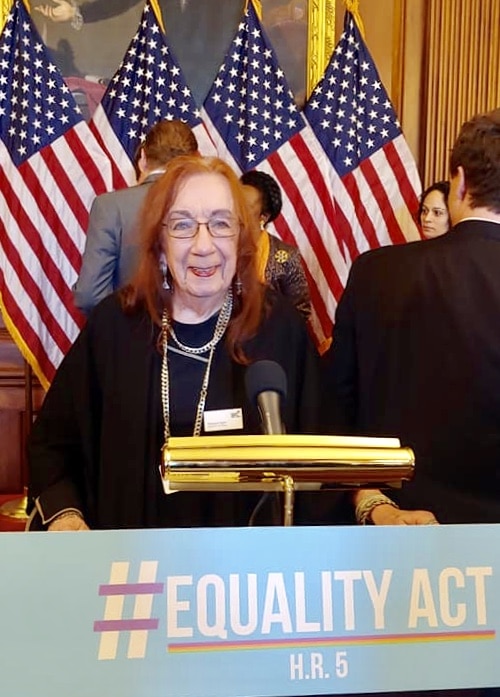 "For those of us in the Twin Cities, where Barbara has lived for most of her life, there are no aspects of our communal LGBTQ life that have not been touched in some way by Barbara's work and ministry," said the Rev. Rebecca Voelkel, a UCC minister and director of the Center for Sustainable Justice. "And we are so much the better for it."
"Barbara Satin's contributions to the movement are innumerable and will be felt for generations to come," said Kierra Johnson, who heads the National LGBTQ Task Force. "You only need to be in the room with her for moments to feel the power of her presence and authenticity. Listening to her words reveals the depth of her love for people and her conviction in the belief that justice is not only possible but inevitable."
'Grace and dignity'
In their letter to Satin, the national officers of the UCC also praised her impact: "With grace and dignity, you have helped the church and society become more inclusive and just for trans and nonbinary persons, as well as people of other identities and circumstances who have experienced marginalization, stigma, discrimination and injustice.
"You have confronted barriers, witnessed for justice, provided accompaniment, and engaged in acts of solidarity across a host of intersectional concerns." Its signers were the three elected officers — General Minister and President John Dorhauer and Associate General Ministers Traci Blackmon and Karen Georgia Thompson — plus Team Leader Mike Schuenemeyer of Health and Wholeness Advocacy Ministries.
"You have lived the passion of your faith out loud, we all have been blessed, and we praise God for you and your service with gratitude in our hearts," they wrote.
Satin said she found the letter "lovely" and moving — and that there's more good stuff to come. "I responded to John and said, 'I'm not done.' But what that means is not in my hands," Satin said. "That's sort of God's presence in my life, to tell me, 'This is what you need to do next.'"
---
Related News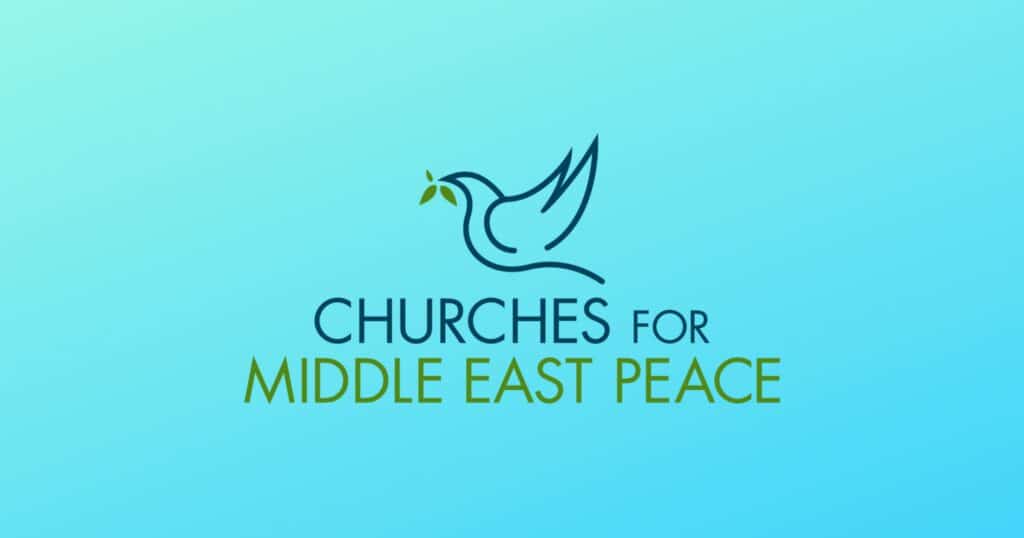 The following statement was issued Dec. 2 by Churches for Middle East Peace (CMEP), of which...
Read More