Asylum seeker and her sons find refuge in Arizona pastor's hospitality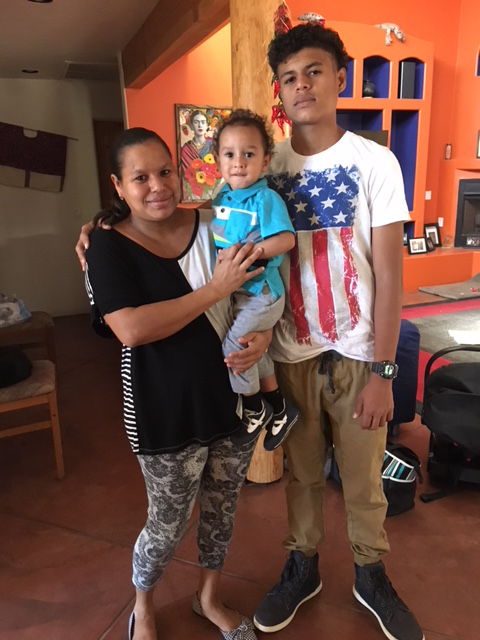 Living on the United States border with Mexico, the Rev. Randy Mayer spends much of his time, as he has for almost two decades, ministering to his migrant neighbors. The pastor of Good Shepherd United Church of Christ in Sahuarita, Ariz., is a founding member of many of the border humanitarian groups in the Santa Cruz Valley.
This week, Good Shepherd volunteers are accompanying a young mother from Honduras and her three sons — the infant, Diego, a six week old American citizen — to a check-in with Immigration and Customs Enforcement. Maria and her boys have been in this country just two months, and have had to navigate changes in U.S. immigration policy since their arrival.
"I left my country around the 20th of January," Maria said. "I left because of problems with my husband. He mistreated me, he hit me, he burned me and my little boy with a cigarette. I was pregnant with my baby. He threatened Javier, my 16-year-old son who was 15 at the time, with a machete, and wounded him in the forehead. I'm afraid to return to my country – I'm afraid that he's going to kill me and my children."
Maria, then almost nine months pregnant, and her older sons, Javier, and 2-year old Juan, were one of the first families from the Central American caravan processed for asylum in late April. They came with hundreds of other migrants en mass to the U.S. border with Mexico. The people of Good Shepherd United Church of Christ sponsored the family to make their transition easier. Several weeks ago, Mayer and his wife welcomed them into their home.
"The pastor (Randy Mayer), he received me; I was going to stay here, living with my cousin, but I couldn't continue that because my little boy was restless from the journey, and he cried so much, and the neighbors complained," Maria said. "I had to take myself to live somewhere else, and the pastor received me into his house."
Maria brought her sons to Arizona not only to escape an abusive husband. She needed to get away from the gangs that were preying on her family. Mayer said Maria had a brother who was killed by gangs, and she brought along police records to prove it.
"My 16-year-old son had friends (in gangs) who forced him to go around with them," Maria said. "They wanted him to go around with them, killing, robbing people, and he didn't want to, so we had to leave because I was afraid. I am afraid that if I return to my country, they're going to kill him, and I don't want to lose my son, or my own life."
Maria shared her story with Phoebe Barr, a high school senior and editor of her school newspaper, who is spending time this summer doing work on the border with Mayer. Barr, who graciously translated and transcribed this interview, said she got to know Maria and her family pretty well.
"Javier is a year younger than me and has been educating me on the best Latin American rappers. Juan is very friendly and likes to play catch with me. Maria has her hands full with the two little kids, who are both quite fussy, as I imagine they've been through a lot in the migration," Barr said. "Javier told me that he knows other migrants have suffered much more than them."
But this young family from Central America also does not make light of their ordeal. Maria originally hoped Mexico would give her a humanitarian visa. When that did not happen, she joined the caravan on March 25, and headed north, walking to the U.S. border.
"I came with a bandage, because I fell while walking and hurt my ankle, and I was pregnant with my baby. We walked a lot in the sun, and we didn't eat, because we had to get to somewhere to eat, and not everyone had money," Maria said. "The people of Mexico were good to us, they helped us. They brought us food and clothing. But we kept walking, exhausted, with our suitcases, with our children. It was unbearable. I wanted to rest, but the crowd kept moving, they were going to leave me behind. So tired or not, I had to keep walking until we arrived. It was very difficult. But thank God, everything was fine, because those in the caravan came supporting each other; if one didn't have something, another helped him, and we were all united. The walk was difficult, but thank God, we all arrived."
Now, Maria and the others she traveled with face the uncertainty of an ever-changing U.S. immigration policy. She was fortunate that her children were processed with her, just avoiding the Department of Justice's 'zero-tolerance' policy (which has since been discontinued). But the DOJ also revised the rules for asylum seekers two weeks ago, indicating that domestic and gang violence cases might not qualify. Mayer said it's hard to know what will happen next, but he believes there still is a way forward here for Maria and her sons. 
"Having an Asylum Family sitting at your dinner table and on your couch watching TV in your living room is quite the experience as you are listening to the evening news," Mayer said. "Maybe that is the best way to get through an experience like this —having the stranger sitting right in front of you, loving her family and proving right before your eyes that the ugly rhetoric and hate filled comments have nothing to do with the truth."
Barr said she wanted others to know that despite what these people have been through, the migrants she's met have been "friendly and polite rather than dismal or bitter."
Maria remains hopeful she will gain asylum in the United States. "Very good people have helped me; everything I need, they (Good Shepherd Church) give me," she said. "They helped me with my children, and I thank them so much, because it's not just anyone who opens the doors of their house for someone else. I'm very grateful for that. A person immigrates here and doesn't bring much hope; without work, and all of that; and so, thank God. I feel good because they have helped me so much."
---
Related News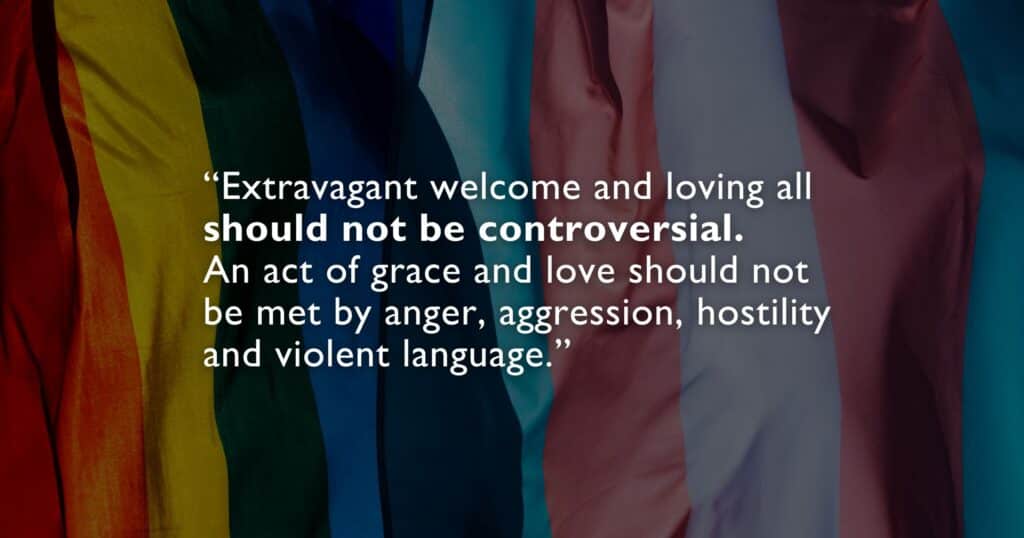 The United Church of Christ National Officers and the Conference Minister of the South Central...
Read More