UCC ministers part of movement to take the church to the people on Ash Wednesday
As the holy season of Lent begins Feb. 18, some United Church of Christ pastors plan to celebrate Ash Wednesday by expressing their extravagant welcome and inviting people to be renewed in faith, where they are. Clergy will take their ministry to the streets, inviting their community members to have the cross imposed on their forehead in ashes in preparation for Easter.
"We see it as hospitality to the people who are, in a sense, part of our neighborhood," said the Rev. Kathryn Huey, dean of Amistad Chapel United Church of Christ, and spiritual leader of the new congregation housed in the UCC's national office in downtown Cleveland.
"Ashes to Go" is a newer nationwide movement that has ministers and lay people marking the first day of Lent at train stops, street corners, coffee shops, and college campuses to mark the foreheads of interested passers-by with ashes.
Ash Wednesday begins a season of 40 days of reflection and fasting for some Christians, as an opportunity to strengthen one's faith in preparation for Easter. For centuries, Christians have been marked with a cross of ashes on the forehead as a reminder of humanity's mortality and an invitation to receive God's forgiveness.
"Ashes to Go is about bringing the important traditions of our faith out from behind church walls and into the places we need them every day," said the Rev. Emily Mellott, who runs the website AshesToGo.org. "As people get busier and busier, we need the church in new and non-traditional ways. We especially need reminders of forgiveness in the tough places of our working lives. The people who accept ashes on the street are often people longing to make a connection between their faith and the forces of daily life, and 'Ashes to Go' helps them feel that connection."
Amistad Chapel has distributed ashes for the last three years to people walking around downtown Cleveland as a reminder that Lent is upon them and Easter is approaching.
"We have so many people that go through our building, or past the building," Huey said, "and we are the only church in the [neighborhood], so people can really receive ashes in this unexpected place."
Ivanhoe Congregational Church UCC, in Mundelein, Ill., will offer "Drive Thru Ashes" for the first time in its history from 6 to 8 a.m. on Ash Wednesday. The church will welcome the public to drive through the church parking lot and receive a cross of ashes or a blessing, all while staying in their car. Anyone who has time is invited to stop in for coffee.
The Rev. Kristopher Hewitt, pastor of Ivanhoe Church, said, "We are excited about this opportunity to reach out to the community."
Ivanhoe Congregational Church will also host two worship services at noon and 7:30 p.m., in partnership with Community Protestant Church, UCC. The Rev. Alex Molozaiy, pastor of Community Protestant UCC, offered Ashes to Go at the local commuter rail station last year and described it as "one of the spiritual highlights of my ministry."
"To take the church to people in their everyday life, to pray with them and acknowledge our mortality and sin and open ourselves to God's surprising grace when it's least expected—there's nothing holier than that," he said.
Pilgrim Faith UCC in Oak Lawn, Ill., has been doing "Ashes to Go" for three years at a local train station.
"We don't see it as 'church on the run,'" said senior pastor the Rev. Peggy McClanahan. "The immense gratitude of each one who receives ashes at 6:30 in the morning as they wait to board their train moves me deeply. It is indeed a holy moment."
Last year, McClanahan was at the train station to bless a group of fire fighters who were returning from a call.
"I have resisted suggestions that we do the same with communion because I think that sacramental experience needs a little more time and preparation," she said. "But I think it is a great way to take church to the people."
---
Related News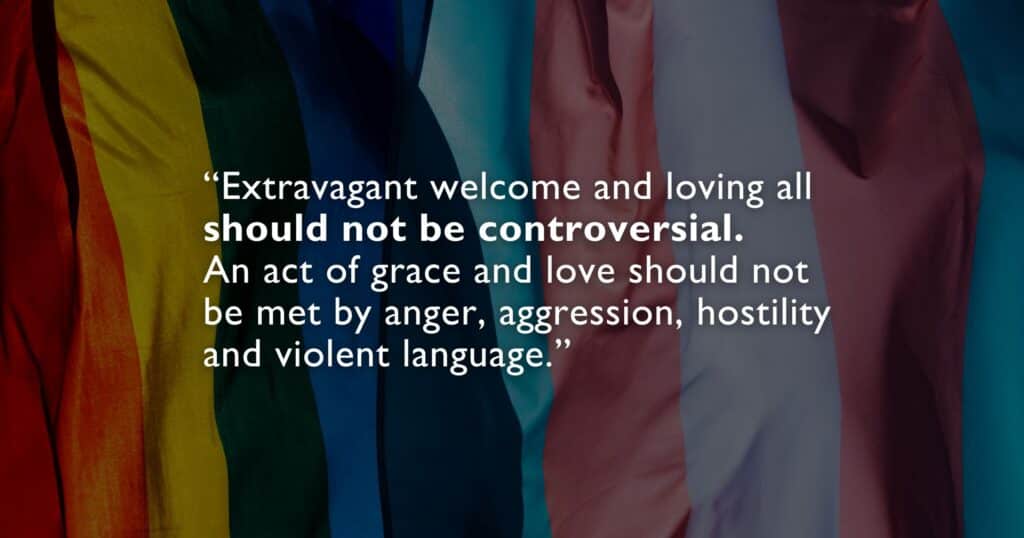 The United Church of Christ National Officers and the Conference Minister of the South Central...
Read More