As COVID cuts in-person voter activism, UCC 'Our Faith, Our Vote' goes digital
The COVID-19 pandemic is preventing the usual in-person voter registration, mobilization and education work that many churches do in a general election year. So the United Church of Christ's Our Faith, Our Vote program is offering new ways to help people do that work online.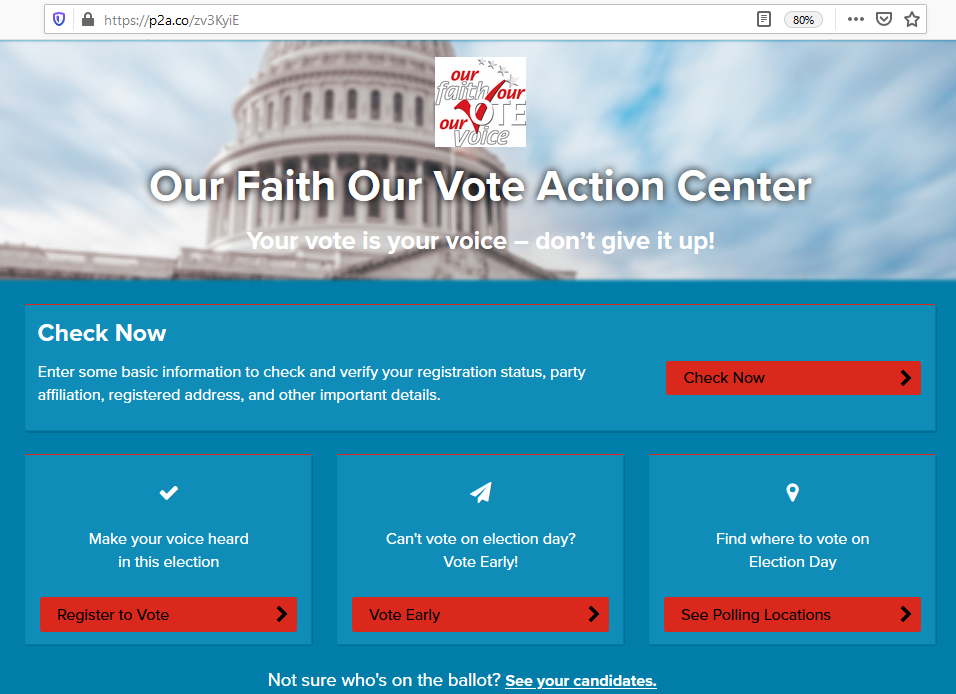 Among them:
Summer webinars featuring prominent voting advocates, including Stacey Abrams and U.S. Sen. Elizabeth Warren.
A Civic Action Center, where people can click to check their registration status, get registered to vote, find their polling place or get help with early voting.
A 2020 issue-education page with videos and written "one pagers" on 10 key issues.
"Although we often quote the First Amendment to caution against government imposing any undue influence over individual freedom of religion, personal politics are one way we live out or faith in the world," said the Rev. Traci Blackmon, UCC associate general minister for Justice and Local Church Ministries. "Politics, derived from the Greek word politiká, is a multi-faceted word that encompasses how we will interact with one another in the world. Our actions are informed by our faith. 
"In our voter education webinar series we seek to make this connection. Whether in the pulpit, in the public square, or in the polling booth, we are accountable to our faith through our actions regarding the public welfare."
Summer webinars; Civic Action Center
Blackmon will host several of the summer webinars, which she said are intended to promote "voter engagement." The series is still under construction, with several already scheduled as follows. Registraiton details, if not yet shown here, will be shared via the Calendar of Events on the ucc.org homepage and through social media channels as the dates approach:
The Civic Action Center was launched in June in response to the coronavirus, said Sandy Sorensen, leader of the UCC advocacy office in Washington, D.C., which manages Our Faith, Our Vote. "In the midst of the COVID-19 pandemic, it has not been possible to organize in-person voter registration opportunities, which is something congregations have done creatively in past Our Faith, Our Vote campaigns," she said. "Having an online tool to register voters allows us to continue voter registration work safely."
'One pagers' and videos on 10 key issues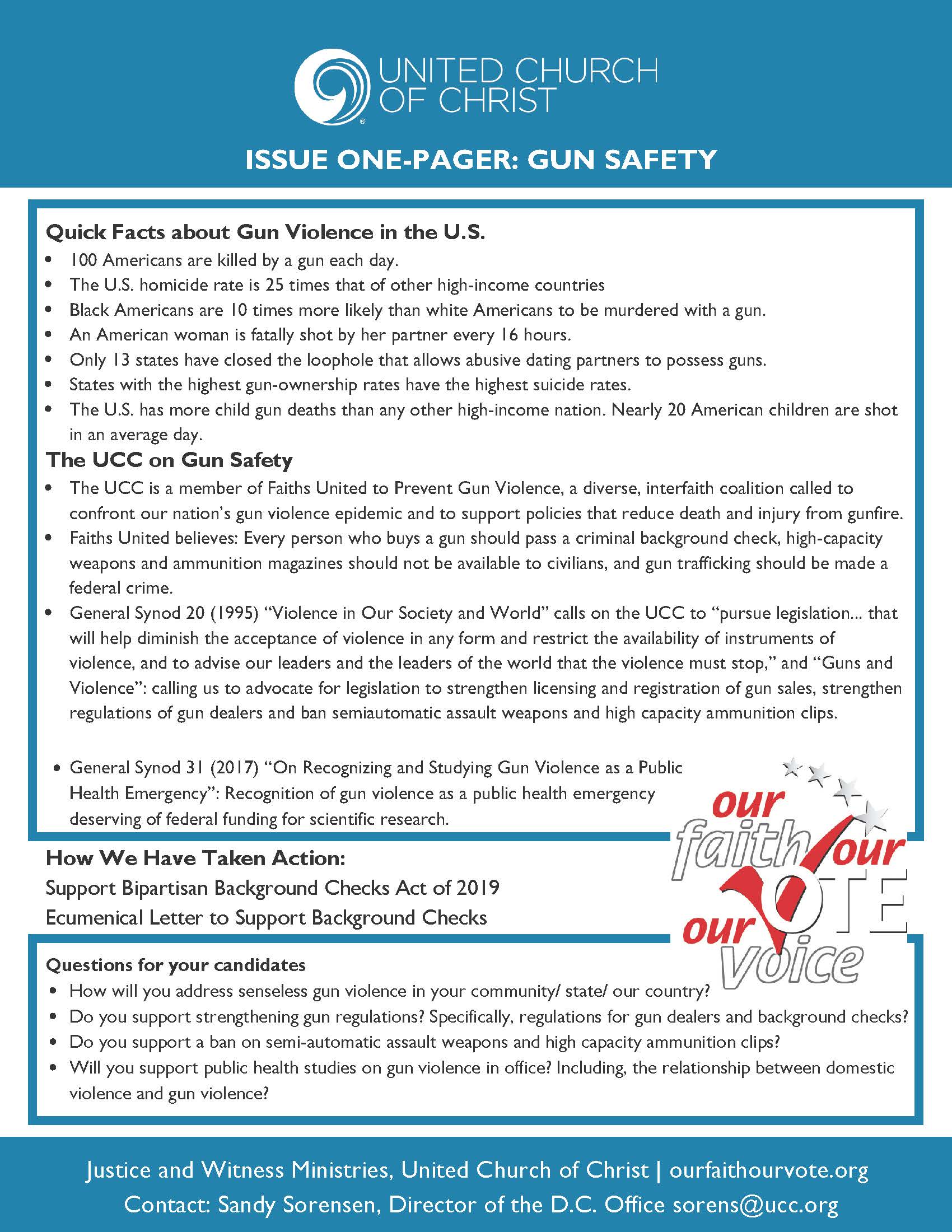 The frequently updated page of 2020 videos and "one pagers" will cover these issue areas between now and the Nov. 3 general election:
Climate / environmental justice
Economic justice
Reproductive justice
Health care
Racial justice
Immigration
Gun safety
Global security
Civil and human rights
Just Peace
One-page briefings are already posted on climate and the environment, health care, racial justice, immigration and gun safety. Each contains quick facts, UCC policy statements, links to past action alerts and questions that voters can pose to candidates – often asking them to think ahead to how they will vote once in office. That is because "election day will be the starting line and not the finish line," Sorensen said.
Videos posted there so far include webinars on climate and environmental justice and health care, and a conversation on racial justice, "The Cross and the Lynching Tree: A Requiem for Ahmaud Arbery." The page also features a growing number of links to related resources, statements and "voter pledge" opportunities.
'Not going to tell you who to vote for'
As always, all the UCC webinars and resources remain rigorously nonpartisan, Sorensen said. She recommended that churches get familiar with what they legally can and can't do by watching the video, "When Religion and Politics Meet," and reviewing other guidelines available at the Our Faith, Our Vote web pages.
"We are the church," Blackmon said in a June 9 UCC webinar, "The Urgency of Now." "We're not going to tell you who to vote for. But I am going to tell you to vote for yourself. Vote for your principles. Vote for your morals. Vote for those things that your faith tells you to pay attention to. … Vote for your community. … Vote for your family. Vote for the future of our children. Vote for what you say you live by."
[This article was updated on July 10, 2020, adding the date of and information about the Aug. 5 webinar; on July 14, 2020, with information on the rescheduling of the Allan Boesak / Curtiss DeYoung webinar; and on July 22, correcting the registration link for the Aug. 4 webinar.]
---
Related News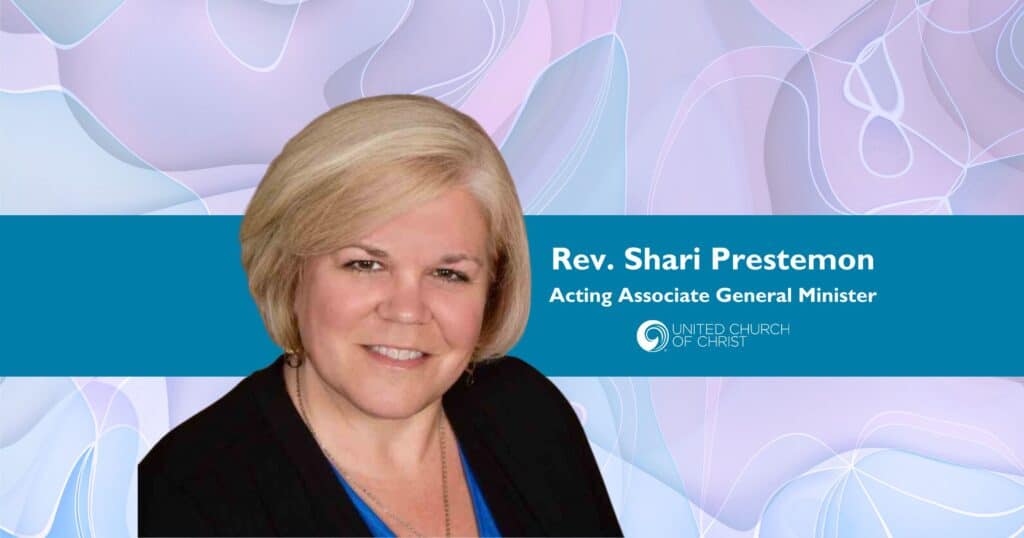 A new United Church of Christ national leader has been called. The UCC Board voted in a...
Read More