Artists' Biographies
Learn more about the Art for Advent 2017 resources.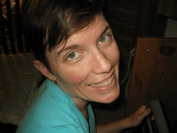 Erin Beardemphl is an ordained UCC pastor, but also an artist and mother. It is her goal to link the arts and worship and to inspire others to try out new things on a Sunday morning. Her pieces stem mainly from scripture worship as she is writing sermons, as well as from the colorful influence of her children. She works mainly in textiles and watercolors, and participates in the annual art show, Art For Heaven's Sake, at her home church, Redlands UCC, in Redlands, CA.
---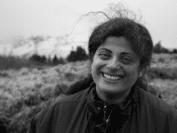 Katia Aoun Hage lives in a world where everyone is welcomed, stories are heard, and voices find their places in the fabric of life. As an artist, Katia's inner life has always guided her creative process by fueling it with dreams, spiritual longing, and a drive to experience being touched through family, friends, nature, and places.
At Redlands UCC in Redlands CA, she has found a place of expression and acceptance as she delved into the mysteries of her own religious background from the Eastern Catholic church, to the Celtic beliefs as well as the different world expressions of the Divine. She shares her talents as a visual artist and a musician with the congregation.