Arizona interfaith prayer service calls for end to criminalization of humanitarian aid to migrants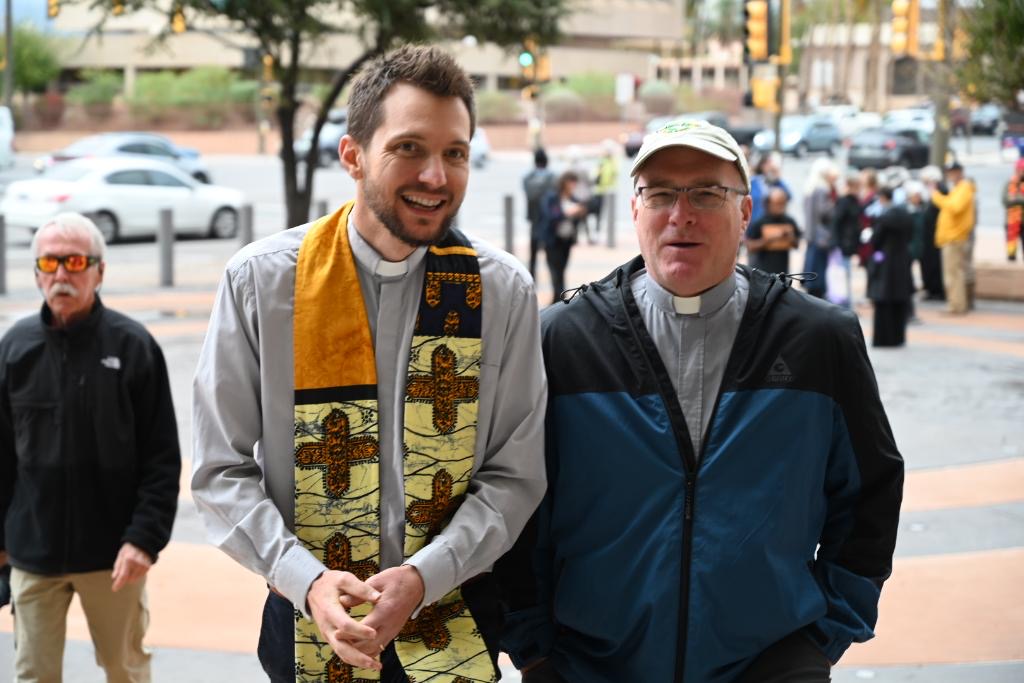 Religious leaders of several faith traditions united to oppose the criminalization of compassion outside the federal courthouse in Tucson, Ariz., Wednesday morning. Several UCC clergy participated in the Nov. 20 prayer service in support of Dr. Scott Warren, who is being tried for the second time this year for providing humanitarian aid to migrants in the desert.
"What we're seeing in this second trial and throughout the world is a growing criminalization of humanitarian aid workers," said the Rev. Noel Andersen, organizer for UCC National Collaborative on Immigration. He was joined outside the courtroom by the Rev. Randy Mayer, pastor of Good Shepherd United Church of Christ in Sahuarita, Ariz., and a founding member of many of the border humanitarian groups in the Santa Cruz Valley.
Warren, a 36-year-old volunteer with the group No More Deaths, is once again on trial in U.S. District Court in Tucson. In this case against him, which began on Nov. 12, he's facing two counts of felony harboring, which carry a maximum sentence of 10 years in prison. The Arizona State University geography instructor was arrested by U.S. Customs and Border Control agents in January 2018 for providing food, water, clean clothes and a place to sleep to two undocumented men in Ajo, Ariz.
He was initially charged with two counts of felony harboring and one count of felony conspiracy. In June, his first trial ended in a mistrial after two weeks when jurors could not reach a verdict. In July, prosecutors dropped the conspiracy charge.
Andersen said the government is increasing pressure on humanitarian groups to try to stop the flow of immigration. But that strategy has several dangerous flaws.
"The Jeff Sessions announcement in 2017 called on district attorneys to prioritize prosecution of anyone helping migrants, alongside of a broader mandate to criminalize all migrants and to create fear," he said. "This is connected to the false and evil strategy of deterrence: if migration is made so miserable, if people are tortured by deaths in the desert, then people won't come. But if you are fleeing for your life there is nothing that can stop you. As people of faith and people of conscience we have the moral obligation to accompany and act in solidarity."
The group of more than 100 faith leaders outside the courthouse offered blessings of strength to Scott Daniel Warren just before he entered the building. The Rev. Miguel De La Torre, Iliff School of Theology, Denver, one of the vigil's participants, said, "as a person of faith, I have no option but to stand in solidarity with the undocumented amongst us and with those being persecuted for attending to the 'least of these.' Those of us who have voice have a moral obligation to speak for the voiceless."
His comment echoes the calls of other UCC clergy and migrant justice activists who have been speaking out in Warren's support around the country.
In New York City's Foley Square, the members of the New Sanctuary Coalition and its partners drew chalk outlines of bodies on the pavement across the street from 26 Federal Plaza, which houses offices of the U.S. Department of Homeland Security, to remind passers-by that current government policies put human lives at risk.
"The precedent that is set from this case could impact humanitarian aid workers and sanctuary congregations across the country," Andersen said. "Even worse, this type of expanding criminalization could affect mixed- status families, prosecuting those who are simply helping family members as has been done for generations. The implications of this case go far beyond Arizona. The ripples will be felt across the country and across the world."
Editor's note: Late Wednesday afternoon, Scott Warren was found not guilty of all charges. 
---
Related News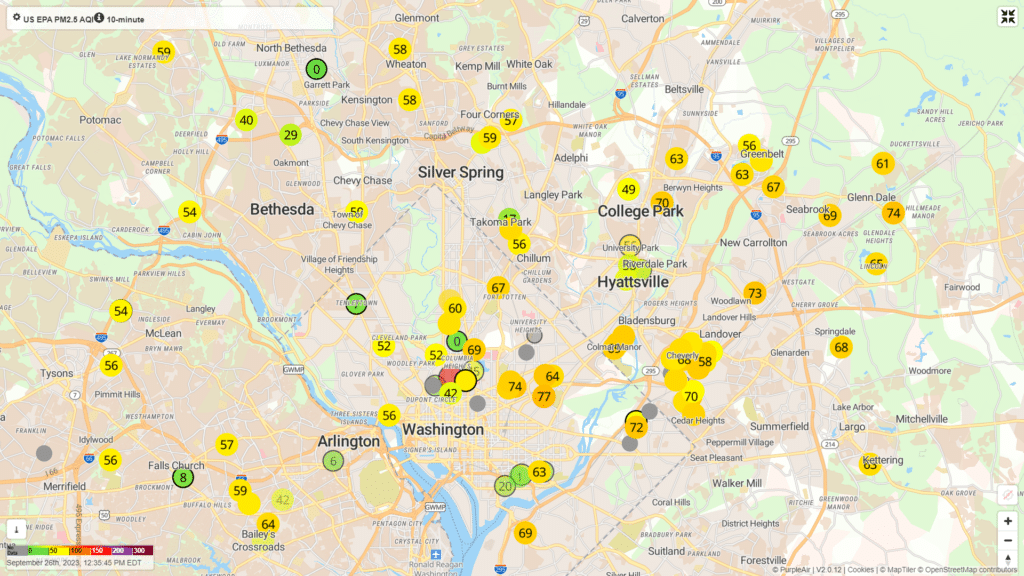 This summer, the United States experienced some of the worst days for wildfire pollution in...
Read More