Arizona church video celebrates 3 Great Loves, mission to help teachers
A United Church of Christ congregation in an Arizona retirement community is living into the 3 Great Loves initiative by supporting area teachers with school supplies.
The people of United Church of Sun City have been collecting goods for Treasures for Teachers, a group that provides free, low cost supplies for use in the classroom, since August of 2013.
"We have retired and active school teachers in our congregation and this mission spoke to them," said the Rev. Brady Abel, pastor of United Church of Sun City. "There are many retired school teachers in the Sun City area not part of our congregation and word has spread to them. They bring in supplies that they used for years in the classroom, items they did not want to throw away, and now have a place to donate that speaks to their hearts."
Abel said the church set up one collection bin, explained the concept during announcements on Sunday morning, and that by the end of the month, the bin was overflowing. He figures that now, with a pickup twice a month, United Church is donating 300-400 pounds of supplies monthly to Treasure for Teachers.
The program to help local teachers not only demonstrates love for neighbor, it's also displays love for creation, since much of the collected items would have ended up in the landfill instead of being reused.
"Teachers in Arizona are challenged in numerous ways including having to buy many of their own supplies for their classrooms," Abel said. "This is one way that a local congregation in a retirement community can help teachers and children in neighboring communities and help keep stuff out of the landfills. It is a terrific mission on so many levels and our congregation and greater community's response is evidence of the importance."
The 3 Great Loves initiative, which runs through General Synod 2019, is a visible witness to the denomination's collective efforts in one uniting mission. It embraces the many types of ministry in which United Church of Christ congregations are already engaged, all working toward making a more just world for all as God's hands and feet. UCC churches and organizations are invited to discern and lift up the love of God, through their expressions of Love of Neighbor, Love of Children, and Love of Creation in their community. Resources for the initiative can be found on the 3GL website.
"We produced the video because we want to help highlight Treasures for Teachers and the wonderful and meaningful ways that local congregations can help answer God's call to serve in their wider community and as we are being invited to do through 3 Great Loves."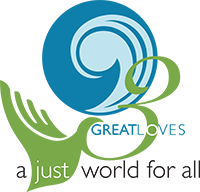 This story, highlighting the ministry of a local church, is part of the UCC's 3 Great Loves campaign, seeking to build a just world for all as one united church. Visit
3GreatLoves.org
to learn how we're showing Love of Children, Love of Neighbor, and Love of Creation.
---
Related News
On a recent trip to Palestine and Israel, the Rev. Allie Perry was part of a delegation that...
Read More