UCC Immigration advocate protesting separation of families arrested at the White House
The coordinator of the United Church of Christ Immigration Cooperative was one of three faith leaders in a group of 20 people arrested at the White House on Thursday afternoon, protesting the detention and pending deportation of a mother of two young children.
 
"Every day another member of our community is deported, and every day another family is separated by this administration's unjust, inhumane and immoral deportation policies," said the Rev. Noel Andersen. "As faith leaders, we have a moral responsibility to accompany those families who face the threat of deportation and to confront the fear and hate that has taken over our politics."
 
Andersen was one of 300 immigration advocates gathered in Washington D.C. June 1 on behalf of Liliana Cruz Mendez, a 28 year old undocumented immigrant from El Salvador who has lived in Virginia for eleven years, and is the mother of two U.S. citizens. The rally organized by CASA (a Latino immigration advocacy and assistance organization) began at Lafayette Park. The group, which included UCC clergy and congregants, marched to the White House.
 

"We must find viable solutions for the immigrant crisis," said Margaret Miller, a member of a Rock Spring UCC in Arlington, Va., who participated in the D.C. vigil. "Splitting parents, such as Liliana, from their children places children in the middle of a crisis they are powerless to resolve. I am proud of people who risked arrest today to make their voices heard. Let's develop immigration laws that give people in this country a way to protect their children. Let's keep families together and avoid new crises created by splitting families apart."
 
Mendez was detained by Immigration and Customs Enforcement (ICE) officers during a routine check-in on May 18, her first during the Trump administration. She has an active application for refugee status, pays taxes, and is awaiting her day in court. About 4 years ago, she was stopped for a malfunctioning taillight, and since then she has been on the ICE list for an annual required check-in. After she was taken into custody, she was sent to a detention center to wait deportation.
 
"I have gone to several rallies and vigils, but what has compelled me the most recently is the targeting of parents for deportation.This new development has alarmed me and increased my involvement," said the Rev. Amber Neuroth, pastor of Hope United Church of Christ, Alexandria, Va. "I am now accompanying undocumented folks to their ICE check-ins and I am attending every witness and vigil I can fit into my schedule.I am shocked and ashamed that my government would separate a mother from her children, as it has done in the local case of Liliana Cruz Mendez.This practice violates my values as a Christian, as an American and especially as a parent myself. As progressive people of faith, we have a unique voice to add to this resistance and I intend to use mine."
 

Deportation cases are up significantly under the Trump administration. Federal immigration agents are arresting more than 400 immigrants a day, a huge increase from last year. In Trump's first 100 days in office, U.S. Immigration and Customs Enforcement noted the arrests of41,318 immigrants, up 37.6 percent over the same period last year. While almost 3 out of 4 of those arrested have criminal records, the biggest increase by far is among immigrants with no criminal records.
"Three congressman and both Virginia senators have intervened on behalf of Liliana, and Virginia Governor Terry McAuliffe officially pardoned the traffic offense which lead to her original detention in the first place. Still there is no resolution." said Andersen. "While risking arrest in front of the White House, we were also praying that ICE recognizes the communities that support Liliana and so many people like her, and that she is released her from detention now so she can be reunited with her children. Together we're calling to expand sanctuary for all vulnerable populations threatened by hateful and divisive policies that create mass incarceration, detention and deportation."
---
Related News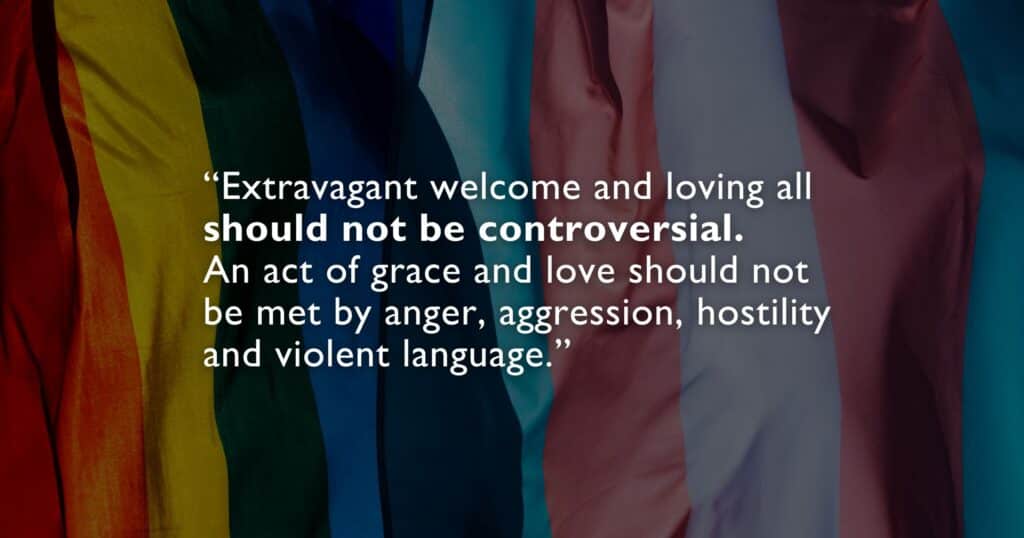 The United Church of Christ National Officers and the Conference Minister of the South Central...
Read More