"5 Loaves of Bread and 2 Fish"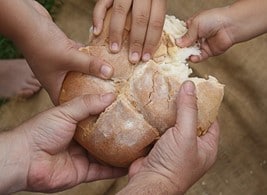 "Here is a boy with five small barley loaves and two small fish, but how far will they go among so many?" John 6:9
What are five small barley loaves and two small fish, and what am I, in front of such great injustice?
The abyss of injustice is dark and deep,surrounding us on every flank. We see it at the bottom of jails where forgotten convicts die of sadness. We find it behind bars where refugees and their children wait for resolution. We feel it in the cold rooms of hospitals and below bridges where brothers and sisters are ill and alone. What are five small barley loaves and two small fish for five thousand, and what am I in front of such injustice and despair?
It was an evening in spring when Jesus and his friends were sitting on a grassy hilltop. Below them was the sea of Galilee shimmering under the evening sun. The Galilean desert was flowering, and Passover was near. The multitudes were looking for Jesus, they had seen him around town, eating with friends, speaking with neighbors. Suddenly the whole town seemed to be brimming with hopefulness, and now they did not want to let him go. Jesus had seen them in the villages and had sensed their sadness. He had felt their sense of loss and despair and now as the day came to an end, he felt their hunger. As he looked at the multitude, a decision was made in his heart. Before the day ended, a great feast would take place and everyone would be invited (according to the text that would be more than 5 thousand).
His friends nodded in obedience listening to the teacher's latest plan. They hid, as best they could, their sense of worry. How should we tell the teacher what is obvious? Finally, they spoke up. "Teacher, we will do as you say, however, there is a small problem. We have no food."
Jesus listens but is unfazed.
The text in John says that a boy came forth holding between his small hands, five small barley loaves and two small fish. Perhaps, the snack his mom had packed for him and which he planned to eat below some shaded tree come sunset. It was not much, just five loaves and two fish. To the disciples an insignificant offering, but for Jesus, it was more than enough. He stretched his arms toward the child and held the miracle in his hands. Then he invited everyone to sit, for the great feast was about to begin.
Life is like that sometimes, is it not?
At times life throws you forward because you just don't know where else to go, perhaps you are too tired of everything, or perhaps you have come to feel that nothing makes sense outside the kingdom of God. At that point, you step forward and say:
"Here I am God, do with me as you please."
Then, the miracle begins. What you started with makes no difference, what matters is that you handed it over to Christ. According to the text, Jesus gives thanks and starts to distribute it amongst the people.
Amongst who will Jesus distribute you? To what darkness will you be sent to take light? Be prepared, it will probably be those places you least expect.
Written by: Natalia Serna (La Muna) writes songs and stories. She loves gardens in bloom, and bringing people from different walks of life to the same table. 
---
Related News
Recently, I have been disturbed by the growing erasure of Thanksgiving as a legitimate holiday...
Read More