UCC merges faith and action in 2014
In the last 12 months, the United Church of Christ has been a bold, public voice—working as progressive faith community for justice for all God's people.
The denomination was victorious in a landmark lawsuit that helped bring marriage equality to North Carolina in 2014, and continued a prophetic witness for climate care throughout the year. Most recently, the church has contributed to a national discussion on racial justice—particularly in St. Louis, New York City, and Cleveland—raising a voice on the importance on the worth and equality of all people as the news cycle revolved around the deaths of unarmed black men at the hands of white police officers.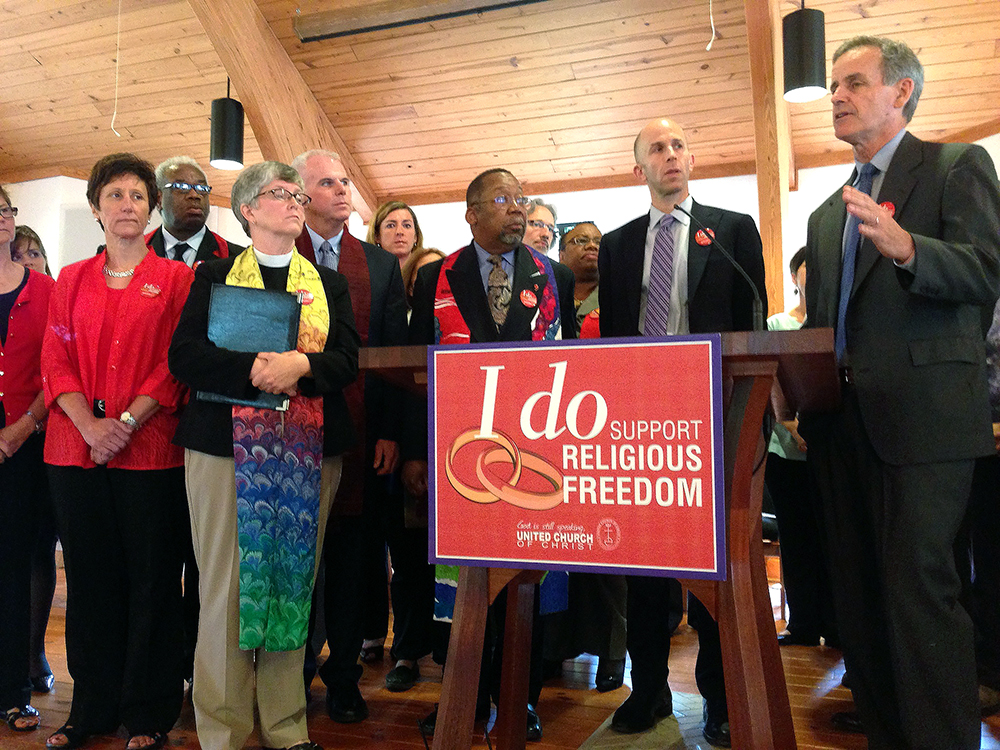 ANOTHER FIRST IN THE PURSUIT OF MARRIAGE EQUALITY
The church celebrated a historic victory Oct. 9, when a federal judge ruled in favor of the UCC and its co-plaintiffs and struck down North Carolina's same-sex marriage ban.
"I am so proud of the United Church of Christ and our many plaintiff partners for our bold, courageous witness for religious freedom in UCC v. Cooper," said the Rev. J. Bennett Guess, a UCC national officer. "That is a great day for North Carolina, but also for the interfaith religious coalition that brought this case forward."
The General Synod of the UCC, along with other plaintiffs, filed the lawsuit on April 28 against the state of North Carolina. It was a landmark case, the first time a church challenged a state's marriage laws on the basis of religious freedom.
The UCC's suit argued that North Carolina's marriage laws violated the First Amendment rights of clergy. North Carolina's Amendment One and state marriage laws prohibited clergy from officiating a marriage ceremony if a couple didn't have a marriage license, and those licenses were not available to same-gender couples.
"It [was] this landmark case about religious freedom and marriage equality that finally struck down North Carolina's unconstitutional marriage laws," said UCC General Counsel Donald C. Clark.
The UCC was the first mainline denomination to affirm marriage equality in 2005. In 2014, the church boldly defended the religious freedoms of UCC ministers so they may continue to choose whom to marry.
A CONTINUED WITNESS FOR ENVIRONMENTAL JUSTICE
On Nov. 1, United Church Funds launched its fossil-fuel-free investment fund, following through on a resolution passed by the General Synod in 2013 to lessen the impact of fossil fuels on climate change by pursing a move toward divestment and other strategies. Once again, the church was the first denomination to take that step.
The Beyond Fossil Fuels Fund, free of investments in U.S. companies extracting or producing fossil fuels, began with more than $20 million in seed money from UCC churches, conferences and agencies.
"As stewards of God's creation, we must continue to grow in our commitment to initiatives like this if we are to have a sustainable future on earth," said the Rev. Geoffrey A. Black, UCC general minister and president. "The United Church of Christ's support of this fund will make it possible for others to follow."
Members of the church also took to the streets to work for a sustainable future on earth. On Sept. 21, 200 UCC representatives were in New York City, part of a crowd of 400,000 calling for action on climate care, during the People's Climate March, one of the largest public demonstrations in U.S. history.
"There is no faithful response to climate change that includes continued building of infrastructure for fossil fuel extraction," said Rev. Meighan Pritchard, UCC minister for environmental justice. "We need to abandon fossil fuels, not invest further in their development. The clock is ticking, and we are running out of time to do the right thing. We are called to tend or till the earth and keep it, not rape and destroy it."
The denomination's work to care for all creation will continue in 2015 as environmental advocates speak out against the proposed Keystone XL and Sandpiper oil pipelines in the Midwest, and the coal and oil trains and ports in the Northwest.
"They all head us in exactly the wrong direction," Pritchard said. "As people of faith, let us lead the way to a more sustainable use of resources so that all may survive and thrive for centuries to come."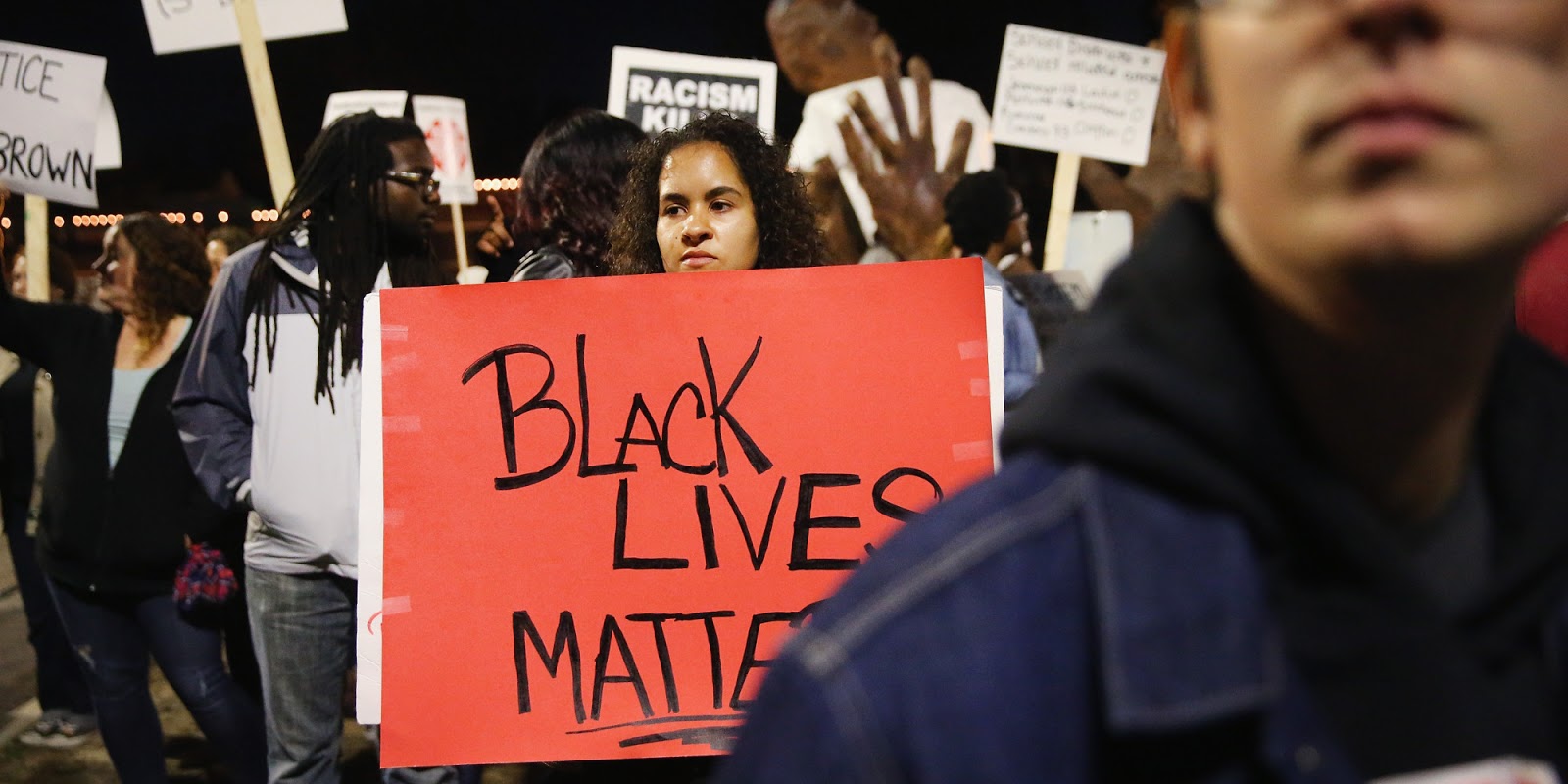 A BOLD VOICE AGAINST INSTITUTIONAL RACISM
The August shooting of Michael Brown in Ferguson, Mo., "sharpened the reality that racism still exists in our country and is as deadly as ever," said Black.
Brown was the 18-year-old unarmed black teen shot by a white police officer, who was later not indicted by a Missouri grand jury. The incident, which triggered weeks of demonstrations and some violent protests in the area and throughout the country, began a national movement for an end to institutional racism, led in part by UCC clergy.
On Dec. 3, another grand jury in New York City decided not to indict a white police officer for the choking death of Eric Garner, a 43-year-old unarmed black man.
The church publicly mourned the wrongful deaths of Brown and Garner, as well as the two New York Police Department officers slain in broad daylight on Dec. 20 in a terrible act of vengeance.
Many local UCC pastors and leaders have given their time to speak out against violence and racism, as they work to help their communities heal. Black invited the wider church to work for peace and justice in his holiday message, during the season of Advent and in the upcoming year.
"To engage in the struggle [for peace and justice] takes courage and a renewed commitment to advocacy and action, to deepening racial awareness by engaging in sacred conversation, and to truthfully examining—then dismantling—the systems of privilege set in place by racism," he said. "It requires building God's beloved community beyond racial divides."
---
Related News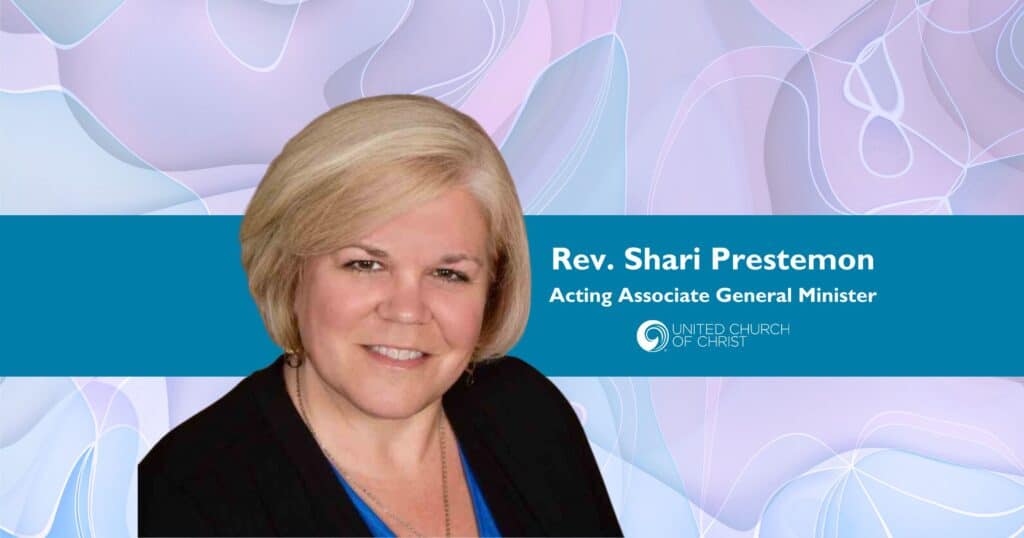 A new United Church of Christ national leader has been called. The UCC Board voted in a...
Read More