11 Ideas for Food Donations
"For
I was hungry and you gave me food; I was thirsty and you gave Me something to
drink . . ." – Matthew 25: 35
Historically, religious organizations and nonprofit agencies have
distributed food and meals to people in need. The sharp increases in such
requests associated with high unemployment, cuts in the social safety net,
decline in the value of public assistance benefits, and increases in housing
and other costs has led to unprecedented growth of food banks, food pantries,
soup kitchens, shelters and emergency food programs.
Below are 11 ideas for fun projects to help motivate your
congregation to do food donations.
Simply choose a theme and place a large box in a convenient spot at your church so
that members can deposit food items that will be delivered to the food bank or
food pantry by a designated person at the church.  Or encourage your members to deliver items to
the food bank/pantry themselves.
---
1. "Plant a Row for the Hungry" – Plant an extra row in your vegetable garden and
donate the harvest to the food shelters. You can also begin this project in the
spring or begin to plant a container garden. 
Donating your extra produce will help others live better and healthier
lives. 
Things to note: It is important to first contact
the local food pantry and make arrangements with the director or staffer at the
food bank/pantry to receive your produce. 
Compile a list of all the government and independent food pantries in
your county/community who accept donations of fresh fruits and vegetables.  Circulate this list to other congregations. 
If weather where you
are located does not support planting a row this time of year, consider
"planting a seed" by a forming a group to work your state Cooperative Extension
agency to identify local Community Supported Agricultural (CSA) farms and recruit
members for an early spring garden start.
2. "Casserole Wednesday" – Have your church members make
Casseroles. Deliver these casseroles to local shelters and outreach centers.
Volunteer at the shelter on this day by helping to serve the meal. Show
extravagant hospitality by sitting down and breaking bread with community
recipients.
3. Have a "Souper Day" –
Ask
your congregation to focus on gathering cans
of soup. Soup contains many nutrients and has many health benefits. Choose
soups that are lower in sodium and fat.
4. "Festive Fruity Friday" – Have everyone commit to
donating fruit. Inquire if the food bank/shelter accepts fresh fruits, if not,
focus on canned fruits that are packed in their own juices or have light
syrup. 
5. "Tasty Tuna Saturday" – Whether
you're a fisher who could provide a fresh catch or a shopper who could hook some
cans, your donations will be much appreciated. Bring these items to your church
to be delivered to the food bank/pantry. Fish and meats are good sources of
protein and can be mixed with lots of vegetables and grains for a nice meal.
6. "Dedication and Commitment Sunday" – Choose a Sunday and ask your
congregation to commit to bringing cans on that day. Designate a special time
in the morning service where members may come forward with their food donations
and drop them into a special basket in front of the altar. Have a special
dedication and prayer over the food items. 
The items may be delivered to the food bank/shelter during the week.
Take it
further and distribute simple "pledge" cards that members by which members of
your community can pledge to donate food to pantries and food banks for an
entire year. Have members drop their pledge cards into the offering plate.  Print out a list of those who have pledged
and post it somewhere in the church. 
Encourage others to pledge throughout the year.
7.
 "Miscellaneous
Mondays" – On this day ask people to donate
whatever they've got lying around in their house!  Bring it to the church to be donated to the
pantry/food bank.
8. "Cereal and Oatmeal Shoppers" – Choose a day to donate cereals
that are multi-grain with low sugar content. Donate low sodium oatmeal. Cereals
supply protein, vitamins and minerals.
9.  "Pasta Party" – Focus on collecting all kinds
of Pasta! Pasta is a food source of carbohydrates. Don't forget to add the
sauce – tomato-based sauces are good. 
10. "Thankful Thursday" – Use
this day to collect items for Thanksgiving dinners. Many shelters will prepare
and serve thanksgiving meals. Donate turkeys that can be frozen (check to make
sure that the food bank has a freezer), dry mashed potato flakes, canned
vegetables, condiments, bread, etc. Don't forget the cranberry sauce!
11. "Calling all Pet Lovers" – People are making choices
between feeding their pets and feeding themselves.  Many families have to give up their pets
because they can no longer feed them. 
Give donations of pet foods to the shelter or food bank so that people can
support their pets and families when they are struggling financially.
Excerpted from the  Mission: 1 "Food Donation Resource"
---
Related News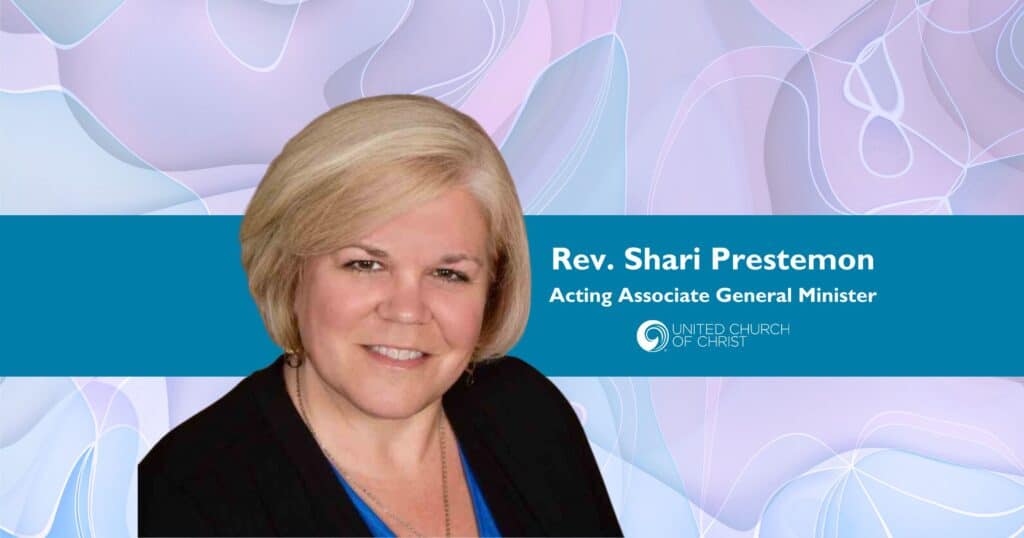 A new United Church of Christ national leader has been called. The UCC Board voted in a...
Read More