Standing Rock: A Clergy Call to Action
To the broader church:
As Christians, we, the undersigned clergy, are conditioned by the gospel to stand on the side of the persecuted and the jailed. As such, we are compelled by our faith to stand with the water protectors of Standing Rock, who have pricked the conscience of a nation and the world. In opposing the Dakota Access Pipeline that would carry oil from North Dakota to Illinois, they have resolutely declared that they are not protestors but protectors and defenders acting out of a sacred obligation which affirms "water is life."
In a pattern familiar to our faith, they have stood as peacemakers while government authorities and hate-filled hecklers deride them as criminals, rioters, and terrorists. With moral indignation, we have watched as children, women, and men have joined in prayer and song only to suffer at the hands of those wielding batons and pointing rifles.  With justified outrage, we have heard of how those arrested have been strip-searched and humiliated. With acute offence, we have witnessed an escalating, militarized response to acts of nonviolence.  We have witnessed multiple law enforcement agencies and the National Guard protecting the brazen and wanton acts of corporate powers determined to have their way. As these events unfold, we are aware of the context of race that defines this reality. In a letter to the Attorney General, Standing Rock Chairman Dave Archambault II writes, "This country has a long and sad history of using military force against indigenous people–including the Sioux Nation."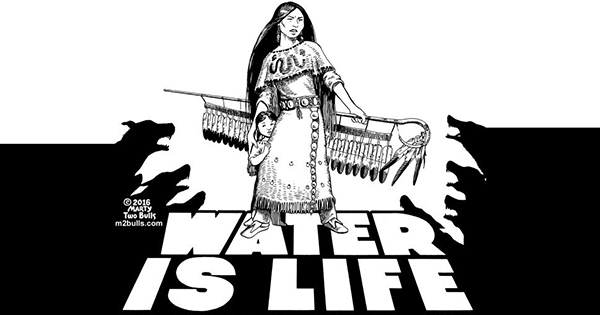 For these reasons and more, we have joined together as clergy to issue two calls:
To our fellow clergy who are able to travel, we invite you to join with other clergy in Standing Rock on November 2nd and 3rd. As the Rev. John Floberg of the Episcopal Church writes in his appeal to clergy of all denominations, "Our vision is a day of protective witness in solidarity with the Standing Rock Sioux Nation and with the water protectors." If you are unable to join with other clergy on these dates but would like to come later in the fall or winter when support will still be needed, please coordinate with the Rev. Brooks Berndt, the Environmental Justice Minister for the United Church of Christ.
To all people of faith and conscience, we invite you to also take a stand of solidarity through the following actions:
Send a message to elected officials to call for an end to the militarized response of law enforcement agencies in response to nonviolent water protectors.
Educate yourself and help educate others by sharing the letter of Chairman Archambault.
Make your commitment part of your faith practice. Make an upcoming Sunday a Standing Rock Sunday. Preach with Standing Rock, pray with Standing Rock, and act with Standing Rock. Wherever you are, join in solidarity with the persecuted and the jailed.
Kindred in Christ,
Rev. Marlene Whiterabbit Helgemo, All Nations Indian Church, Minneapolis, MN
Rev. Dr. Rebecca Voelkel, Center for Sustainable Justice, Minneapolis, MN
Rev. Dr. Brooks Berndt, Environmental Justice Program of the UCC, Cleveland, OH
Rev. Dr. Jim Antal, Minister and President Massachusetts Conference UCC, Framingham, MA
Rev. Ryan Dowell Baum, First Congregational UCC, Sioux City, IA
Rev. Dr. Lise M. Sparrow, Guilford Community Church, Guilford, VT
Rev. Michael S. Mulberry, Billings First Congregational UCC, Billings, MT
Rev. J. Todd Smiedendorf, Washington Park United Church of Christ, Denver, CO
Rev. Gordon Rankin, Conference Minister, South Dakota Conference UCC, Sioux Falls, SD
Rev. Gretchen Deeg, Bismarck, ND
Rev. Dr. John C. Dorhauer, General Minister and President of the UCC, Cleveland, OH
Rev. Traci D. Blackmon, Acting Executive Minister of Justice and Witness Ministries for the UCC, Cleveland, OH
Rev. Jim Moos, Executive Minister of Wider Church Ministries for the UCC, Cleveland, OH
Rev. John Vertigan, Conference Minister, Florida Conference UCC, Orlando, FL
Rev. Mike MacMillan, Faith United Church of Christ, Dunedin FL
Rev. Dr. Mary E Westfall, Community Church of Durham, UCC, Durham, NH
Rev. Dr. Terry Gallagher, Chair of Environmental Task Force for the UCC Illinois Conference
Rev. Dr. Davida Foy Crabtree, Interim VP for Institutional Advancement at Andover Newton Theological School
Rev. Dr. Steven Jungkeit, First Congregational Church of Old Lyme, CT
Rt. Rev. Douglas Fisher, Bishop of the Episcopal Diocese of Western Massachusetts
Rev. John Boonstra, Hood River, OR
Rev. Dr. Donna Schaper, Judson Memorial Church, New York City, NY
Rev. Meighan Pritchard, Prospect United Church of Christ, Seattle, WA
Rev. Tracy M. Heilman, UCC, Billings, MT
Rev. Jan Powers, First Congregational UCC, West Springfield, MA
Rev. Mariama White-Hammond, Bethel AME Church, Boston, MA
Rev. Robert Henry Hyde, First Congregational Church, Shrewsbury, MA
Rev. Clyde Elledge, St. Andrews Episcopal Church in Marblehead MA
Rev. Dr. Bonnie Scott, United Church on the Green, New Haven, CT
Rev. Diane Monti-Catania, Congregational Church of Salisbury, UCC, Salisbury, CT
Rev. Paul D Sinnott, Associate to the Bishop, New England Synod ELCA
Rev. Rhonda Myers, United Congregational UCC, Torrington, CT
Rev. Dr. J. Alfred Smith, Sr., Emeritus, Allen Temple Baptist Church, Oakland, CA
Rev. Jenny Shultz, United Church of Chapel Hill, Chapel Hill, NC
Rev. Dr. Bill Wassner, St. Paul's UCC, Evansville, IN
Rev. Damien J. Lake, Church of the Redeemer UCC, Westlake, OH
Rev. Linda Jaramillo, Portland, OR
Rev. Loey Powell, Cleveland, OH
Rev. Dennis Alger, Waiola UCC, Lahaina, HI
Rev. Tara Wilkins, Bridgeport UCC, Portland, OR
Rev. Mike Denton, Conference Minister, Pacific Northwest Conference UCC, Seattle, WA
Rev. Elizabeth Durant, First Congregational UCC, Portland, Oregon
Rev. Judith Youngman, Owatonna, MN
Rev. Donna Cooney, United Church of Christ of St Augustine, St Augustine, FL
Rev. Paul Werner, First United Church of Tampa, Tampa, FL
Rev. Betsy Happel, Kirkwood United Church of Christ, Kirkwood, MO
Rev. David Pearson, Saint Francis Episcopal Church, Chesterton, IN
Rev. Rachel Taber-Hamilton, Rector of Trinity Episcopal Church, Everett, WA
Rev. Charlene Curtiss Corbett, First Church in Windsor UCC, Windsor, CT
Rev. Ed Dunfield, Cathedral Church of St. Paul, Regina, SK
Ven. Betsy Blake Bennett, Episcopal Diocese of Nebraska, Omaha, NE
Rev. Liz Miller, Edgewood United Church, East Lansing, MI
Rev. Deborah J. Blood, Conference Minister, Maine Conference UCC, Augusta, ME
Rev. Tanya Scheff, Trinity Episcopal Church, Michigan City, IN
Rev. Joseph W. Bradley, Retired UCC, Hartford CT
Rev. Dr. Lauren R. Stanley, Rosebud Episcopal Mission, Rosebud Indian Reservation, SD
Rev. Genavieve Heywood, Veradale UCC, Spokane Valley, WA
Rev. Alan Claassen, Community Congregational Church, Tiburon, CA
Rev. Dr. Judith Davis, Christ Church Episcopal, Harwich, MA
Rev. Bruce N. Teague, Our Lady of the Valley, Sheffield, MA
Rev. Susanna Griefen, United Church of Christ, Montpelier VT
Rev. Dr. Bonnie Bardot, Retired, UCC, Southbury, CT
Rev. Wendy Vander Hart, Associate Conference Minister for the Massachusetts Conference of the UCC, Waltham, MA
Rev. Dr. Thomas Walter, Retired, UCC, Natick, MA
Rev. Lori Peach-Filban, United Church of Stonington, Stonington, CT
Rev. Tracy L. Hughes, member, Good Shepherd UCC, Sahuarita, AZ
Rev. Todd C. Vetter, First Congregational Church, UCC, Madison, CT
Rev. Dr. Steve Burt, Retired, UCC, The Villages, FL
Rev. Kent J. Siladi, Conference Minister, Connecticut Conference UCC, Hartford, CT
Rev. Marilyn B Kendrix, Congregational Church of Naugatuck, Naugatuck, CT
Rev. Dr. Eileen Sypher, Retired, Chester, CT
Rev. Jon Zappulla, Retired, UCC, Windsor, CT
Rev. Carlos Jauhola-Straight, South Church, Concord, NH
Rev. Frederick R. Trost, Retired Conference Minister for the Wisconsin Conference, UCC, Elkhart Lake, WI
Rev. Toni Smith, Retired, Connecticut Conference UCC
Rev. Laura Whitmore, Southport Congregational Church, Southport, CT
Rev. Elizabeth Kennard, Retired, Storrs, CT
Rev. Cheryl P Anderson, First Congregational Church UCC, Washington, CT
Rev. Charlene C. Corbett, First Church in Windsor UCC, Windsor, CT
Rev. Ryan Gackenheimer, Silver Lake Conference Center, UCC, Sharon, CT
Kim Winchell, Deacon for N/W Lower MI Synod, Evangelical Lutheran Church in America
Rev. Dr. David Bahr, Park Hill Congregational UCC, Denver, Colorado
Rev. Jane Heckles, Claremont, CA
Rev. Bernice Powell Jackson, First United Church of Tampa, Tampa, FL
Rev. Dr. Laurinda Hafner, Coral Gables United Church of Christ, Coral Gables, FL
Rev. Suzanne Personette, Middlefield Federated Church, Middlefield, CT
Rev. Matt Crebbin, Newtown Congregational Church, UCC, Newtown, CT
Rev. June Boutwell, Minister of the Southeast Conference UCC, Atlanta, GA
Rev. Gary M. Schulte, Conference Minister of New Hampshire Conference, UCC, Pembroke, NH
Rev. Margaret Bullitt-Jonas, Ph.D., Missioner for Creation Care, Episcopal Diocese of Western Massachusetts & Mass. Conference, United Church of Christ, Northampton, MA
Rev. Bonita Bock, ELCA Clergy, Titled Faculty
Rev. Nancy Wright, Ascension Lutheran Church, S. Burlington, VT
Rev. Pamela Rose Vollinger, East Hartford, CT
Rev. Laura Fitzpatrick-Nager, First Church of Christ, Congregational, East Haddam, CT
Rev. Dr. Meredith Jeffers, South Congregational-First Baptist Church, New Britain, CT
Rev. Virginia W.G. Army, St. John's Episcopal Church, Vernon, CT
Rev. Gordon S. Bates, Minister of Visitation, First Church, Congregational, UCC, Glastonbury, CT
Rev. Alice O'Donovan, Retired UCC, Tolland, CT
Rev. Scott G. Morrow, North Haven Congregational Church, North Haven, CT
Rev. Marjorie H. Davis, South Congregational Church, UCC, Granby, CT
Rev. Reebee Kavich Girash, Eliot Church of Newton, UCC, Newton, MA
Rev. Beth Robey Hyde, Washington Park UCC, Denver, CO
Rev. Stan Youngberg,  Woodbridge, CT
Rev. Joan Fumetti, Interfaith Green Coalition, Windsor Heights, IA
Rev. J. Alan McLean, First Church Of Christ in Hartford, Hartford, CT
Rev. Sidat Balgobin, Retired UCC, Norwich, CT
Rev. SaraJane Munshower, First Church of Christ, Glastonbury, CT
Rev. Ted Erickson, Retired UCC, Trauger, PA
Rev. Jonathan New, Associate Conference Minister for Massachusetts Conference UCC
Rev. Larissa D Forsythe, St. Phillip's UCC, St. Louis, MO
Rev. Dr. Marja L. Coons-Torn, Retired Conference Minister, Orchard Park, NY
Rev. Nada B. Sellers, First Congregational Church, Branford, CT
Rev. Meghan D. Young, Stamford, CT
Rev. Matthew Emery, Storrs Congregational Church UCC, Storrs Mansfield, CT
Rev. Dr. John A. Nelson, Church on the Hill (UCC), Lenox, MA
Rev. James Silver, First Church of Christ, Middletown, CT
Rev. Rob Mark, Church of the Covenant, Boston, MA
Rev. Barbara Gerlach, First Congregational United Church of Christ, Washington, DC
Rev. Dr. Jane Fisler Hoffman, Retired, Kansas City, MO
Rev. David F. Peters Roxbury Congregational Church, UCC Roxbury, CT
Rev. Dr. John W. Clarke, Retired
Rev. Emily Goldthwaite Fries, Associate Minister, Mayflower UCC, Minneapolis, MN
Rev. Sarah Campbell, Team Lead, Mayflower UCC, Minneapolis, MN
Rev. Nancy E. R. Leckerling, First Congregational Church, Guilford, CT
Rev. Abigail Henderson, First United Church of Christ, Northfield, MN
Rev. Jane McBride, First Congregational Church of MN, UCC
Rev. Kari Collins, Parkview Congregational Church UCC, Aurora, CO
Rev. Sara D. Smith, Esq., United Congregational Church, Bridgeport, CT
Rev. Rebecca Crosby, First Congregational Church of Old Lyme, Old Lyme, CT
Rev. Ellen Petersen, Riverton Congregational Church, Riverton, CT
Pastor Amber Kirkendoll, Safe Harbor Family Church, UCC, Flowood, MS
Rev. Dr. Susan De Simone, Retired, Chestertown, MD
Rev. Dr. Ed Sunday-Winters, First Baptist Church, Phenix City, AL
Rev. Laura Folkwein, University Congregational UCC, Missoula, MT
Rev. Thomas Query, Decatur, GA
Rev. Elizabeth Aguilar, Long Beach, CA
Rev. Steve Halsted, UCC Clergy Consultant , North Carolina Interfaith Power & Light
Rev. Jane Schmoetzer, All Saints' Episcopal Church, Richland, WA
Rev. Dr. Bobbi Dykema, Olympic View Community Church of the Brethren, Seattle, WA
Rev. Jenell W Mahoney, Senior Pastor Emerita, First Congregational Church, Bakersfield, CA
Rev. Jennifer Seaich, Beavercreek UCC, Beavercreek, OR
Rev. Denise Andersen, Clackamas UCC, Milwaukie, OR
Rev. Susan Steinberg, United Church of Chapel Hill, Chapel Hill, NC
Rev. Dr Susan M. Shaw, Corvallis, OR
Rev. Joanne M. Graves, United Church of Christ, Greenfield, MA
Rev. Paul Canady, Christ Episcopal Church, New Bern, NC
Rev. Lonza Running Medicine Wolf Pagans, Ph.D., Virginia
Rev. Dr. Gayle Fisher-Stewart, Calvary Episcopal Church, Washington, DC
Rev. Mary Nelson, Regional Minister, Connecticut Conference UCC, New Haven, CT
Rev. Karen Richardson Dunn, UCC Environmental Justice Network for Southern Conference, Asheville, NC
Rev. Brian C. Baeder, Church of the Good Shepherd, Congregational, West Woodstock, CT
Rev. Karen Gronback Johnson, Retired, Lambsburg, VA
Rev. Glenna T. Shepherd; Pleasant Hill Community Church UCC; Pleasant Hill, TN
Rev. Diann H. Bailey, First Church of Christ, Suffield, CT
Ven. L. Sue von Rautenkranz, Archdeacon Episcopal Diocese of Washington and Deacon of St. Dunstan's Episcopal Church, Bethesda, MD
Rev. Richard C. Allen, Congregational Church in South Glastonbury, South Glastonbury, CT
Rev. Denise Griebler, First United Church of Christ, Richmond, MI
Rev. Laura Westby, Southbury, CT
Rev. Cheryl Huff Slusser, Retired, Savannah, GA
Rev. Dorinda Broadnax, Community Congregational UCC, Montgomery, AL
Rev. Michael Joseph, Global Ministries Missionary, Bogotá, Colombia
Rev. Dr. Lawrence D. Clark, United Church of Christ, Nashville, TN
Rev. Dr. Rochelle A. Stackhouse, Church of the Redeemer UCC, New Haven, CT
Rev. Elizabeth Dilley, Minister for Ministers in Local Churches, United Church of Christ, Cleveland, OH
Rev. Lori Tucker Exley, Assistant, Trinity Episcopal Church, Gulph Mills, PA
Rev. Karl H. Duetzmann, United Church of Christ in Devon, Milford, CT
Rev. Craig Stein, Ph.D., Presbytery of the Cascades, PCUSA, Eagle Creek, OR
Rev. Marie Alford-Harkey, Assisting Clergy, Metropolitan Community Church of Hartford, Hartford, CT
Rev.  Janice Kimball, Hadlyme Congregational Church, UCC, Hadlyme, CT
Rev. Byron Buffalo, Dakota Association Pastor
Rev. Joyce O. Crutchfield, Center Congregational Church, Manchester, CT
Rev. Dr. Marvin L. Morgan, Pilgrim Congregational Church, UCC, Chattanooga, TN
Rev. Christopher Gilmore, Sixth Avenue United Church of Christ, Denver, CO
Rev. Eileen Norrington, Hope United Church of Christ, Rockledge, FL
Rev. Lee Moore, Bethany UCC, Randolph, VT
Rev. Mark B. Abernethy, Wapping Community Church, UCC, South Windsor, CT
Rev. Kathryn Kuhn, Church of the Apostles UCC, Lancaster, PA
Rev. Joyce Myers-Brown, Central Congregational UCC, Atlanta, GA
Rev. Dr. Louis F. Kavar, Decatur UCC, Atlanta, GA
Rev. Melanie Oommen, First Congregational UCC of Eugene, Eugene, OR
Rev. Edith P. O'Donnell, Retired, First Church in Windsor, UCC Windsor, CT
Rev. Mary Susan Gast, Community Congregational UCC, Benicia, CA
Rev. Vicki Kemper, First Congregational Church, UCC, Amherst, MA
Rev. Robert Kinsey, Retired UCC
Rev. Anne E. Gilson, PhD, Christ Church Episcopal, Harwich Port, MA
Joyce Katzberg, Minister Universal Life Church, Warren, RI
Rev. Dianne Rodriguez, Pastor of Hubbard United Church of Christ, Hubbard OR
Rev. Donna Papenhausen, Retired, St. Andrew UCC, Sarasota, FL
Rev. Barbara Archer , ret. Member, First Congregational UCC, Billings, MT
Rev. Michelle Hughes, Connecticut Conference UCC, Hartford, CT
Rev. Roger D. Straw, Community Congregational UCC, Benicia, CA
Rev. Dr. David B. Lindsey, Little River UCC, Annandale, VA
Rev. James Hornsby,  St. Luke's Episcopal Church, Fall River, MA
Rev. Marie Siroky, Trinity UCC, Gary, IN
Rev. Barbara J. Libby, Interim Conference Minister, RI Conference UCC
Rev. Dr. Lynn Bujnak, Conference Minister, Vermont Conference UCC Barre, VT
Rev. Amy Sens, Pastor, six:eight UCC, Baltimore, MD
Rev. J. Bennett Guess, United Church of Christ, Cleveland, OH
Rev. Todd Smith Lippert, First UCC, Northfield, MN
Rev. Annette H. Nielsen, Retired UCC, Charleston SC
Rev. Jacquelyn Hall, Winchester Center Congregational Church, Winchester Center, CT
Rev. Dwight Wagenius, Minneapolis, MN
Rev. Dr. Lawrence  Evans, Midway Congregational Church , UCC, Midway GA
Rev. Dr. Ron Eslinger, Retired, Plymouth Congregational UCC, Des Moines, IA
Rev. Jennifer M. Gingras, the Monroe Congregational Church UCC, Monroe CT
Rev. Audette Fulbright Fulson, UU Church of Cheyenne, Cheyenne, WY
Rev. Jann Halloran, Prairie Unitarian Universalist Church, Parker, CO
Rev. Dr. Jeffrey Gallagher, United Congregational Church of Tolland, Tolland, CT
Rev. Dr. R. Michael Lake, Retired, Storrs Congregational Church, Storrs, CT
Rev. Julius Jessup Peterson, Decatur United Church of Christ, Clarkston, GA
Rev. Peter Sawtell, Eco-Justice Ministries, Denver, CO
Rev. Rolland Mark Swanson, St. John's Episcopal Church, Valentine, NE
Rev. Gloria Anderson, Our Savior's Lutheran, Chokio, MN
Rev. Susie Webster-Toleno, Congregational Church of Westminster West, UCC, Westminster VT 
Rev. Cynthia Willauer, First Congregational Church of Old Lyme, Old Lyme, CT
Rev. Pamela A. Canzater, Annuitant Visitor, UCC, Birmingham, AL
Rev. Rebecca Hickok, UCC Minister, Pittsburgh, PA
Rev. Shari Prestemon, Conference Minister, MN Conference UCC, Minneapolis, MN
Rev. Judith Van Kennen, Emmanuel Congregational United Church of Christ, Massena, NY
Rev. Kathleen Buckley, University Chaplain, St. Lawrence University, Canton, NY
Rev. Dr. Shaun Whitehead, Associate Chaplain, St. Lawrence University, Canton, NY
Rev. Dr. Diane Christopherson, UCC Minister and Board Certified Chaplain, Adrian, MI
Rev. Dr. John E. Jackson
Rev. M. S. Desmond, Retired, Congregational Church of Brookfield, UCC, Brookfield, CT
Rev. Jennifer M. Gingras, Monroe Congregational Church UCC, Monroe, CT
Rev. Dr. Marsha Williams, Associate Conference Minister, New York Conference UCC
Rev. Dr. Ed Martin, Professor Emeritus, United Church of Christ, Vancouver, WA
Rev. Eleanor B. McCormick, Plymouth Congregational Church UCC, Lawrence, KS
Rev. Johanne Dame, Retired, United Methodist Church, Westbrook, ME
Rev. Kathy Monson Lutes, Trinity Episcopal Church, Janesville, WI
Rev. Diane Dulin, Retired, United Church of Christ
Rev. Charlene Wozny, Retired, United Church of Christ, Omaha, NE
Rev. Dr. Robert Grove-Markwood, Executive Director, The BTS Center, Portland, ME
Rev. Robert Vodra, Interim Minister, Federated Church of Marlborough, Marlborough, NH
Rev. Bruce A. Miller, First Congregational Church, Meriden, CT
Rev. Brenda Brown-Grooms, New Beginnings Christian Community (American Baptist), Charlottesville, VA
Rev. Carleen R. Gerber,  First Congregational Church of Old Lyme,  Old Lyme, CT
Rev. Ryan Downing, Faith United Church of Christ, Muscatine, IA
Rev. Dr. Eva L. Buthy, Retired, Michigan

Rev. Dr. Jack J. Seville, Jr., Conference Minister Emeritus, Northern Plains Conference, UCC
Rev. Dr. Jan Gregory-Charpentier, First Congregational Church of Westbrook, CT
Rev. Kathyrn Clark, Minister for Members in Discernment, Cleveland, OH
Rev. Julia McKay, Minister, Columbine Unitarian Universalist Church, Littleton, CO
Rev. Dean Leh, Western Orthodox, New Mexico
Rev. Selena Wright, Kirk of Bonnie Brae UCC, Denver, CO
Rev. Christina Braudaway-Bauman, Senior Minister, First Congregational Church of Boulder, UCC, Boulder, CO
Rev. David R. Goode, Lititz, PA
Rev. Dr. William Rader   Dauphin, PA   
Rev. Bruce Schoup, Peace Church, UCC, Clemson, SC
Rev. Lucille L. Fritz, Huntington Congregational Church, UCC, Shelton, CT
Rev. Robert C. Patton, Director, RockNT Ranch Therapy Center
Rev. Dr. Maritza A de Gonzalez, Co-Pastor Manantial de Gracia "Spring of Grace," UCC, West Hartford, CT
Rev. Evelyn Wheeler, Rector, Christ Episcopal Church, Madison IN
Rev. Donald B Hill, Co-Pastor, St Paul's Episcopal Church, Jeffersonville, IN
Rev. Deborah Veach, St Stephen's, Terre Haute, IN
Rev. Elena Larssen, Senior Minister, First Congregational Long Beach United Church of Christ, Long Beach, CA
Rev. Michael Loser, Emmanuel UCC, York, PA
Rev. Liana Rowe, Shadow Rock UCC, Phoenix, AZ
Rev Jean Alexander, First Congregational Church DC, Bethesda MD

Rev. Kate Shaner, Minister of Mission, First Community Church, Columbus, OH

Rev. William Byers, St. John's Episcopal Church, Vernon, CT
Rev. Kurt A Walker, Chapel Street UCC, Lincoln, RI

Rev. Kaji Dousa, Park Avenue Christian Church, New York City, NY

Rev. Sally May, Associate Minister, First Congregational Church of Burlington, UCC, Burlington, VT
Rev. Ann Plumley, First Church of Christ in Mansfield Center, Congregational, UCC, Mansfield Center, CT
Rev. Patricia Goldberg, Des Moines, IA
Pastor John Chaplin, Urbandale UCC, Urbandale IA
Rev. Anne Cohen, Mt. Hollywood Congregational Church UCC, Los Angeles, CA
Rev. Lucy Brady, Trinity United Church of Christ, Manchester, MD
Rev. David Hansen, Retired, UCC Kansas-Oklahoma Conference Minister

Rev. Kelly Hough Rogers, Norfield Congregational Church in Weston, CT
Rev. Kathryn Schreiber, Sebastopol, CA
Rev. Dr. Barbara E. Miner, Retired UCC, Billings, MT
Rev. Terry de Grace-Morris, Oakland CA
Rev. Susan Meeter, Retired UCC, Richmond, CA 
Rev. Carol Barriger, Island United Church, UCC, Foster City, CA
Rev. David J. Cowell, First Congregational Church of San Francisco, San Francisco, CA
Rev. Dr. Nori J. Rost, All Souls Unitarian Universalist Church, Colorado Springs, CO
Rev. Natalie C Chamberlain, First Congregational Church, Tulare, CA
Rev. Dr. Carol J. Manahan, Richmond, CA
Rev. Drew Nettinga, Retired UCC, Woodbridge, VA 
Rev. Valerie Coe Lowder, Kirkwood UCC, Atlanta, GA
Rev. Dora Ford, Retired UCC
Rev Holly Adams, United Congregational Church, Norwalk, CT
Rev. Mary Sue Evers, Cedar Hills United Church of Christ, Portland, OR
Rev. Wendy Miller Olapade, Sanctuary UCC and LakotaYouthStay Program, Medford, MA
Rev. Jane Hawken, First Congregational Church, Portland, CT
Rev. Sue Ann Yarbrough, SpiritCare Ministry to Seniors, ​Burlingame, CA ​
Rev. Dave Grishaw-Jones, Senior Pastor, Peace United Church of Christ, Santa Cruz, CA
Rev. Nancy McKay, Retired UCC, Berkeley, CA
Rev. Dr. Joseph Francis Cistone, The United Church of Christ of Northeast Harbor & Seal Harbor, Northeast Harbor, ME
Rev. Frank Basler, Ridgebury Congregational Church, Ridgefield, CT
Rev. Jeff Suddendorf, First Congregational Church, UCC, Port Washington, WI
Rev. Lee Ireland, Niantic, CT 
Pastor Scott Oberle First Congregational United Church of Christ Downers Grove, IL