Workshops will explore Bible, worship, money, anti-racism, gender diversity, much more
A single day's list illustrates the wide range of workshops available to people who register for this summer's General Synod.
A traditional feature of past in-person Synods, workshops will be online this year, but just as diverse. And there will be four days of them, pre-Synod, July 7-10. On the first day alone, they'll cover the Bible, money, communications justice, white privilege, anti-racism, conflict, interfaith dialogue, gender and sexual diversity.
People can find descriptions of all workshops at this page and register for General Synod here. People who register for Synod can attend any workshop, live via Zoom, at the listed days and times. They can watch recordings through Aug. 31. They can even purchase a package to use them till the end of 2021.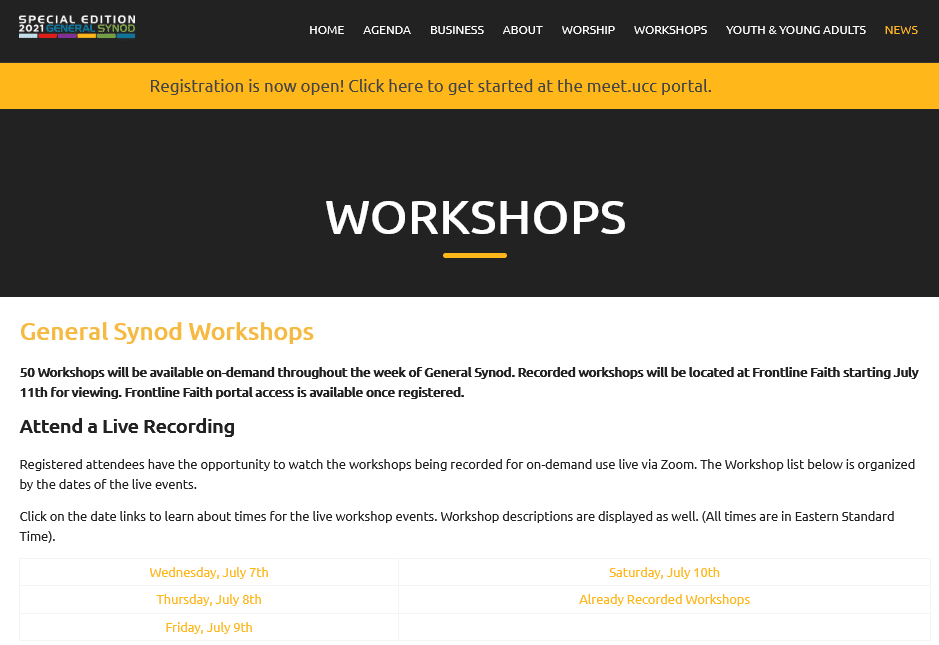 New workshop schedule
This year features an important change in timing. When Synod is held in person, workshops usually happen around the second day of the meeting. But this year, with Synod entirely virtual for the first time ever, live versions of the workshops will take place on the four days before Synod's official July 11 start.
The Rev. Chris Davies, Synod workshop coordinator, said she is pleased with the diversity of the 50 offerings. She said they meet the workshops' stated goal of "broad congregational appeal, balancing the widest possible audience reach" while representing "the church we hope to become."
She said that goal was one among a list of "equity primes" used as criteria in the selection process. Among them were that workshops should reflect "the broad diversity" of the UCC, offer "clear action steps for congregations" and include voices of people directly affected by the topic at hand.
Sample list of topics
To name just a few, here are the 12 topics to be covered on the opening day of workshops, Wednesday, July 7:
"Extravagant Welcome at God's Table: Queering Worship Practices," which promises to be about "so much more than

LGBTQ+."

It will use this definition: "to 'queer' something is to engage with a methodology that disrupts the status quo."
"Communications Justice: How to Get Affordable Quality Broadband for All, Locally and Nationally." OC Inc. invites people to "learn how you can ensure low-income families have access to the technology they need to succeed."
"Case Studies in Faith: Cornerstone Fund presents lessons in lending, building and community." "There will be … ample time for Q&A as churches consider how they use their building for ministry and mission in a post-COVID world."
"Community Safety for All: White Congregations Engaging in Abolition Work." It will "cover the imperative for white congregations to stop relying on police and develop alternatives that increase safety for all community members."
"Manual on Church: Summer 2021 Snapshot," an update from the UCC's Manual on Church Working Group.
"Creating Healthy Conflict." It will "look at not only resolving conflict, but transforming systems so that [congregations] are vulnerable and ready for healthy conflict as a catalyst for change."
"Beyond Potlucks and Panels: Interfaith Dialogue for a Digital Era with Sofa Spirituality." "Come experience Sofa Spirituality, a 21st-century platform that invites people of all backgrounds into dialogue about the varied spiritual traditions of our neighborhoods and beyond."
"Beyond Binary." It will "explore the science of gender and sexuality," "introduce people to the long history of gender and sexual diversity," and "highlight the stories of nonbinary children and adults."
"When Privilege Enters the Room." "Participants will acknowledge white privilege is unearned and yet a powerful tool for supporting others. Together we will begin the healing from the wounds of racism."
"Cultural Immersion into New Encounters with the Bible." "Biblical scholars from diverse cultures and backgrounds provide new and exciting ways to read, reflect, study and learn about ancient narratives and people in the 21st century."
"Trauma: How the Church Can Support Healing." "Participants will learn what happens in the body when someone experiences trauma" and "learn simple techniques and tools that can support the healing process of trauma survivors."
"Serving Money or Serving God?: Radical Justice and Practical Church Finances." "How might Christian stewardship/finance be engaged from an anti-racist, decolonial, feminist, ecological and class-critical standpoint?"
Workshops will also "live on long after General Synod" in recorded form, Davies said. "If you attend something that sparks interest and conversation, you absolutely can share it with your congregation and community." Prices for a "workshop package" for post-Synod use range from $25 for a single workshop purchased for an individual, to $550 for all 50 workshops for a group of five learners. Information on ordering and prices is here.
Davies said the full list of chosen topics is evidence that the selection team "worked diligently to provide incredible workshops that are relevant to today's context for the United Church of Christ."
---
Related News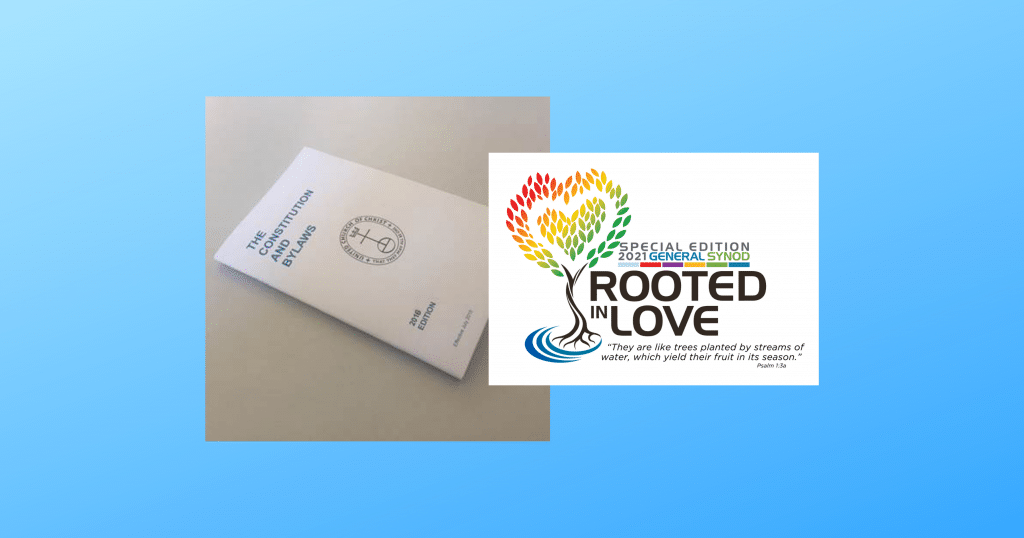 United Church of Christ delegates cared enough about Robert's Rules of Order to give them a...
Read More